If you ask Concur's Elena Donio what the biggest differentiator is between growth and stagnation for small to mid-sized businesses (SMBs) today, she can sum it up in two words.
"Expense reporting," said Donio, who is Concur's Executive Vice President and General Manager for Small & Mid-Size Businesses. "It's like a lot of things in business—too often our actions are defined by momentum, not by conscious choices. We have a lot of processes that seem good enough, but the truth is, they really aren't. Travel and entertainment (T&E) expenses are one huge example of that in action. Business owners spend more in this category than in any other, and yet they haven't made it a priority to find a better way to manage it."
Today, there are nearly 30 million SMBs in the U.S., and these companies have accounted for 67 percent of new jobs created in recent years. As the number of SMBs continues to increase, so too will their spending.
Concur recently released its annual Expense IQ Report, which analyzed the expense filings of 20 million employees last year around the world totaling more than $50 billion. The report details the spending patterns of thousands of small and mid-sized businesses, and the conclusions in the report provide an amazing level of detail that was never before available to business owners.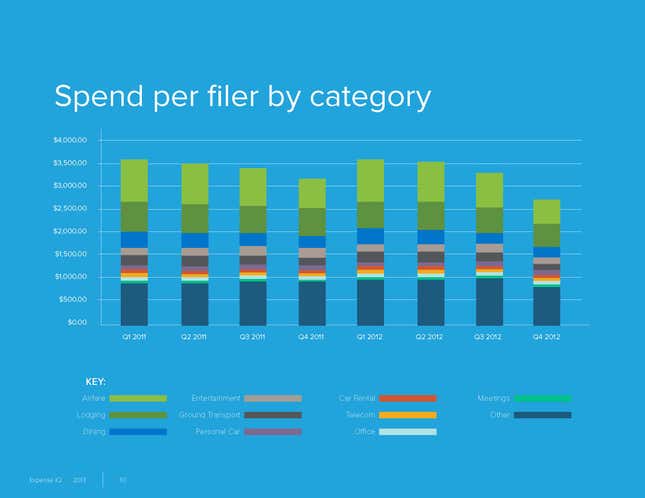 According to Donio, the key issue for SMBs is that they often don't have the same access to financial information and analytics as their larger counterparts. Nevertheless, she said it's possible for SMBs to take practical, inexpensive measures to fix their expense reporting processes. These measures, she said, will cut costs significantly, increase visibility, control over spending, and improve operational efficiencies overall.
Fix expense reporting, save money
Disciplined spending is critical for every organization. To stay on top of cash flow, it's essential that companies know where and how their money is being spent. However, Donio said that it's impossible to make informed decisions without the right information. By using a system that collects insights and reviews travel and expense data, business leaders can take a big step toward making smart decisions and eliminating costly waste.
It's also important to provide crystal clear targets for your travelers before they book each trip. That way, Donio said, employees will know how much they can spend, and you can reward them for smart spending decisions that save you money.
"T&E expenses are one of the most poorly understood line items for companies because of the old way of doing things. Spreadsheets, paper copies of receipts, unclear approval processes—they all get in the way of having good data," Donio said. "By getting good data, there's an opportunity for businesses to dig deeper into expense reporting analytics, evaluate their expense reporting processes and improve efficiencies across the board."
Develop a thoughtful policy
Donio said that, for the most part, employees want to do the right thing when it comes to spending their company's money. However, at times, people simply don't know what the right thing is. The solution, she said, is to craft an expense policy that is easy to understand. This can help prevent frustration and avoid mistakes.
"Every company needs to create a fair, clear and unambiguous expense policy," Donio said. "Use clear language, invite input from others and start small."
A thoughtfully designed travel and expense policy can also save thousands of dollars over the course of a year–especially for companies that have employees who travel extensively. Unfortunately, many companies still aren't realizing these benefits and savings. In fact, less than one-half of organizations with a policy actually follow it closely. This, Donio said, needs to change immediately.
"If your employees are informed and encouraged to comply with your policy, they'll follow it consistently," she said.
Go mobile
In business, you're often faced with either/or decisions. Do you take steps to save money, or do you do what you can to make employees happy? Donio said that by giving your employees a mobile app to report their expenses, you can do both. Travelers will spend less time doing expenses and can even complete them on the road. In addition, with better visibility into spending and greater travel policy compliance, a company can save money in the process. And, these days, employees expect to do everything mobile, including their expenses.
Donio said that SMBs, which are lean and more nimble, are in a great position to monitor and control expenses through mobile apps. SMB employees who capture receipts and file expenses on the go are more likely to do so accurately and quickly. This saves valuable time, speeds up the reimbursement process and enables businesses to keep better track of overall spending and cash flows.
Concur found that organizations that use mobile apps to manage their travel and expenses have a 28 percent faster approval process, 22 percent greater policy compliance, and 40 percent lower processing costs.
"It's the 21st century, but some companies are still using technology from two decades ago to keep track of their expenses," Donio said. "A spreadsheet just isn't good enough. Expense reporting is the one area of your company that can affect all others. By switching to an automated expense solution, you can see where your company's money is going, cut costs and boost profits. So, why wait to fix it?"
This article was written by Concur and not by the Quartz editorial staff.