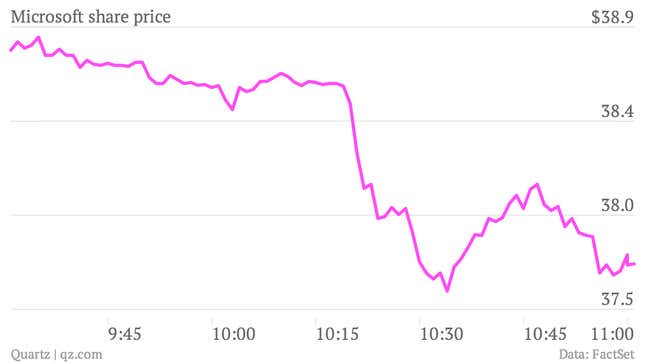 Microsoft shares have taken a hit this morning—tumbling around 4% at their worst moments. Why? Rising fears the company isn't going to snag Ford CEO Alan Mulally as the computing giant's next chief executive.
For a while now, Mulally has been seen as the preferred candidate to succeed current CEO Steve Ballmer as just the third chief executive in Microsoft's 38-year history. But this morning,Henry Ford's great-grandson did his best to stomp out expectations that Mulally would take the helm of the good ship Microsoft any time soon.
Edsel Ford II, a director of Ford, told Bloomberg that Mulally would be staying with the automaker until at least the end of 2014. The stock fell sharply in response. On the one hand, this is curious. After all, Mulally himself already said the same thing publicly. But with CEO search appearing to drag on a bit—well-connected Nomura analysts declared last month a new CEO would be named in December—the tumble of Microsoft shares would seem to reflect deflating expectations.
There could be further to fall. The engineer of Ford's impressive turnaround has been firming as the favorite to succeed Ballmer for months. And over that period shares rose steadily. Since the Bellevue, Washington-based tech behemoth announced in August that Ballmer would step down within a year, the stock is up about 15%. If we get decisive word that Mulally won't be joining Microsoft, shares could fall further. If they don't we'll know that Microsoft's recent share rally was driven—not by hope for specific new leader—but more by relief over the fact that the end of the Ballmer is close.