In 2018, Oregon's legal marijuana producers grew more than twice as much as was legally consumed, leading to an oversupply that has 6.5 years' worth of cannabis, measured by the psychoactive compound THC, on the shelves at dispensaries and wholesale distributors.
The latest data from Oregon, which adopted its legal regime in 2014, was released this week (pdf) by researchers working for Oregon's Liquor Control Commission, which closely regulates cannabis from production to distribution.
Researchers see the marked oversupply as a win, because it suggests that legally grown cannabis is not leaking out into the black market. In 2018, legal producers in the state grew 2,000 tons of "wet" marijuana—product that is trimmed and dried before being sold or used to produce THC- or CBD-infused products.
"For Oregon, producing a lot of marijuana is not new news; producing a lot of marijuana that is tracked in the legal system is," writes Steve Marks, the commission's executive director. He notes that the state has garnered $198 million in tax revenue from the first three years of its legal cannabis regime, and that only 45% of estimated Oregon cannabis use is supplied by the medical marijuana market, legal home grows, or the black market.
But the current situation creates a "concern that [legally grown cannabis] may be diverted to the black market and/or out of state given current market conditions (high supply, falling prices, and a huge pipeline of applications for new entrants into the market)," writes Josh Lehner, an economist who works for the state government.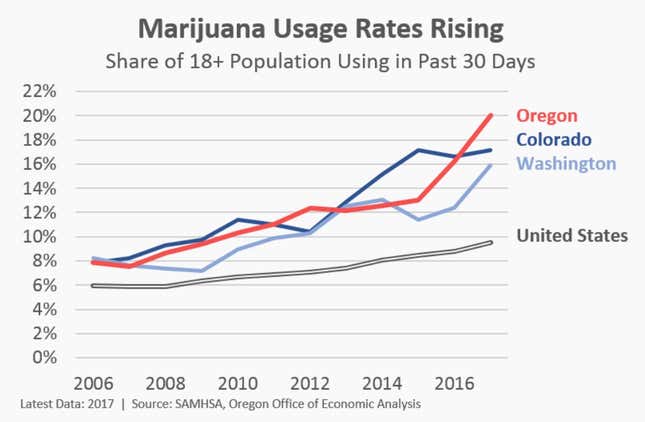 Now the question is whether the state government will take any action to push down supply by increasing producer license fees, limiting the maximum amount of marijuana grown in the state, or capping the number of licenses temporarily or permanently. The researchers do observe that the 6.5 years' worth of THC on the shelves is a deceiving estimate, since some is likely to become stale or uncompetitive with new products.
Part of the challenge is that many legal producers are getting into Oregon's market to lay the groundwork ahead of hoped-for changes in federal laws down the line, especially since Oregon removed a residency requirement for owners.
"Businesses in Oregon's recreational marijuana market are in some ways analogous to technology start-ups… willing to take the risk of losses today for potential large gains tomorrow," the report notes. "However, this calculus depends on 'tomorrow' not being excessively far in the future and the license remaining in good standing."
For now, the Oregon oversupply is more an "indication of speculative bets and pending market corrections," but the longer the situation continues, the more pressure there will be on cannabis startups to make money outside the legal system.