The Prelude is longer than the Empire State building or Kuala Lumpur's Petronas Towers are tall and displaces six times as much water as the world's largest aircraft carrier. It won't be completed until 2017, but its enormous hull was just launched from drydock in a South Korean shipyard. It was built for Shell by Samsung Heavy Industries, a Samsung affiliate with nearly $13 billion in annual revenue (by contrast, Samsung Electronics, which makes the personal gadgets, brought in over $55 billion in the last quarter alone). But why create such a monstrously large vessel? (Technically it's not a "ship", as it doesn't move under its power but has to be towed.)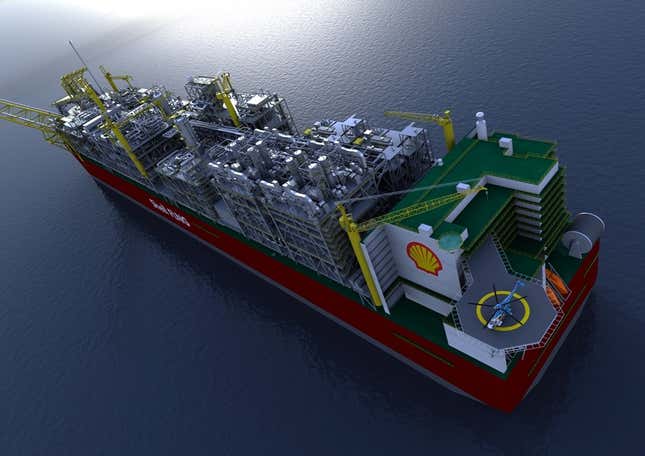 The answer has everything to do with our current rush to exploit ever more remote and hard-to-reach sources of fossil fuels. Some are tucked away under the ocean floor in places where extracting them with conventional ships simply isn't economical. But the Prelude, with an estimated construction cost of $12 billion, changes those economics.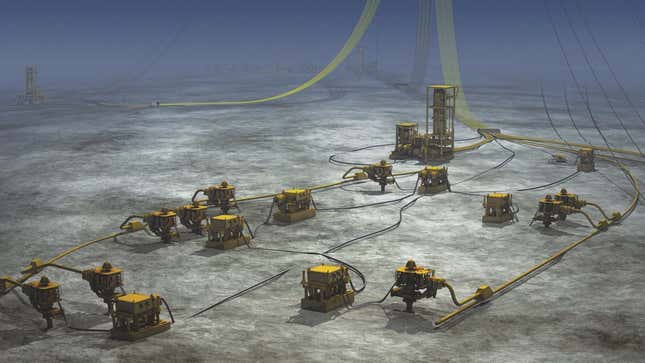 That's because the 488m-long Prelude is the first platform on earth that can liquefy natural gas on board, and then pipe it directly into liquefied natural gas (LNG) ships for delivery to markets like Japan, where the LNG can command far more than it does in countries that have access to terrestrial gas.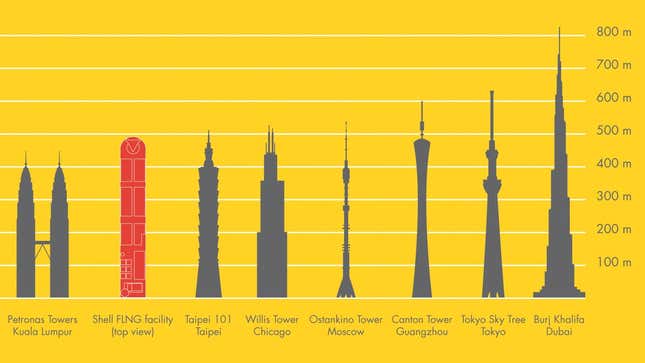 Liquefying natural gas shrinks its volume by 600 times, and while it requires enormous amounts of energy to get the gas to -162°C (-260°F), making it compact for easy transportation more than outweighs the cost of chilling it.
Shell has said that the Prelude is just the first platform of its kind, and that subsequent vessels will be built along the same lines. Each will be capable of sitting atop a gas field until it's exhausted.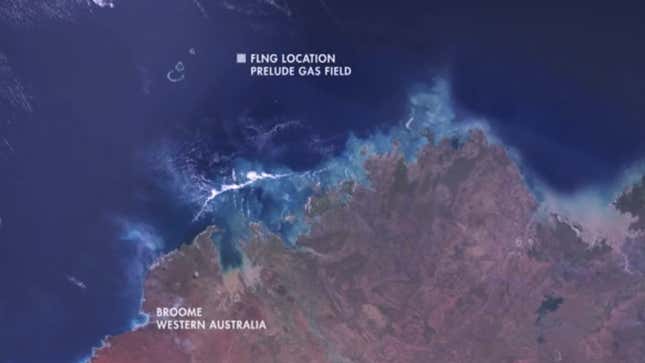 Current plans put the Prelude at sea, off the shore of Australia, for 25 years. The vessel will be parked in an area known for large hurricanes, but the Prelude, aided by its enormous size, is built to withstand up to Category 5 storms.