US Customs and Border Protection (CBP) is working to "temporarily harden" the American side of the Tijuana River "in direct response to the Honduran and Guatemalan migrant caravans."
That's according to the details on a $400,000 contract awarded to a San Diego company that were posted to a government database today (Feb. 15).
"Based on the migrant caravan's history and propensity for violence, the San Diego Sector Headquarters identified three high threat areas along the Border for immediate impedance and denial measures to prevent illegal entry," the original solicitation says. The idea of that "history and propensity for violence" is one US officials, including Donald Trump, have perpetuated in the face of little visible evidence.
CBP's top priority is listed as the "Surf Fence in the Imperial Beach Area of Operations," followed by the Tijuana River Channel, also in the Imperial Beach area, and the "Train Gate in the Chula Vista Area of Operations."
The job, which will be finished within 90 days, includes building a soil berm at the border line in the middle of the Tijuana River, which will be topped with "minimum 3 rows of razor wire," the contracting documents say. Other tasks call for triple and quadruple coils of concertina wire on about 600 feet of chain-link fencing atop concrete jersey barriers bisecting the river and the replacement of an unspecified number of storm-damaged border fence panels.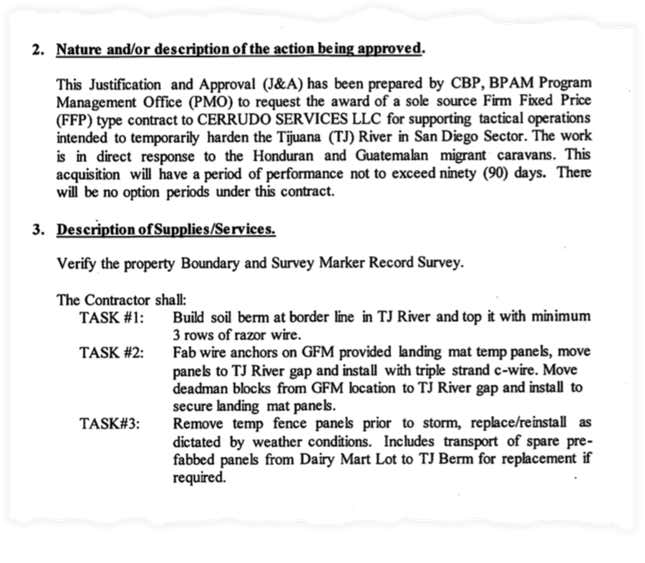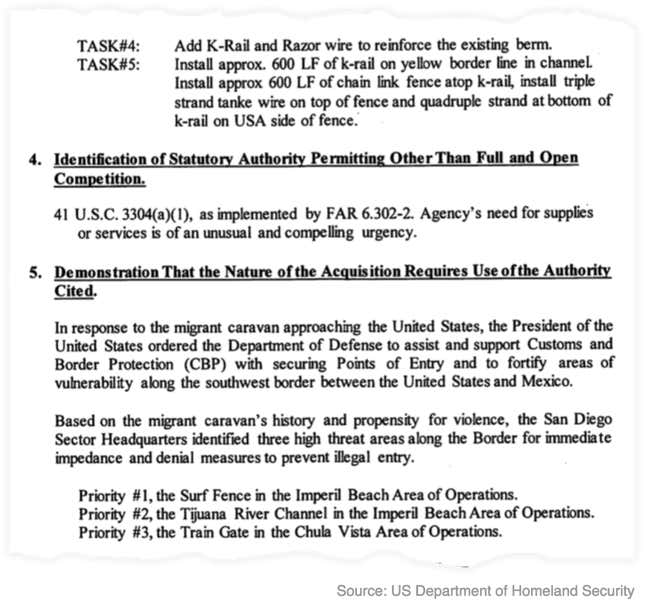 According to CBP contracting documents, construction duties were first assigned to US military troops from the San Diego area who have been supporting border operations since November. After the design, planning, and materials development phase was completed, the military told CBP it couldn't proceed until the sites received proper environmental clearances.
"Upon receipt of the military declination, the Office of Border Patrol (OBP) made an urgent request to Border Patrol Air and Marine Office (BPAM) for support to immediately fortify the three high-priority areas," the CBP document says.
CBP described the Tijuana River work as "urgent," and thus had "no opportunity or time" to put  the contract out for bid. It was given to Cerrudo Services, a California-based company that has done more than $35 million worth of "tactical infrastructure maintenance and repair services along the California-Mexico border" for the Department of Homeland Security.
The president has said caravans of asylum seekers from Central America have included "the worst scum in the world," But they have largely consisted of families with children, parents pushing strollers, and contingents of the elderly and disabled. Contrary to Trump's claims, there is no evidence that terrorists or criminals are using the caravan as cover to sneak into the country, NBC News has reported. The asylum seekers, largely escaping violence in their home countries, have faced hostile receptions in both Mexico and at the US border, where one group was tear-gassed by CBP officers last Thanksgiving. CBP had previously said that "the likelihood of violence directed against CBP personnel along the border is minimal."
In response to a request for comment on the fortifications being made at the border and why this particular group was deemed violent,  a CBP spokesman pointed Quartz to a November statement by commissioner Kevin McAleenan in which he described caravan members involved in "active assaults, throwing dozens of projectiles at CBP law enforcement personnel."
Read the full text of the Tijuana River solicitation here: