When the UK's largest bakery chain began selling vegan sausage rolls in January, it would've been easy to dismiss it a passing nod to "veganuary," an annual charity-backed campaign to get Brits to eat more plants.
However, Greggs' decision to put a plant-based spin on a stodgy British classic has turned out to be a key revenue booster. In the roughly seven weeks since it, er, rolled out the meat-free pastry, Greggs has experienced an "exceptionally strong start" to the year, with sales up 14.1%, compared to 6.2% during the same period last year.
Interest in veganism is growing in the UK, with vegan food sales at Britain's supermarkets on the rise, and a record-breaking number of participants pledging their participation in this year's Veganuary challenge. But perhaps more significant is the fact that Greggs' vegan roll sparked a full-blown culture war when it hit shelves—an episode Greggs humbly referred to in today's profit outlook (pdf) as "extensive publicity surrounding the launch." The fact that the product's existence was up for debate at all is saying something in a country otherwise consumed by the existential debate that is Brexit.
Part of the divisiveness came from the fact that Greggs is not an upscale bastion of wellness. It's an everyman's bakery, known for its mastery of the kinds of greasy classics that taste great the morning after too many pints. It is this market positioning that led some—like the never-quiet Piers Morgan—to view a meat-free sausage roll as a prime example of political correctness gone mad. Others saw it as a promising sign that planet-friendly diets are becoming more mainstream. Some, one can hope, just saw it as a meat-free snack option they can quickly gobble on their walk to the tube.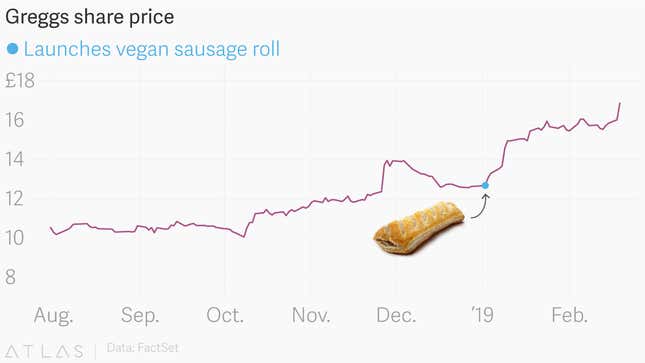 Either way, the company's share price responded accordingly, with a steady increase beginning right as the vegan bake hit shelves. Upon news today (Feb. 19) that the company expects its profits to exceed previous expectations, shares were up more than 10% in Tuesday morning trading.
Not bad for a half-baked debate.