Luke Skywalker. Princess Leia. Kermit the Frog. Miss Piggy. Spider-Man. The Incredible Hulk. Buzz Lightyear. And now, Indiana Jones.
Together, they represent the defining characters and pop culture childhood memories of millions, if not billions. And in the past decade, they've all been snapped up by the Walt Disney Company.
The whip-wielding archeologist became the latest addition to Disney's stable on Friday, when the company announced it had reached a marketing and distribution agreement with Paramount Pictures to acquire control of all future Indiana Jones films. (Paramount keeps the rights to the four existing Indy movies and "will receive a financial participation on any future films," the studios said.)
It's the latest gigantic pop culture acquisition for Disney, which has spent the last decade stockpiling many of the world's most beloved franchises. First, Disney spent more than $100 million to purchase the Muppets in 2004. Two years later, the company shelled out $7.4 billion for Pixar, home of Toy Story, Monsters Inc., and Cars. Marvel Entertainment came next (in 2009, for $4 billion) and then in October 2012, Disney snapped up George Lucas' company Lucasfilm—and all rights to a little franchise called Star Wars—for $4.06 billion.
Disney's decades of cultivating its own franchises–via movies, TV shows, its theme parks and of course, incessant merchandising–has given it a viable blueprint as it seeks to make the most of its new purchases. Under Disney's watch, Marvel has kept a steady stream of blockbuster films in the pipeline, which is also becoming a major television presence on Disney-owned Disney XD (home to several animated series starring Marvel characters) and ABC (where Marvel's Agents of S.H.I.E.L.D. is one of fall's biggest freshman hits), and recently announced an ambitious new deal with Netflix to create four new Marvel series beginning in 2015. That will be followed by a push into the Disney Parks, with an Iron Man-themed ride planned for Hong Kong Disneyland in 2016.
After acquiring Lucasfilm last year, Disney chairman Bob Iger immediately announced plans to resurrect the Star Wars franchise with new films beginning in 2015, as well as developing new TV shows and theme park concepts. While Lucasfilm also owned Indiana Jones, Iger admitted at the time that there were "some encumbrances" to moving forward with Indiana Jones, given Paramount's claim to future film rights.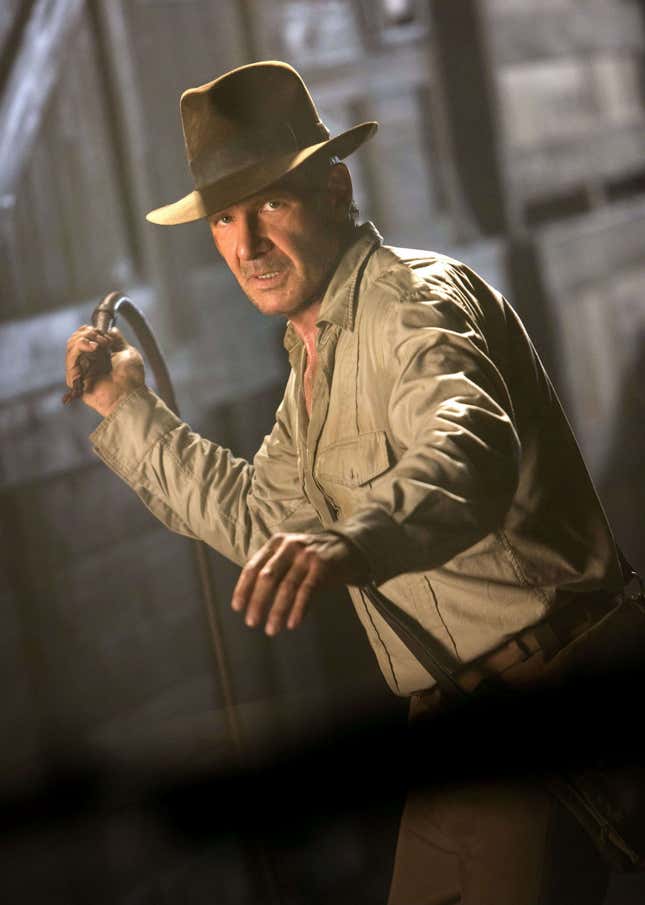 Friday's deal with Paramount opens the door to reviving a series that has more life left in it than one might think, given that its star, Harrison Ford, is now 71. The fourth Indy film, 2008's Indiana Jones and the Kingdom of the Crystal Skull, was considered a creative disappointment but still grossed a massive $786.6 million worldwide (all four films combined made just under $2 billion worldwide, not adjusted for inflation). In addition to launching a fifth movie—either with Ford or a reboot with a fresher-faced Indy—look for Disney to develop new TV shows (an animated version of The Young Indiana Jones Chronicles, which aired in the '90s, would seem a no-brainer for Disney XD) as well as new opportunities at the Disney theme parks, several of which already feature Indy-themed rides and stunt shows.
Paramount, which sold its theme park chain in 2006 and hasn't controlled a TV network since it launched UPN (United Paramount Network) back in 1995, simply doesn't have that kind of reach to keep the franchise alive. But Disney remains intent on discovering, rescuing, and rehabilitating precious pop culture artifacts so they can be found or rediscovered by audiences around the world—a modern-day Indiana Jones, indeed.
Read This Next
: