On a sunny day—and it is nearly always sunny in Los Angeles—the Walt Disney Concert Hall shines like a giant silver flame bursting from the pavement of downtown's Grand Avenue.
With its asymmetric walls of stainless steel, famed architect Frank Gehry's music venue is credited with reawakening its urban surroundings.
Once notoriously lifeless and empty—"It really felt like a bomb had gone off in downtown, if you were there on a Saturday," one longtime local said—downtown Los Angeles has morphed into one of the city's most compelling and fast-growing neighborhoods—at least in terms of population. In the next 25 years, up to 25% of LA's population growth will be concentrated in downtown's 5.8 square miles, an area comprising only 1% of the city's total land area.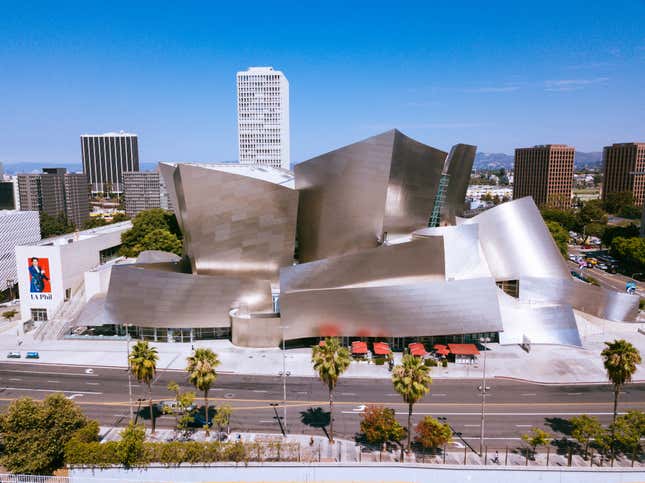 Disney Concert Hall is home to the Los Angeles Philharmonic and boasts some of the world's best acoustics, but there are not enough classical music fans in Los Angeles to boost downtown's population on that basis alone. When the concert hall opened its doors in 2003, downtown L.A. was just beginning to see the effects of strategic planning laws that gave developers incentives to renovate historic but derelict buildings, and that forced builders to fund public art alongside new commercial projects.
L.A.'s story is a particularly useful one for other cities around the world looking to revitalize struggling urban cores. Gehry designed the Disney hall at the same time as his famous Guggenheim Museum in Bilbao, Spain. While both are credited with launching new eras in their cities, many efforts to replicate their success elsewhere in the world have failed. Los Angeles's shining steel concert hall shows the power—and limits—of a single building in defining a new era.
Buildings without a city
This isn't downtown L.A.'s first golden era. The early 20th century gave rise to the buildings that still make up the historic core, like the Beaux Arts Biltmore Hotel, Grand Central Market, and the city's first skyscraper, the Braly Block (now the Continental Building).
The Bunker Hill section of Grand Avenue, where the Disney Concert Hall is now, was at that time a neighborhood of stately Victorian homes, whose wealthy inhabitants patronized the theaters, department stores, and restaurants in the bustling commercial streets below.
The creation of the US freeway system after World War II flung new development outwards from the crowded, congested downtown into L.A.'s growing suburbs. The wealthy residents of Grand Avenue left downtown for lusher suburbs and sold their homes to developers who converted the once-great residences into cheap, poorly-maintained rental apartments. Tenants—most of whom were elderly and impoverished—possessed neither the money nor the ability to walk to the neighborhood's stores and theaters. Eventually, those shuttered, too.
The big office towers were still there, drawing thousands of workers each day, but the life had gone out of downtown. Even for a car-dependent city, downtown hosted an inordinate number of grubby small parking lots, owned by speculators waiting for the land beneath them to increase in value. Once a day the city center inhaled thousands of commuters and their cars, and at the end of the day exhaled them back onto the congested freeways.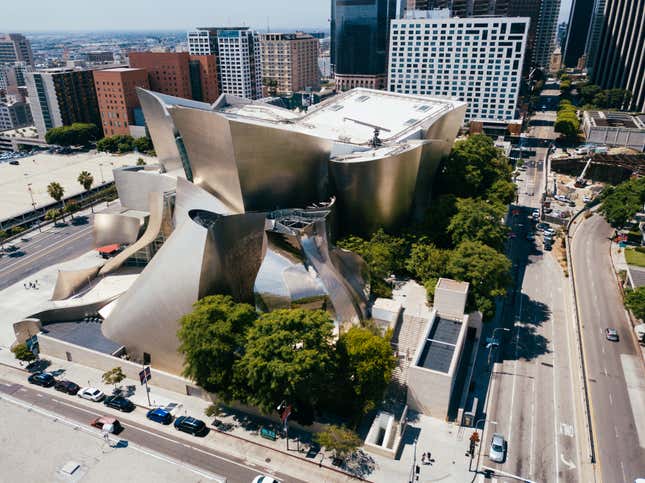 In 1950 there were 62,000 people living downtown. By 1970, there were less than 18,000, a number that stayed stagnant for decades.
"Anyone living downtown seemed like refugees from real cities elsewhere," said Dana Cuff, a professor of architecture at the University of California, Los Angeles and the founding director of CityLAB, a think tank focused on urban design.
The landscape wasn't empty. At one end of downtown's Grand Park, architect John Parkinson's iconic City Hall gave the skyline a distinctive shape. At the other, the Dorothy Chandler Pavilion at the Los Angeles County Music Center hosted world-class concerts and the annual Academy Awards. A short walk down Grand Avenue was the Museum of Contemporary Art, Los Angeles.
But in between these destinations, the streets felt desolate. There were none of the cafes, restaurants, shops, or other signs of life that indicate a thriving neighborhood. There was no sense of place. "They were really nice buildings. But they didn't add up to a city," Cuff said.
A recipe for a cultural landmark
Plans for a new concert hall on Grand Avenue had been underway since the late 1980s, when Walt Disney's widow Lillian Disney donated $50 million for a new music venue in downtown Los Angeles. The city chose as the architect Frank Gehry, who had also been commissioned to build the Guggenheim Museum in Bilbao, Spain.
In 1997, the Guggenheim opened to worldwide acclaim. The Disney Concert Hall, however, was not much more than a skeleton and a parking garage. Costs escalated well beyond Lillian Disney's initial donation—the final price tag was $274 million—and fundraising had stalled. With such a tiny residential population, downtown didn't inspire the kind of civic passion that smaller nearby cities like Santa Monica, Malibu, or Pasadena could rally. The half-finished concert hall seemed like a giant metaphor for downtown's stagnancy: a potentially great place that couldn't muster the momentum to actually become something.
Then in 1999, the city passed a piece of legislation called the Adaptive Reuse Ordinance. Essentially, if developers agreed to renovate existing historic buildings into new housing units instead of knocking them down, the city would waive a lot of the zoning requirements and speed up the approval process.
In city planning and preservation circles, this piece of legislation is the quiet hero of downtown's transformation. Downtown got more residents, and held onto its intriguing older architecture. With those extra incentives, developers got interested in downtown again.
Around the same time, the city started seeing benefits of the Arts Development Fee, sometimes colloquially referred to as the "percent for art" program. Instituted in 1992, this municipal law made developers of retail spaces, office buildings, warehouses, and hotels with building permits valued at $500,000 or more contribute 1% of the permit cost toward public art. Developers could meet the requirement by either commissioning a piece of public art as part of their new building, or by paying the fee directly to the city, whose Department of Cultural Affairs would determine how to spend it.
As it turns out, even a tiny percentage of a multimillion dollar commercial development buys a lot of art. The "percent for art" contribution of California Plaza, a nondescript office and retail complex, covered the cost of the MOCA building on Grand Avenue.
Invigorated by these successes, the city renewed the drive for the concert hall fundraising, with the Walt Disney Co. and other members of the Disney family contributing most of the extra costs. When the building opened in 2003, it was praised as an architectural triumph and a cultural landmark.
Los Angeles "represents a vision of life where individual expression rules. It is also a model of suburban alienation—one that has often been criticized for lacking the traditional urban glue of older cities," architecture critic Nicolai Ouroussoff  wrote in the Los Angeles Times. "The wonder of Disney Hall is its ability to resolve that conflict."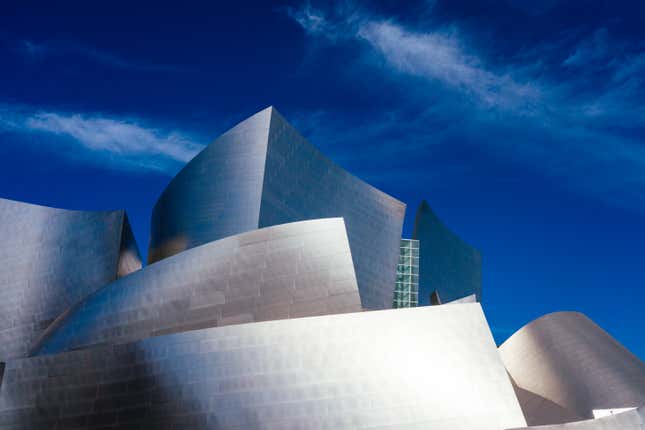 It's a big, iconic building, an instantly-recognizable skyline-changer. It became a destination in an increasingly walkable downtown, a reference point in a city that often confuses visitors looking for a city center. A leafy elevated park wraps around the building, which people downtown frequently use as a meeting point or where office workers congregate on a lunch or coffee break. An experimental theater on the ground level hosts boundary-breaking performances.
Ten years after it opened its doors, Disney Hall became "a living room for Los Angeles," according to Variety. Now, more than 300,000 people a year attend concerts there, and many more pass through the hall or its grounds while walking around downtown.
A visitor today might wander through the elevated park that surrounds the concert hall after taking in the sights at the Broad museum across the street, lingering over the fountain of cracked pottery Gehry built as a tribute to Lillian Disney, before walking down Second Street for lunch at one of the taquerias or hipster cafes at Grand Central Market. A look at the shimmering aluminum waves instantly locates a visitor in downtown Los Angeles.
Since the approval of the Adaptive Reuse Ordinance, downtown L.A.'s housing stock has increased by 300%. The area's residential population is about 62,000—back to the level of the lively 1950s. Business is booming, too. Retail sales in the area were $3.7 billion in 2017, up 75% from 2010.
"Getting people out of their private spaces—whether that's their homes or offices or cars—and bringing them into collective everyday life, that's what a city is," Cuff said. "When a city can claim its local identity, which I think that area around Grand Avenue is starting to do, that's an amazing achievement."
Beware the "Guggenheim effect"
The billowing steel walls of the Disney Concert Hall and Gehry's Guggenheim Museum convey a similar sense of motion. Both were hailed as architectural achievements when they opened. And in Bilbao, the Guggenheim is indeed credited with boosting tourism and cultural and economic activity in a once-moribund port city.
But the "Guggenheim effect" (or "Bilbao effect") has also become global shorthand in architectural circles for the belief that a single iconic project will magically transform a neighborhood, city, or region—a hope that doesn't always pan out. Ambitious but ill-conceived buildings have cropped up around the world, from the Public, an arts center in West Bromwich, UK that was converted to a high school after failing as a cultural center, to the City of Culture in Santiago de Compostela, Spain, a complex the Economist described as resembling "a ski-jump designed by a drunk."
The key difference between a cultural triumph and a civic white elephant, critics say, is backing up those visually-arresting landmarks with the invisible support of laws and regulations. Laws can entice development and enlist those looking to profit from an area's revitalization to support its arts and public life. Iconic buildings can't change a city unless governments also have a coordinated, thoughtful, community-focused plan driving that growth forward.
"There is no question about the fact that [the Disney Concert Hall] is a marvelous building. There's no question it's changed the surroundings, visually and otherwise. But it's important to give similar attention to under-the-radar policy initiatives, like the adaptive reuse ordinance," said Vinayak Bharne, a professor of architecture at the University of Southern California.
"Transforming a city can't be done through silver-bullet buildings. The most intelligent way to do it is through sustainable initiatives. That's exactly what is exciting about downtown."
Be sure to download the Quartz Brief app for iOS to explore our 3D model of Disney Hall in augmented reality.