After last Dec. 6's World Cup draw, Ben Hoban, a fixed income trader at Oppenheimer & Co., put together a spreadsheet to statistically test a theory many American soccer fans arrived at intuitively: The United States Men's National Team got hosed.
FIFA, the global governing body for soccer, starts the World Cup with eight four-team mini-tourneys. The top two finishers from each group enter a round of single-elimination match-ups. To keep the finals interesting, FIFA makes sure the top eight teams in the world according to its rankings don't wind up in the same group, then fill out the rest by randomly picking from different geographical regions. That is how the US has ended up in the same group as past World Cup champs Germany; Portugal, which boats arguably the best player in the world in Cristiano Ronaldo; and Ghana, a country that has knocked the US out of the last two tournaments. It would be quite an accomplishment for the US team to even make it into the elimination rounds.
But what if the groups were set entirely by seed, similar to the way that the US college basketball tournament is structured each year? That's what Hoban proposed to test. Using FIFA's (already suspect) team rankings, Hoban compared how hard the average group game under the current draw would be to a draw governed by team rankings. It turns out that the average team the US and Ghana will play next summer is ranked 14 places higher than if they were "fairly" seeded. Belgium and Nigeria, on the other hand, will play teams that are ranked 10 places lower than they would play if the tournament were set up by rankings: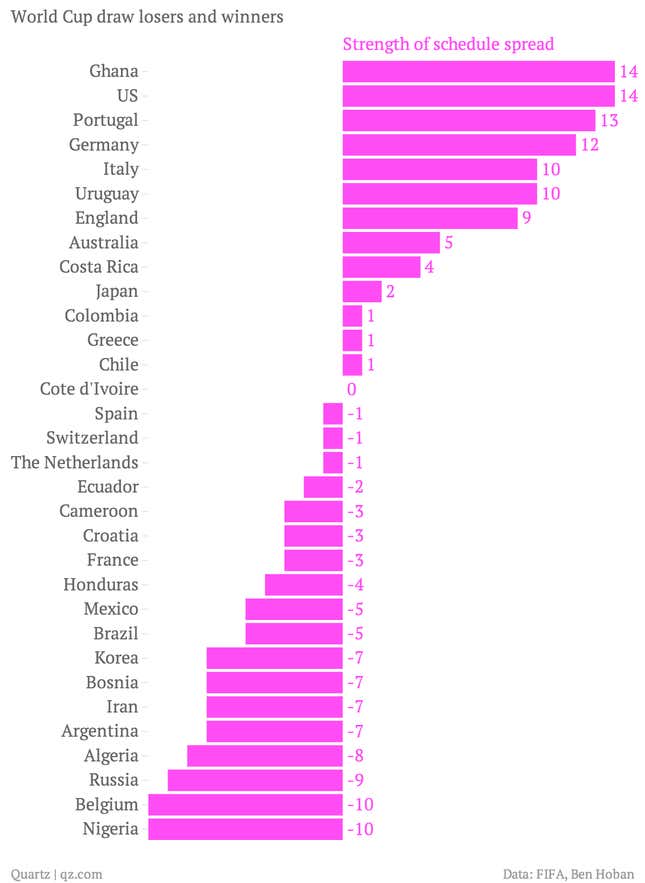 Belgium is already a dark-horse pick to win the World Cup, and the team's well-placed draw certainly clears its path to the Cup's latter stages. As for the US, well, the odds were always long, and this year, any upsets will have to come early.