US Immigration and Customs Enforcement (ICE) will pay a private contractor more than $100 million this year to bring detained families and unaccompanied children to shelters and detention centers across the country.
The exact figure is expected to come to $101,814,705.60 for the 2019 fiscal year—about 20% higher than what ICE spent to fly and drive "UAC" and "FAMU" (Unaccompanied Alien Children and Family Units) in 2018, according to new federal contracting data reviewed by Quartz. It will bring the total cost of the contract, which was awarded at the end of September 2014, to over $306 million, exceeding by $67 million the amount initially budgeted for the five-year task.
"The current apprehension/transfer rate of UAC and FAMU could not have been foreseen when the original…ceiling was established in FY14," says an ICE document justifying its request for more money. It cites "increased demand to provide UAC and FAMU transportation services" due to a a "larger than expected influx" of unaccompanied minors and families from Central America right after the 2016 presidential election, and Donald Trump's "zero-tolerance" policy—implemented as an executive order in February 2017—which required asylum seekers and unauthorized border crossers to be arrested.
Further, the ICE document says the Office of Refugee Resettlement (ORR), a division within the Department of Health and Human Services' Administration for Children and Families which places detained children in shelters and group homes, is currently operating at 85%-95% capacity, "which requires ORR to make placements across the full spectrum of locations requiring escorting one or two children at a time instead of transports for larger groups of UACs together."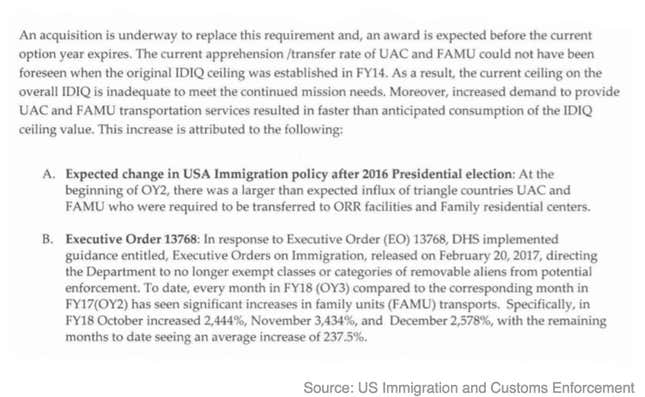 An ICE spokesman said the agency's estimates are "generally based on existing or emerging patterns and trends, and an analysis of enforcement data available," and pointed Quartz to US Border Patrol statistics that showed an increase in arrests during 2018.
Trump's directive caused a massive increase in how many families ICE had to transport: During the last quarter of 2018, monthly numbers went up as much as 2,578% over a year earlier. This year has seen an average monthly increase of 237.5%.
After zero tolerance went into effect, the number of unaccompanied minors apprehended by ICE also rose significantly, explains the document. Transports of "tender age" children—2 years old and under—increased by 32% in 2018. Transports of kids between 2 and 18 increased by 22%.
At least 245 immigrant children have been separated from their parents since the Trump administration said it would end the practice in June, according to the American Civil Liberties Union. Thousands more were taken from parents under Trump's policies than previously known, and the government recently admitted that it may not be able to reunite them all.
Read the full text of the ICE document here: