Ever since Xiaomi poached Hugo Barra from Google, the world has been waiting for the Chinese smartphone maker to sell its inexpensive, highly customized Android handsets beyond the confines of greater China. Xiaomi finally dropped the first hints about its plans this weekend in Taiwan, and they're exactly in line with company's reputation as a brazen challenger to established giants like Samsung and Apple.
Specifically, Xiaomi will launch next year in Singapore and Malaysia, which also happen to be two of the most saturated smartphone markets in the world. In Singapore 87% of mobile phones are already smartphones—tied with Hong Kong—and Malaysia is next at 80%, according to market researcher Nielsen: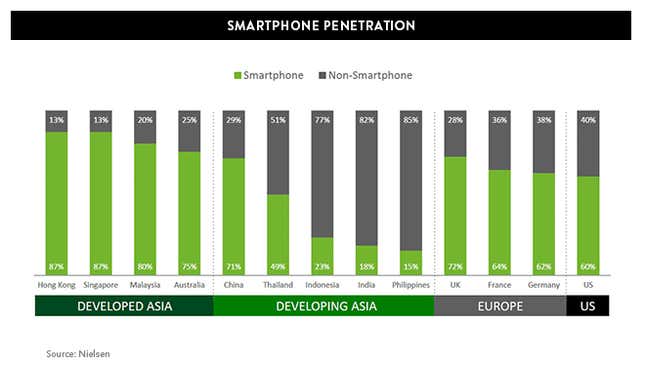 In both markets—as in most of the world except the United States—the reigning giant is Samsung, which dethroned Apple as the top smartphone maker and helped to drive Android to its current market-leading position. But within the Android market, Samsung's dominance is far from assured: Chinese giants Huawei and Lenovo, along with South Korea's LG, all increased their volume of shipments by more than 70% year-on-year in the third quarter, and are gaining fast.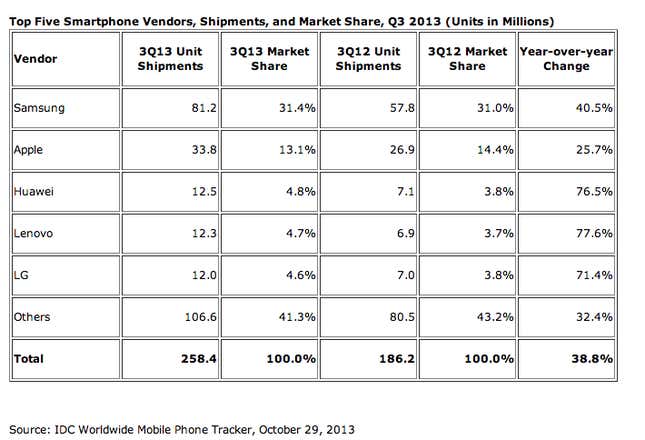 So how does Xiaomi possibly think that it can gain a foothold in Singapore, Malaysia, and eventually the rest of the world?
First, the company has shown itself to be a deft practitioner of sophisticated marketing. That includes social media "flash sales" and the cultivation of a devoted base of users, who contribute ideas about how to improve Xiaomi's Miui operating system (a  modified version of Android).
Second, its phones, which offer high-end specs commonly found in trophy handsets like the iPhone and Samsung Galaxy, are significantly cheaper, even without telecom operator subsidies. Since subsidized phones are more common in Singapore and Malaysia, Xiaomi could potentially offer its desirable handsets for free in those countries with the price of a carrier contract.
Even if that's enough to crack the world's toughest smartphone markets, it may not directly lead to profits for Xiaomi. Its profit margin on handsets is tiny, so its business model relies on selling apps, games, and other content to users. That means it will have to develop customized offerings that appeal to customers in each new market.
In the end Xiaomi's biggest advantage may be its reputation as an undersized upstart doing battle with the industry's bigger, more faceless titans. Why else pick the toughest possible beginning for an ambitious expansion plan?