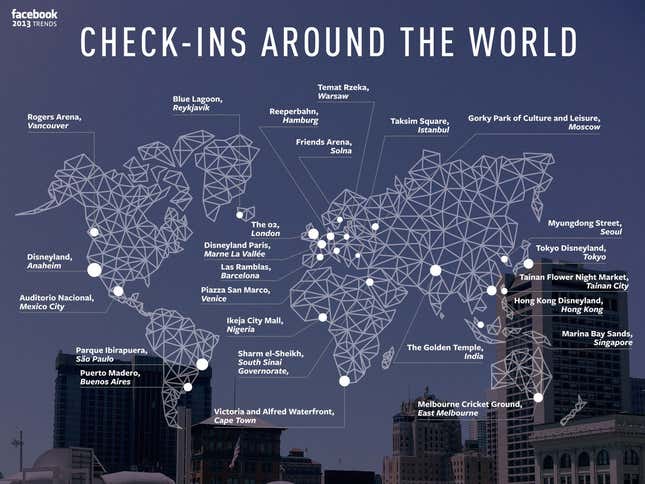 One thing that unites Facebook users in Asia, Europe and America: They all love Disneyland, and want everybody to know about it. Four of the top 25 locations that were most checked-in to by Facebook users this year—excluding transportation hubs such as airports—were Disneyland Tokyo, Disneyland Hong Kong, Disneyland Paris and Disneyland California. (Facebook's top 25 consist of the single-most checked-in location in 25 countries, not the top 25 overall.)
Apart from Disneyland, many of the top places on Facebook's list were predictable tourist attractions: The Blue Lagoon in Iceland, Piazza San Marco in Venice, the Sharm el-Sheikh resort in Egypt, Las Ramblas in Barcelona.
There are also some surprises. The most popular Facebook check-in in India is not the Taj Mahal but the Golden Temple, the spiritual home of the Sikh religion. In Moscow it is not Red Square but Gorky Park. And the top spot in Germany isn't Berlin's Checkpoint Charlie but the Reeperbahn in Hamburg, heart of the city's seedy red-light district. Why do so many people want their friends to know they were hanging out in a street full of strip clubs and brothels? Probably because the Reeperbahn is also where the Beatles spent two key years playing at clubs before they became world-famous, and Beatles-Platz, with statues of the band, sits at one of the Reeperbahn's intersections.