If you've never heard of Divergent, a trilogy of novels set in a dystopian future version of Chicago, then there's a reasonable chance you will next year.
That's because a movie version of the first novel in the series, featuring Kate Winslet and Ashley Judd among others, is scheduled for release in March 2014, and according to one analysis—admittedly, one with a vested interest—it's already generating the kind of buzz on the social web that suggests it could be successful.

Following the recent release of the Hunger Games sequel, Catching Fire, the brokerage firm Piper Jaffray has run the numbers on the social media chatter surrounding the young adult novel adaptations recently made by Lionsgate Entertainment. Piper Jaffray is recommending its clients buy shares of Lionsgate, so it has a reason to make the case that Divergent will succeed.
Lionsgate has been searching for another bankable "franchise" to replace Hunger Games (the third movie in the trilogy, Mockingjay, is set to be released this time next year). It's doubtful whether any of its other attempts this year (Ender's Game, Beautiful Creatures and Mortal Instruments) were successful enough to inspire sequels, but, if you believe Piper Jaffray, Divergent could.
The film is generating more mentions on Twitter 100 days ahead of its release than Hunger Games was at this point in the cycle.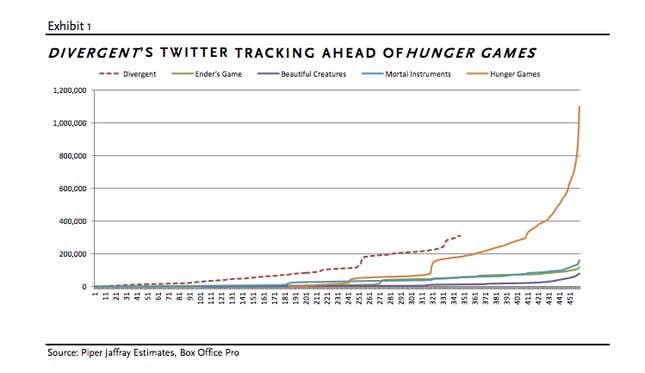 In the much bigger world of Facebook, it's a slightly different picture: Divergent tracks behind Hunger Games on "likes", but ahead of the other, more underwhelming releases.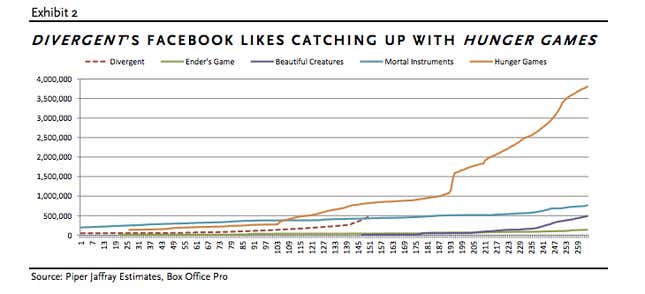 Google search results also look encouraging compared to those releases (though you'll notice Hunger Games is artfully left out of this chart).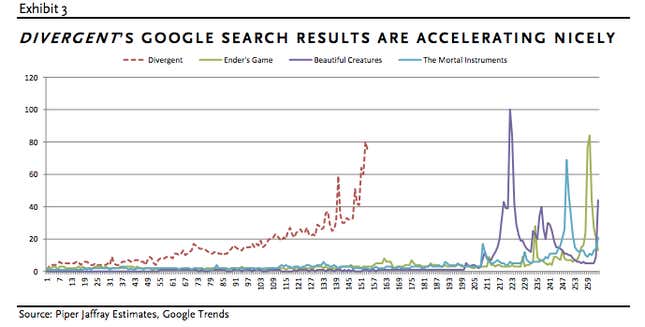 Of course, Piper Jaffray's analysis shows Divergent really beating Hunger Games only on one measure (Twitter mentions), and the predictive power of social media buzz for box office returns remains questionable. But it's still generally considered to be vastly superior to older  so-called"tracking" techniques.
For the record, the firm expects Divergent to gross between $220 million and $270 million globally and to become a "four film franchise."