In recent years, much of the discussion at Barcelona's Mobile World Congress—okay, nearly all of it—has focused around the advent of 5G cellular technology, and the technological marvels that these ultra-fast networks will enable. This year, unlike in previous expos, those promises started to feel more real, as chipmakers, networking equipment manufacturers, and smartphone companies showed off 5G-capable devices, while mobile operators unveiled timelines of 5G service rollouts. It's a long-discussed future that will soon be upon us.
Just about every company with a booth at MWC was armed with a litany of talking points about what 5G networks could enable. There were demonstrations of remote surgeries directed in real-time by a doctor miles from the hospital; a truck in Gothenburg that you could steer from Barcelona in real-time; and jam sessions between far-flung musicians made possible by—you guessed it—a real-time mobile link.
And so, delegates got a glimpse of a future where everyday objects—from phones to cars, appliances, and just about anything else that can house a sensor–are always connected to speedy internet. There has been a push for years to connect more things to the internet, but when people and objects are connected at speeds that remove all the delays caused by distance, it's an experience unlike anything else on the modern web.
Smart networks, dumb devices
For all of the enthusiasm about next-generation networks, the shift to 5G poses an existential threat to the mobile hardware industry currently cheering it on. The status quo conforms to the simple equation that to run increasingly complex software, a phone's hardware has to be more powerful.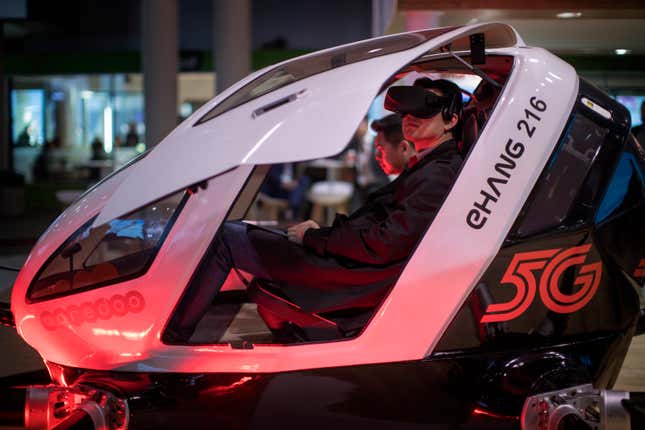 One of the key benefits of 5G is the reduction of latency, or the time it takes for a request to load a webpage or app to beam to the datacenter and back to the phone. If 5G truly reduces data latency to a point where there's no noticeable delay for programs run on the cloud to appear on a consumer's phone, it gives companies that control vast datacenter resources like Amazon, Google, and Microsoft an opportunity to become the compute power for the entire mobile market.
The primary effect of this is that consumers will be able to play video games on mobile devices with graphics typically reserved for PCs or consoles, or instantly stream 4K video without needing to keep large files on the phone. The secondary and tertiary effects, however, could be more meaningful.
A major trend in the past three years of artificial intelligence research has been to shrink sophisticated decision-making algorithms to a size small enough to be stored on a mobile device. This is what allows ad-tech behemoths like Facebook and Google to offer photo and video filters, automatic text translation between languages, and increasingly accurate speech-to-text services.
Again, with near-zero latency, these companies can use their vast computing resources to make all these services more accurate. What's more, since the data is now being processed on their own servers, it gives them access to even more data about every action we take on mobile devices.
Qualcomm, the largest supplier of mobile chips, has embraced 5G by announcing the first semiconductors capable of receiving a 5G signal for mobile phones. But any company that makes SD cards or on-device storage is staring down the barrel of a future where nearly all data is held in the cloud and accessed instantly over impossibly fast mobile networks.
Consumers can take advantage of lighter devices, in both weight and cost, because less powerful components are needed. The AI algorithms currently running on smartphones are also power-hungry, and the never-ending processing of data done on devices eats battery life even when your screen is off. That could change when devices are little more than passive displays for incoming content.
An example of how this works over existing networks is the emergence of KaiOS, the operating system optimized to give cheap feature phones access to software like the Google Assistant. It's made possible because all the Assistant's compute is done on Google's cloud, and then transmitted over networks as slow as 2G. Most KaiOS phones also boast week-long battery lives, a confluence of less computing power and lower resolution displays. While that might not be acceptable to consumers with iPhones, the functionality and price points of the devices has made KaiOS the second-most popular mobile operating system among India's 1 billion-odd phone users.
The future unfolds
This year's expo also revealed one of the first major paradigm shifts in the smartphone form factor. Although smartphones have been getting larger, their basic shape hasn't changed that much from the day Steve Jobs unveiled Apple's first iPhone in 2007. Many phone makers showed off foldable phones at MWC (or just before, in Samsung's case), opening up new possibilities for how we interact with our mobile devices.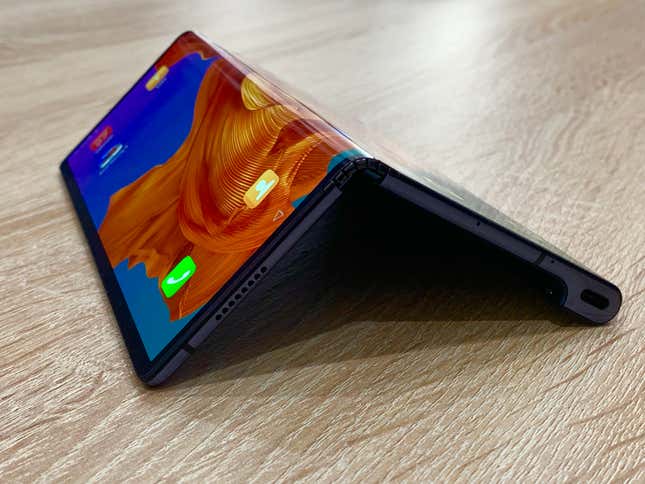 When you can stream movies, games, or video chats in high resolution with no latency, you are probably going to want to do it on the biggest screen you can realistically carry. With a foldable phone, there's the convenience of a mobile device that you can use with one hand, along with the screen real estate of a tablet or laptop screen when unfolded.
While many manufacturers have committed to releasing foldables this year, it will likely be a few more years before these sorts of devices become the norm, if all goes to plan. But first, operators need to finish building out ultra-fast, ultra-expensive 5G networks to support these devices. That has recently been made more difficult by a US campaign to freeze out China's Huawei from installing next-generation networks around the world, on spying concerns.
Geopolitical concerns aside, when foldable, 5G-ready phones become available, they'll be out of reach for most people. Huawei's first foldable smartphone costs around $2,600, and Samsung's is expected to run around $2,000. And that's on top of what consumers will need to pay carriers for 5G service. Carriers are still figuring out the right pricing models for 5G plans, but they're not likely to be cheap, either.