TikTok, the mini-music-video app launched by Chinese company ByteDance in 2016, last week surpassed one billon downloads, according to app data provider Sensor Tower. That makes it one of the world's most-installed social networking apps last year behind only Facebook and its offerings.
The app was installed about 663 million times last year, compared with 711 million for the Facebook app and 444 million for Instagram, according to Sensor Tower. The data for TikTok counts downloads on both Apple's App Store and Google Play, and includes "lite" and regional variations, but not Android installs in China. For 2018, it topped App Store downloads, and was in fourth place overall for non-game downloads, after three Facebook apps: the main app, Messenger, and WhatsApp.
The growth has come in large part from TikTok's phenomenal popularity in Bollywood-crazy India, where young people see it as an inexpensive platform to showcase their own singing (or lip-syncing) and dancing talents, in clips of up to 15 seconds. India accounts for a quarter of TikTok's total downloads, according to Sensor Tower. That makes it a serious rival to Facebook's WhatsApp, which as of January 2018 had 1.5 billion monthly active users globally, and counts India as its biggest market. Facebook, which bought WhatsApp in 2014, hasn't broken out numbers for the app's active users since then. As of February 2017, the app had 200 million monthly active users in India.
In the US, TikTok is at close to 100 million downloads, after ByteDance acquired music-video app Musical.ly in 2017. It was the most popular non-game download in the US in January. In November, late-night host Jimmy Fallon sparked a wave of interest in the app after adding a new "challenges" segment on his show that invited users to post videos of themselves on TikTok. That same month Facebook released Lasso, a TikTok-like app aimed at young users.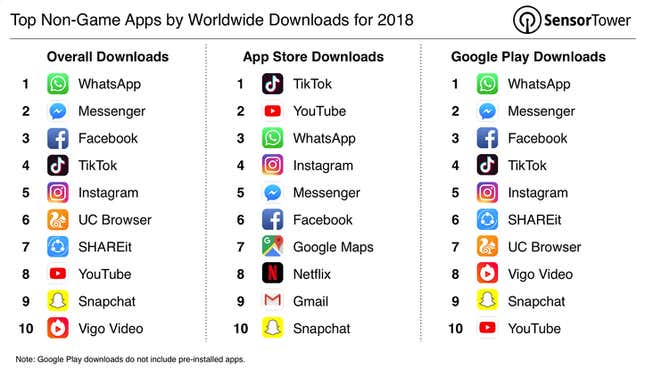 Facebook says more than 2 billion people (pdf) use one of its services daily. ByteDance, a startup founded in 2012 that focuses on news and other kinds of content apps, says TikTok has half a billion monthly active users globally.
While Tencent has often been described as "China's Facebook" due to the dominance of its WeChat messaging app, its enormous numbers depend largely on users in China. Outside the country, it hasn't been able to build the kind of global reach that TikTok has pulled off relatively quickly—and in fact, public rivalry between the two firms has deepened as ByteDance's global reach grows. Still, Tencent has the consolation of being the world's biggest revenue earner for apps thanks to its stable of popular games, according to Sensor Tower.
While many Chinese apps are subject to severe censorship requirements at home, ByteDance has managed to prevent that from undermining its popularity overseas by releasing different versions of TikTok, with the app known as Douyin at home.  The Financial Times has called ByteDance's strategy a possible "road map" (paywall) for other Chinese tech firms trying to go global. The overseas app also requires users to sign up with accounts like Facebook or Twitter, which are blocked in China and can't be accessed by phones with a Chinese SIM card.
As its apps become ever more popular, ByteDance's offerings too are attracting more scrutiny in terms of how they handle privacy and misinformation. Last week, the US Federal Trade Commission fined the company a record $5.7 million (paywall) for breaching child privacy laws by not seeking parental permission before collecting the data of users under 13. The breach related to downloads that happened when the app was till operating as Musical.ly, and TikTok has been deleting some accounts as a result of the settlement.
And in India, regional-language news apps backed by Chinese companies, including ByteDance's Helo and Bangalore-based ShareChat, which counts smartphone maker Xiaomi as an investor, are now like WhatsApp facing accusations of allowing the spread of misinformation and hate speech.