At the National People's Congress (NPC) meeting in Beijing—part of the annual "Two Sessions" gathering that also includes meetings of the Chinese People's Political Consultative Conference advisory body—premier Li Keqiang presents the government's "work report," goes over a road map for the year ahead, and takes questions from foreign correspondents. The report includes the announcement of the economic growth target for the year and plans for military spending.
Today (March 5), at the start of the NPC meeting, Li warned delegates that China would "face a graver and more complicated environment" this year as the economy slows. This year's Two Sessions comes after the US and China imposed tit-for-tat tariffs on billions of dollars of each other's goods in the last six months of 2018, and as the two countries are trying to hammer out a deal to walk back those tariffs.
The meeting will last until March 15 (a daily agenda is available here). Apart from today's work report, watch for foreign minister Wang Yi's remarks on China's diplomacy on Friday, and a discussion the same day of a foreign-investment law whose quick arrival before the gathering is being seen as part of efforts to offer concessions to the Trump administration. Li's press conference with Chinese and foreign journalists comes at the close of the Two Sessions.
Here are three important numbers that have come out of this year's meeting:
6-6.5%: The target range for China's GDP growth this year. China has almost always put its growth target as a specific figure, but this time has left itself more wiggle room as it seeks to stabilize the economy while also controlling the increase in debt. China's economy grew at 6.6% last year, exceeding the target of "about 6.5%" (paywall), but nevertheless weaker than historic growth.
7.5%: The amount China is increasing its military spending by, bringing the total to nearly 1.2 trillion yuan (about $178 billion). The figure is less than the 8.1% percent by which military spending increased in 2018, to $1.1 trillion yuan. For comparison, the US military budget is about $700 billion. However, China's numbers may not be fully representative of all its defense spending, according to Washington-based think tank Center for Strategic and International Studies, and may be closer to $200 billion or above.
Nearly $300 billion: The amount of cuts in taxes and employer social welfare contributions Li announced today. The cuts come as China has overhauled its tax system to provide more deductions for lower earners, and possibly boost consumption—while going after prominent high earners such as movie star Fan Bingbing for tax evasion.
The hazy skies in Beijing that have persisted since the weekend, as thousands of delegates began gathering in the capital, seemed to reflect the mood around the economy. China often arranges for blue skies to greet arrivals ahead of major meetings in the capital, which usually involves halting nearby factory activity. This morning, hazy conditions and indicators of particulate pollution showed unhealthy air quality—though later the sky brightened and air-quality numbers improved markedly, according to the US Department of State Air Quality Monitoring Program.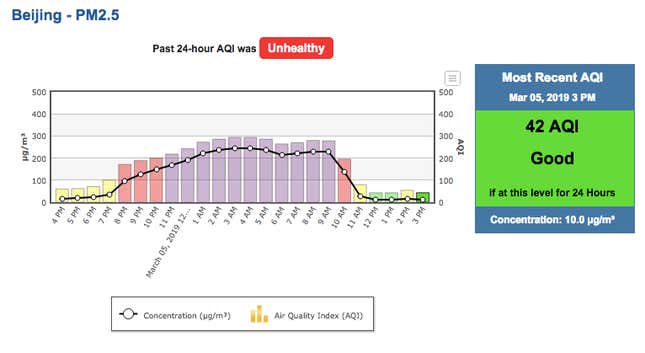 Officials will no doubt be hoping for a similar turnaround in economic winds, but premier Li's remarks this morning were conservative. "We must be fully prepared for a tough struggle," said Li, according to an English handout, the Guardian reported.