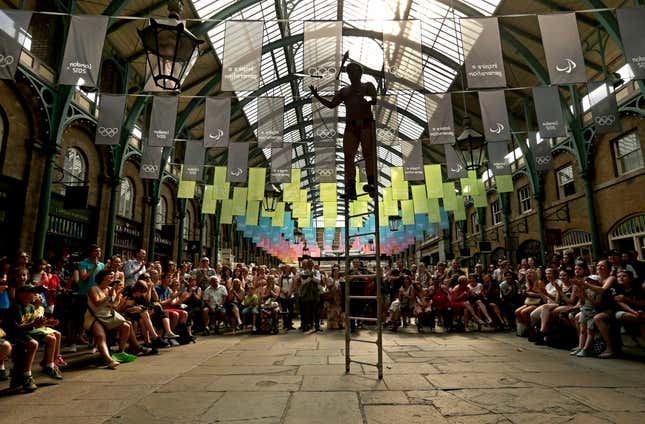 New York tops the list of the world's best "cities of opportunity," with London second and Toronto third, according to a report (pdf) released this week by PricewaterhouseCoopers and the Partnership for New York City.
The report gauges 27 of the world's largest and most influential global cities on their ability to provide opportunity to their residents — both long-term residents and new immigrants. This is what I like most about the report: It seeks to gauge the ability of cities not just to grow and develop, but to provide opportunity broadly. It notes the adaptability and resilience of cities and highlights the connection between quality of life, or livability, and long-run economic growth and development.
The 27 cities covered by the report are global powerhouses, accounting for nearly eight percent of global economic output (measured as gross domestic product) while housing just 2.5 percent of its population. The report projects that these 27 cities will add 19 million more residents, 13.7 million more jobs, and $3.3 trillion more in economic output by 2025.
The table below, adapted from the report, shows how the 27 global cities stack up on their overall ranking of opportunity. The rankings are based on ten dimensions of opportunity (see below) for which the report collected data on 60 individual variables.
Table adapted from "Cities of Opportunity" (ranking numbers adjusted for clarity)
New York is first, even though it failed to top a single category. London is second, up from sixth in the 2011 version of the report (this is the fifth iteration). These two cities also came in first and second on a comprehensive listing of the world's most economically powerful cities I compiled last year. Toronto is third. Paris is fourth, also up four spots since 2011, and Stockholm is fifth. San Francisco, Singapore, Hong Kong, Chicago, and Tokyo round out the top 10. Los Angeles is 13th.
Cities in the BRIC nations (Brazil, Russia, India, and China) do not rank as highly as centers of opportunity, according to the report. Beijing is 17th, Shanghai 19th, Moscow 20th, São Paulo 26th, and Mumbai comes in last at 27th.
The report also ranks the 27 cities across each of its ten key dimensions (see the table below).
Table data from "Cities of Opportunity"
Two cities take the top score in multiple categories: Stockholm in intellectual capital and health, safety and security, and Singapore in transportation and infrastructure and ease of doing business. Seoul topped the list in technology readiness; Sydney took first place in sustainability and the natural environment; Beijing ranked first in economic clout; Berlin took first in cost; with Paris taking the top spot in livability and London topping the list as a city gateway.
The report notes that Asian cities perform well in several key categories.
Shanghai and Beijing move up 
the ratings, performing in the top five in economic clout and city gateway, the latter a new indicator that measures global attractiveness and accessibility. Four of the five leaders in inner-city transportation and infrastructure sit in Asia—Singapore, Seoul, Tokyo, and Hong Kong—versus last year when all five leaders were in America or Europe.
Another interesting aspect of the report is its projections of how these 27 cities are likely to grow and develop out to 2025. The chart below (from the report) arrays them on both their projected levels of employment and population in 2025. (Click on chart for larger image.)
Courtesy of "Cities of Opportunity"
Now the picture is quite different. By 2025, the world's largest cites in terms of projected people and jobs will mainly be in the BRICs and emerging economies. Beijing and Shanghai lead, followed by Mumbai, Tokyo, Istanbul, São Paulo, and Moscow.
New York and London are in the middle of the pack with Mexico City, Seoul, Hong Kong, and Singapore. Most Western cities — L.A., Chicago, San Francisco, Toronto, Milan, Paris, Madrid, Berlin, and Stockholm — can now be found in the slow-growing bottom left-hand quadrant of the chart, along with Sydney, Abu Dhabi, Kuala Lumpur, Johannesburg, and Buenos Aires.
One last thing: The report contains fascinating interviews with a wide range of eminent city builders, former mayors, and thinkers, but also with some non-obvious subjects like E.O. Wilson, an emeritus professor of entomology at Harvard University who won two Pulitzer Prizes for On Human Nature and The Ants (the latter with Bert Hölldobler). The report authors asked Wilson if he thought that urbanization was "programmed into our genetic leash," to which he answered:
Cities just happen to be the aggregate of convenience. They're becoming more and more necessary for high productivity in technologically advanced societies, and also becoming a necessity as natural resources, or transportation back and forth between dwellings and city centers, become scarcer. All those things conspire to move us into cities. What we have to do is make cities a lot more livable, and, by that, I mean more consistent with the fundamental emotional needs, the instinctive needs of human beings.
More from our sister site:
The geography of the world's millionaires
What will progress look like in the future?
The developing world's most innovative city for trash management is … Bangalore?