It's no secret that Americans love their bacon. The humble breakfast meat, of questionable nutritious value, has been experiencing a remarkable upswing in popularity, and not just in food. Its flavor is being added to beer, toothpaste, and everything in between. The love affair is showing up in record-setting prices.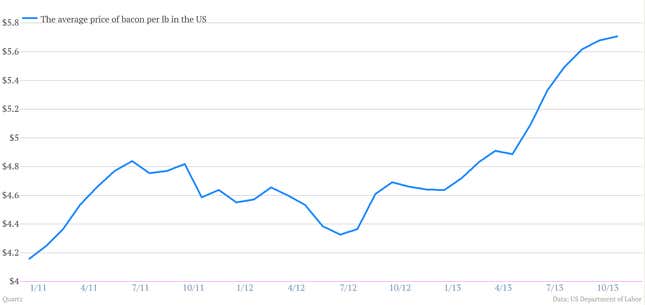 Fortunately for bacon lovers, these high prices appear to be eliciting a classic supply response. Bloomberg reports that bacon prices are headed for a pullback in 2014, thanks in part to increased production. The US department of agriculture this week (pdf, p.31) raised its pork production estimates for 2013 and 2014, while bets that lean hog futures prices will continue to rise have been also slowing.
But declining demand could also play a role. A recent survey by the National Resturaunt Federation indicated that chefs think the bacon-in-everything trend could be a thing of the past by next year. Legendary Wall Street investor Joseph Kennedy (former US president John F. Kennedy's father) famously said in the 1920s that he knew it was time to get out of the stock market when he was getting tips from taxi drivers and shoeshine boys. Bacon-laden menus might be a similar sign.