The US Federal Aviation Administration plans to ground all Boeing 737 Max 8 and 737 Max 9 planes "until further notice," Donald Trump told reporters at the White House today (March 13).
"The safety of the American people, of all people, is our paramount concern," Trump said.
The US is following in the rest of the world's footsteps: More than 50 countries had grounded the plane since the crash of Ethiopian Airlines flight 302 on March 10—the second of the same Boeing model within five months.
"We didn't have to make this decision today," Trump said, but added "I felt it was important both psychologically and in a lot of ways." He cited "new information and physical evidence that we've received from the site and from other locations" as well as "a couple of other complaints" as the reason for the shift.
The sudden US move set off concern about how the grounding of the 737 Max 8 will affect travelers on their current journeys.
Earlier today, Canada had banned the planes from its airspace, citing new information that suggested similarities between the Ethiopian Airlines crash and the Lion Air crash in October in Indonesia. "There are similarities," transport minister Marc Garneau said, which "exceed a certain threshold in our minds with respect to the possible cause of what happened in Ethiopia."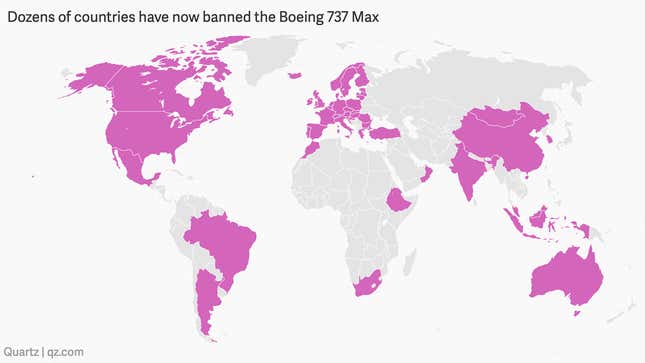 Boeing said it still had confidence in the plane, but was exercising an "abundance of caution."
…after consultation with the U.S. Federal Aviation Administration (FAA), the U.S. National Transportation Safety Board (NTSB), and aviation authorities and its customers around the world, Boeing has determined—out of an abundance of caution and in order to reassure the flying public of the aircraft's safety—to recommend to the FAA the temporary suspension of operations of the entire global fleet of 371 737 MAX aircraft.
The FAA had insisted until today that the planes were safe, despite the two fatal crashes that killed nearly 350 people, and emergence of a number of additional pilot complaints.
The Ethiopia crash renewed questions about how vigilant the agency has been under Trump. Like many US agencies during his administration, the FAA is only partially staffed; it has not had a permanent top official for 14 months.