The grounding of Boeing's 737 Max following an Ethiopian Airlines crash last week is affecting airlines all over the world—and private owners as well.
Though the massive jetliner is not the go-to model for private flyers—it is far more airplane than any corporation or typical jet owner would ever need—it appeals to a niche market of extremely wealthy individuals.
There are 21 private orders for the now-grounded Boeing 737 Max currently in the sales pipeline, with a price tag starting at $74 million. Two have already been delivered to completion facilities for finishing. The first is expected to be ready for its unnamed US owner by the end of the year. But until the 50 countries that have banned the 737 Max from flying allow them back in the air, no one can use them.
Buyers are free to sell their spots in line to someone else if they decide they no longer want to take delivery of a 737 Max, says Edése Doret, an aircraft interior designer whose clients include Saudi prince Al-Waleed bin Talal and Kanye West. He doesn't expect anyone to do so, though one 737 Max buyer who hired him to design their plane has put the process on hold "until the issue is resolved."
Little power to negotiate
The private VIP version of the 737 Max is called the BBJ Max and is marketed by Boeing Business Jets, the aircraft manufacturer's private aviation arm. It can fly 7,600 miles without stopping to refuel, and costs $3,190 per hour to operate. The Asia-Pacific market accounts for 26% of BBJ Max customers.
Boeing aircraft are delivered "green," that is, with no paint or interior. The finishing stage can sometimes cost two thirds as much as the aircraft itself, says Dave Miller, an aviation appraiser and former Delta Airlines 767 pilot.
Commercial aircraft fleets are typically leased, and although contracts do not normally allow airlines to claim compensation for losses incurred during a grounding, they likely have some leverage given their multi-plane purchases. The CEO of Norwegian Airlines, which has 18 Boeing 737 Max planes in its fleet, said he would be sending a bill to the company for the missed revenue.
Aircraft sales contracts are very tightly written, says Bryson Monteleone of the aviation finance advisory team at PwC Ireland, and if Boeing does agree to reimburse any customers, it's not clear how much those payments would be. In 2013, when the Boeing 787 Dreamliner was grounded for 123 days over a problem with its lithium-ion batteries catching fire, Boeing paid out an estimated $500 million to airlines, according to industry insiders.
In contrast, private buyers have usually paid for 75%-85% of the cost of their plane by the time it rolls off the assembly line and likely have less power to negotiate any sort of discount or refund.
Sunk costs
By the time Boeing delivers a BBJ Max, the buyer has likely also already spent large amounts of money on its bespoke interior. The completion company chosen to finish the plane has probably begun purchasing veneers and other materials for the passenger cabin, designed to the client's specs.
A BBJ interior project will typically have a timeline of 18 months, says Darren Long, an aircraft interior designer in Seattle. It's all custom made, which requires a significant amount of testing and upfront documentation to satisfy the FAA.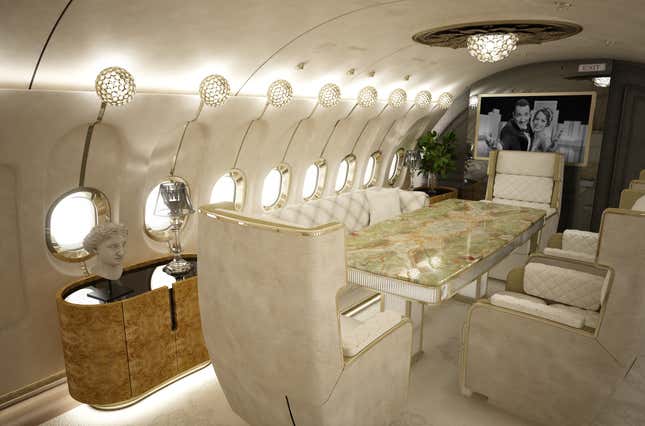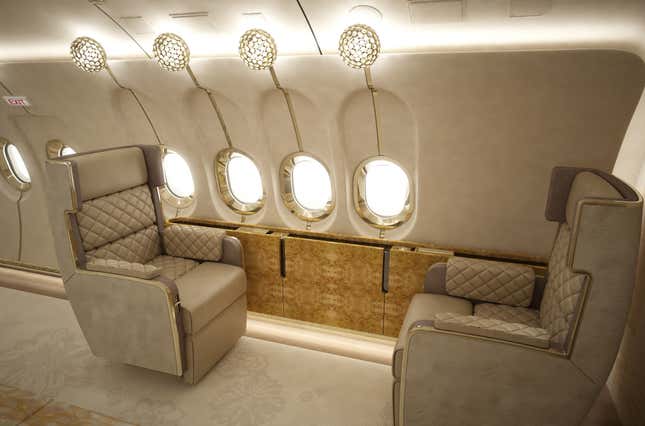 Not your typical corporate jet
The 737 MAX 8 and 9 planes will be grounded for weeks if not longer until a software upgrade can be tested and installed, US lawmakers said on Thursday as officials in France prepare to analyze the black boxes from the crashed jet. An upgrade that the FAA and Boeing say will fix the issue that is suspected to have caused last week's Ethiopian Air 737 Max crash, as well as the October 2018 crash of a Lion Air 737 Max that went down over the Java Sea, is due in April. The two accidents resulted in the deaths of nearly 350 people.
Boeing is pausing deliveries of the 737 Max/BBJ Max for now, but is maintaining production at its Renton, Washington production facility at the usual rate of 52 aircraft per month.
"We are doing everything we can to understand the cause of the accidents in partnership with the investigators, deploy safety enhancements and help ensure this does not happen again," Boeing CEO Dennis Muilenburg said in a statement earlier this week.
Boeing will get through this just fine, says Mark Halsor, an aircraft appraiser and retired 747 pilot. Still, it's not unthinkable that a BBJ Max buyer could simply walk away from multiple millions of dollars already sunk into their purchase.
"This is not your typical 'corporate jet,'" Halsor says. "These are people who don't really care about the economics of it."