Texas loves to mess with Tesla. The Lone Star State has a long history of blocking Tesla's attempts to sell cars there. Since 2013, Texas lawmakers have refused to take up four bills allowing direct car sales in the state (rather than forcing the automaker to rely on dealerships). To twist the knife, Texas also blocked Tesla buyers from receiving the state's $2,500 alternative-fueled-vehicle incentive since the cars are not sold in dealerships.
Now it appears Texas wants to prevent manufacturers like Tesla from servicing its vehicles as well. Electrek reported on a new bill (SB 1415) that would prevent manufacturers like Tesla from fixing cars at its own service centers. Republican senator Kelly Hancock's proposed legislation alters language in the state's transportation code to ban vehicle manufacturers from "servicing" and "repairing" cars. That would cripple Tesla's attempts to expand in the state, one of America's largest auto markets, at a time when Tesla said it is making service and parts supply its "top priority."
The bill's language states a manufacturer or distributor may not own an interest in parties engaged in servicing or repairing their vehicles: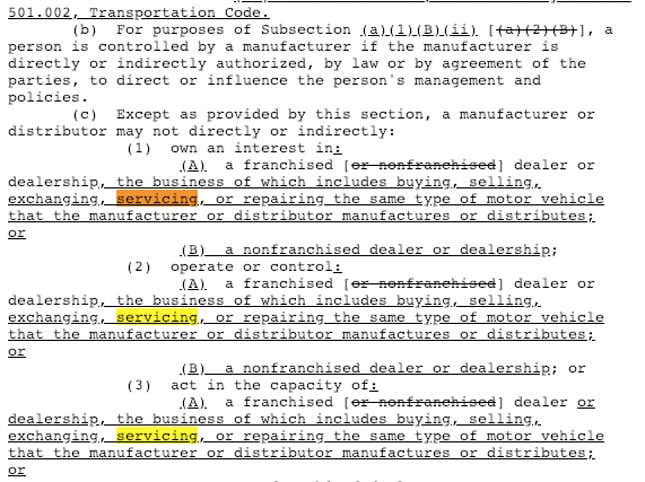 The bill is wrapped up in a fight to give an exception to dealership rules for Berkshire Hathaway, which owns car dealerships and an RV manufacturing business in Texas, reports the Austin-American Statesman. Warren Buffett's conglomerate has been embroiled in enforcement actions by the Texas Department of Motor Vehicles for two years for violating the current statute. The firm has a controlling stake in RV maker Forest River and more than two dozen dealerships in Texas (although not ones that sell RVs). Similarly, heavy engine producer Cummins has allegedly violated the law for performing warranty maintenance on its own engines in Texas. Tesla cried foul as legislators have tried to amend the statute, calling it special treatment for big donors, even as they shut Tesla out of the process.
The electric-car maker has 13 stores or galleries in Texas, now one of only two states blocking direct sales by manufacturers. Tesla employees at these sites can't talk about prices, take orders, or sell cars. All transactions must happen online. By 2017, Tesla had spent at least $1.2 million to lobby Texas lawmakers to change that, but it was no match for the big political donations mustered by the 1,300 dealerships in Texas, major players in state politics.
At issue is a battle over money. Car dealers derive much of their revenue from selling and (especially) servicing vehicles. Tesla's direct-to-customer sales and service stations are a threat to that business model since they cut dealers out of the transaction.
The Texas Automotive Dealers Association objects to this portrayal. It argues that (pdf) Tesla wants a special exemption from state rules requiring dealer franchisees for retail sales. The regulations, developed in the 1930s, "prevent monopolies and promote competition in vehicle pricing and service," the association claims. But that arrangement is mostly the result of lobbying and protectionism. As Quartz has reported, automakers can't cut out the middleman (dealers) to help reduce the 30% or so of a car's costs now spent on distribution. That arrangement, say experts, stifles innovation and artificially inflates costs by forcing all sales through dealerships. The US Federal Trade Commission said similar dealer-friendly laws in Michigan were "likely harming both competition and consumers."
Updated: The story has been updated to include background on lawmakers' attempts to relax dealership rules for Berkshire Hathaway and Cummins.