It's been almost three years since the June 2016 vote to leave the European Union, and still the UK has not been able to put forth a concrete plan for the Brexit process.
Just this week, the EU granted the UK an extension of remaining in the bloc until April 12. If a third vote on prime minister Theresa May's Brexit deal passes next week—which it probably won't—the UK could have until May 22 to figure out a plan. Should Brexit happen abruptly with no guidance, the chaotic disruption to trade could threaten food and medicine supplies to those living in the UK. Already, estimates suggest the UK is losing $1 billion per week as a result of the uncertainty.
The people of the UK are not pleased. Today, hundreds of thousands of them are taking to London's streets for the "Put It to the People" march, which calls for giving the public the final say on Brexit or any Brexit deal. A recent poll carried out on behalf of People's Vote, the grassroots organization that organized the march, found that 61% of people in the UK would opt to remain in the EU if given the opportunity to vote again.
"We are hoping it will make a difference, but Theresa May has been very intransigent. We're making a desperate last stand to make sure our voices are heard," Margot Turner, a local protestor spotted at the Oxford Circus tube station, told Quartz. She was there with her partner, Martin Cottington. The couple said that they were marching for the next generation, whose economic security is uncertain if the UK leaves the EU.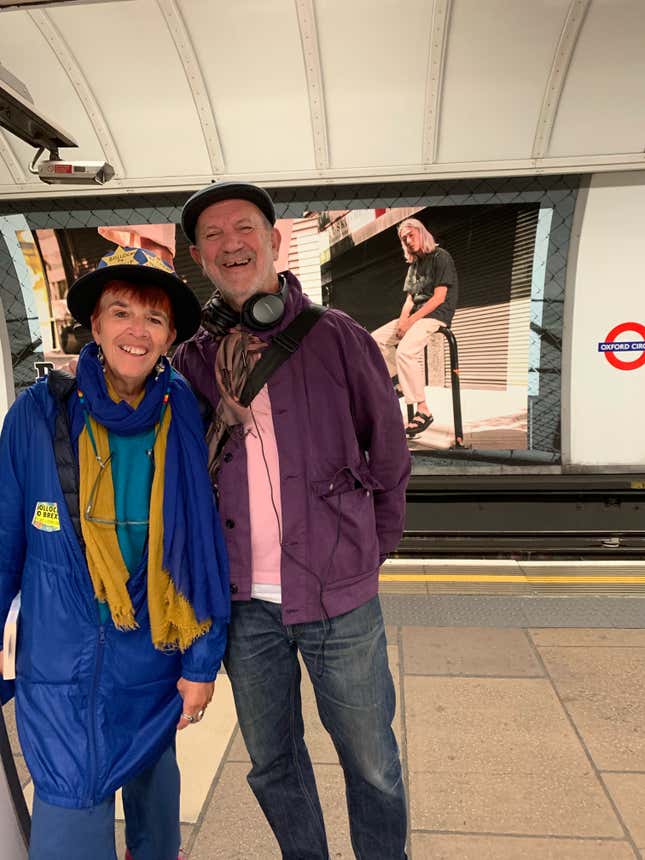 Having started at noon local time today and going through 5pm, today's rally is estimated to bring "hundreds of thousands" of protestors to march from Park Lane in central London to Parliament Square. Organizers are claiming a million protesters have showed up, but the figures have yet to be verified by police. A similar rally in October brought between 450,000 and 700,000 individuals to the streets. Simultaneously, a pro-Brexit march with about a hundred members is approaching London after starting in Sunderland a week ago.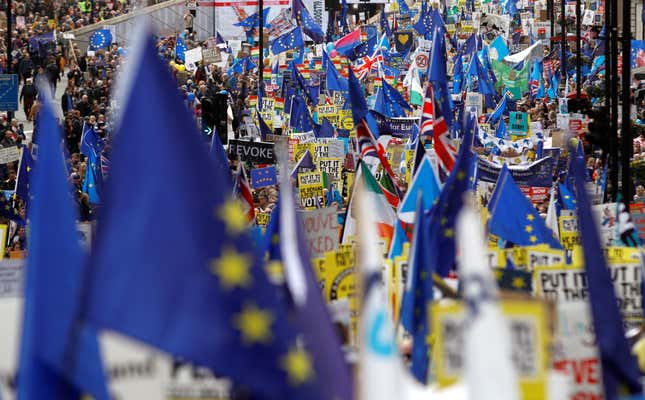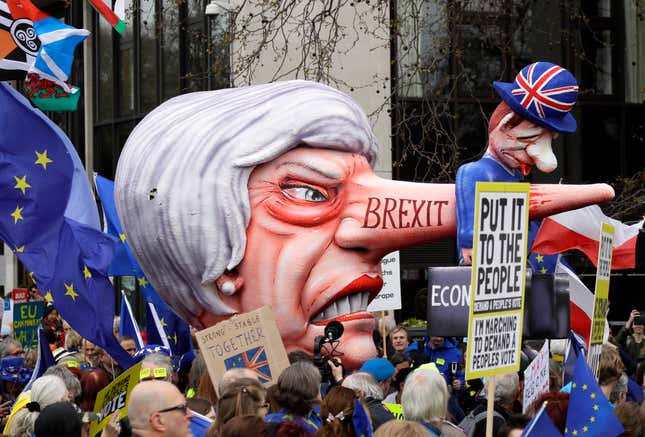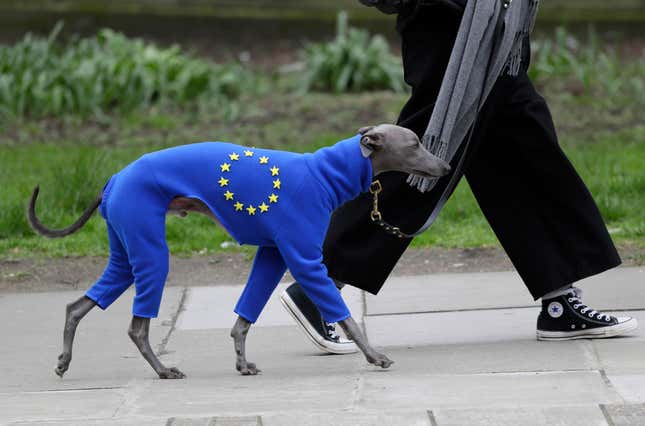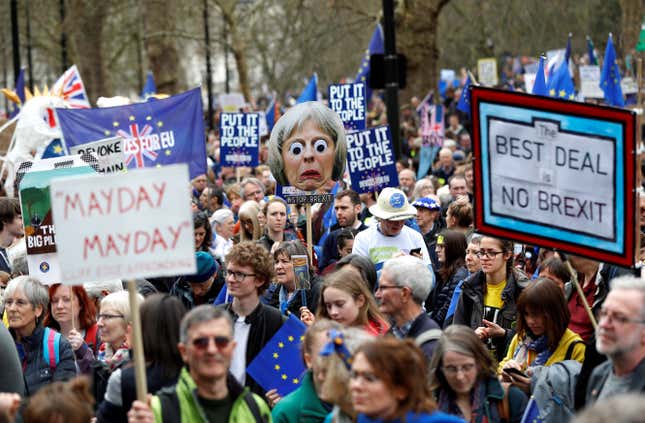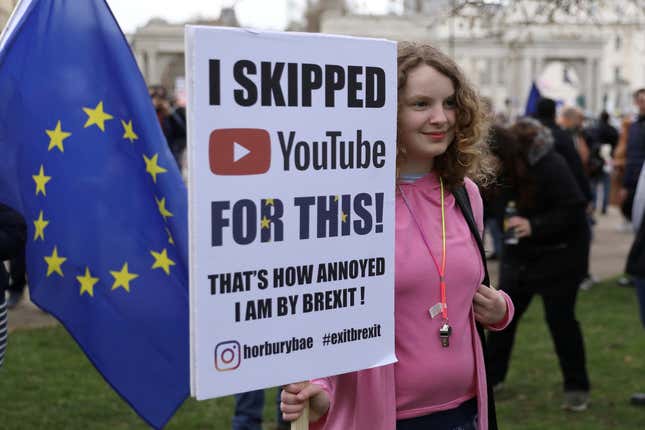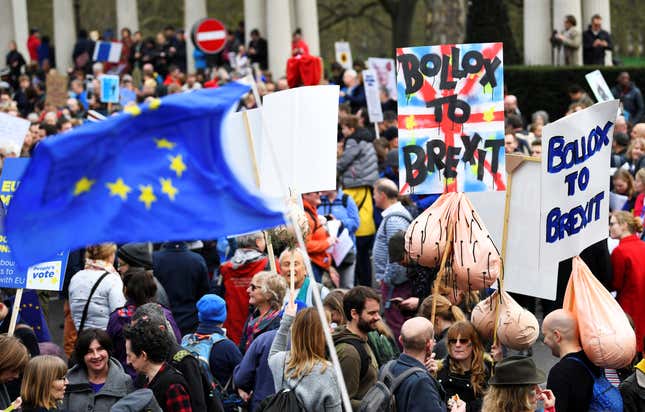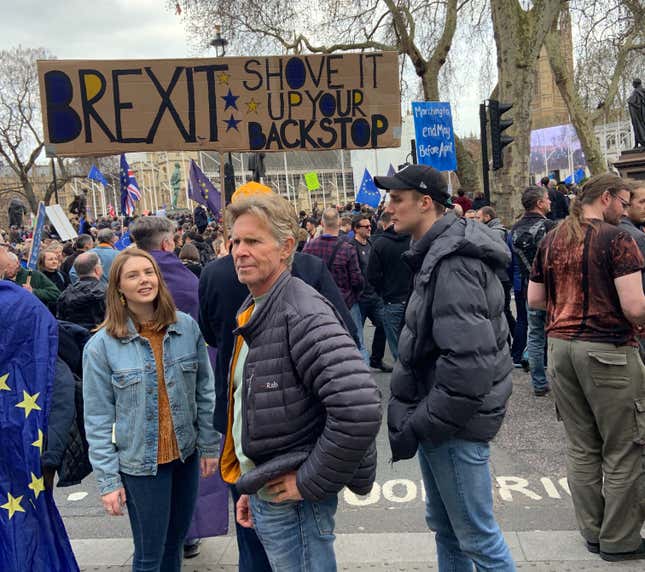 Despite the crowds, the march is unlikely to spur a second referendum. May has been unrelenting in her attempts to win support for a Brexit deal, and many are calling for her resignation.
John Detrixhe and Jason Karaian contributed reporting from London.