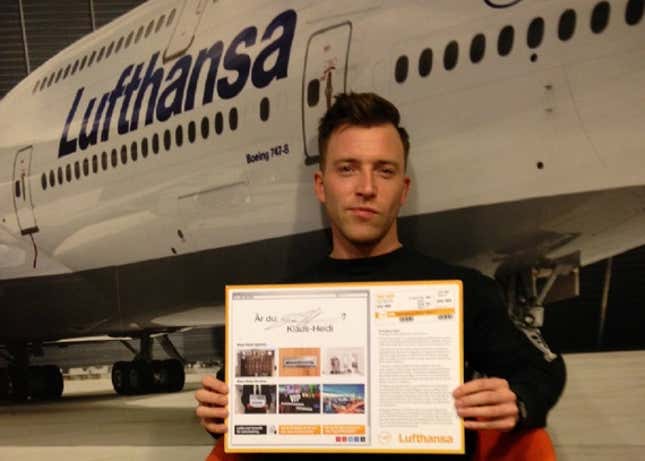 Would you change your name for a chance to move to Berlin, all expenses paid?
That's the question at the heart of a strikingly bold—and utterly bizarre—marketing campaign by the German airline Lufthansa, which in October made a rather unconventional proposition to Swedes: Legally change your name to Klaus-Heidi, tell us why you did it, and put yourself in the running to win "a new life" in Berlin—in the form of a free one-way ticket to the German capital and a prepaid apartment for a year on the border of the city's trendy Kreuzberg and Neukolln neighborhoods. Did I mention that the furnished, sparkling white, 750-square-foot, one-bedroom apartment comes with a balcony, a fully equipped kitchen, and a custom-painted bike with your (new) name on it? Or that the jackpot also includes German lessons and two free flights to Frankfurt and Munich? Oh, and you'll have a neighbor who answers the door shirtless—at least according to Lufthansa's promotional video:
The catch, of course, is a pretty big one: You have to legally change your name to Klaus-Heidi—a mashup of common German male and female names. Magnus Engvall, the Lufthansa marketing specialist running the competition, explains that it's as if, translated for an American audience, Lufthansa was asking you to change your name to Jack-Barbara.
And here's the astounding part: Forty-two Swedes, ranging in age from 19 to 69, have changed their names (or added Klaus-Heidi to their existing first name) and entered the competition. The response was so overwhelming that Lufthansa had to shut the contest down a month early (the company was expecting only a handful of people, if any, to participate). Seventy percent of the contestants were men. Half lived in Stockholm and half elsewhere in the country; nine alone were from Sodermalm, a Stockholm neighborhood made famous by Stieg Larsson's novels.
At a bar in Stockholm serving German beer and currywurst, Lufthansa will today announce the winner before all the Klaus-Heidis (the other 41 contestants will receive silver membership in the airline's frequent flyer program and 60,000 free miles). A separate contest doled out discounts to Facebook users who took the decidedly less cumbersome approach of changing the name on their account.
How did Lufthansa possibly conceive of this campaign? Engvall tells me that the idea (which at first also required participants to change their surname to Dorfmesser) was first presented to the company by the ad agency DDB, which pitched the concept with the storyboard below: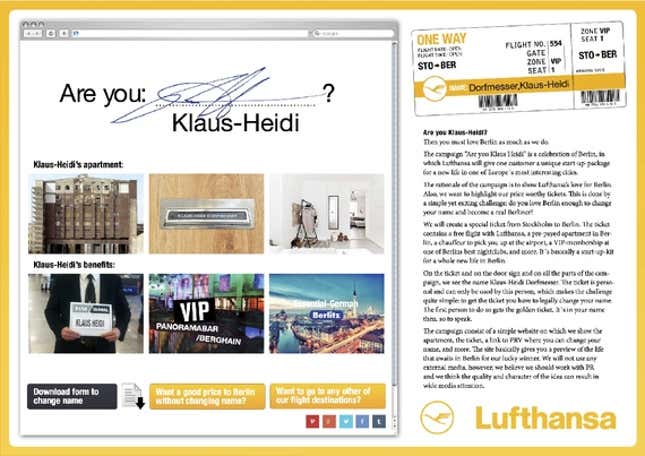 Engvall liked the idea because it was "simple and it's a bit absurd but in a positive way." And Lufthansa adopted it against the backdrop of an increasingly fierce price war among five airlines over the Stockholm-Berlin route, in an effort, Engvall says, to "talk about the dream of Berlin rather than the cheap Berlin"—to inspire people rather than inspire bargain-hunting. And it's a smart choice; the city has been attracting unemployed skilled workers from southern and eastern Europe for years now.
"What [the Klaus-Heidis] have in common is that they have an urge, or a dream, to make a change in their life," he says. "That is what Berlin is about. It's a very free city in many ways…. It's a little like what America was … people go to Berlin to live out their largest dreams, or to start off again."
I asked Engvall how he would respond to the criticism that asking people to legally change their names—to modify such a fundamental part of their identities—has no place in a marketing campaign. After all, Lufthansa is dabbling in a bit of social engineering—creating an entirely new population of Swedish Klaus-Heidis. (The name "didn't exist before," Engvall notes. "This is the world population of Klaus-Heidis now.")
"Whoever did it, it was totally their own choice," he says. "We're not forcing anyone, we're just showing an attractive prize."
I also asked Engvall, who is based in Stockholm, how he explained the unexpected rush of interest in the competition—what did it say, more broadly, about Swedes? "It shows openness to do something new and to discover other cultures," he says.
But the response may also have to do with a quirk of Swedish society. As The New York Times noted in 2011, Swedes are changing their names in ever-increasing numbers—both out of a desire to shed traditional Swedish surnames ending in "son" and as a result of a 1982 law that allowed anyone to change their name for pretty much any reason. The Swedish newspaper Svenska Dagbladet reported in 2010 that "no other people in the world changes their name as often as the Swedes." Sweden, in other words, may be one of the only places on the planet where 42 Klaus-Heidis could sprout up in less than a month.
This post originally appeared at The Atlantic. More from our sister site:
The Only Thing Weirder Than a Telemarketing Robot
A Coming Golden Age for American Companies in China?