Things are usually pretty quiet in Europe around this time of year. People tend to spend more time organizing the company Christmas party than chasing new business. Offices empty out as workers head home for the holidays.
In this context, then, a recent flurry of activity is unusual. It also suggests that maybe—just maybe—the "animal spirits" in European capital markets are reviving after years of hibernation, particularly in the euro zone's hard-hit periphery.
1. A hugely popular IPO in Italy
The Milan listing of Italian luxury skiwear group Moncler saw huge demand today. The shares were a whopping 27 times oversubscribed, which drove a 41% pop when they opened for trading. It was the largest IPO in Milan since 2010, and follows an aborted attempt by the company's private equity owners to list in 2011.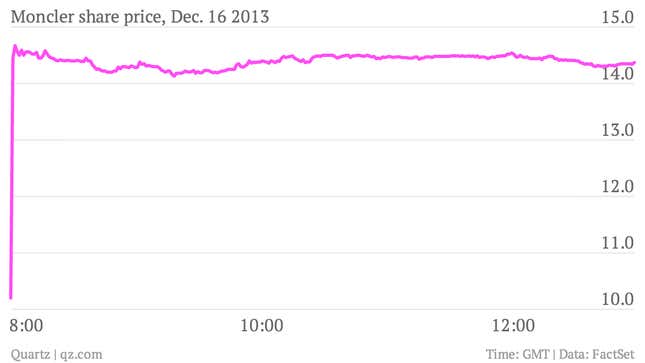 2. A big retail deal in France
French retail giant Carrefour announced a €2 billion ($2.75 billion) deal to buy 127 shopping malls in France, Italy and Spain from property group Klépierre today. The retailer sold most of these properties to Klépierre more than ten years ago, and wants to regain control of the sites amid signs of a revival at its big box stores in Europe.
3. A perky purchasing managers' index in the euro zone
The latest reading of the euro zone composite PMI beat market expectations, with the manufacturing component setting a 31-month high (pdf). The sub-indexes for output and new orders also ended the year with particularly strong readings. (Numbers above 50 indicate an expansion.)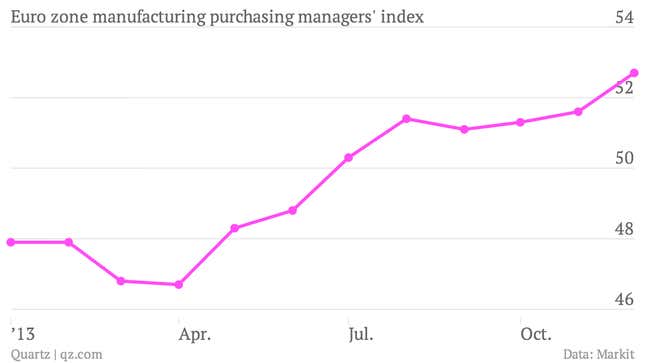 4. A corporate bond issue bonanza across Europe
The surge in bond issues last month by European companies looks set to continue this month. Average weekly issues of investment-grade bonds are running near one-year highs at a time when volume typically plummets as business shuts down for the holidays, according to Credit Suisse. For their part, junk-rated bond issues in Europe set a new annual record last month, as investors rushed to buy higher-yielding securities; the spread between junk and investment-grade debt now sits at a six-year low. Spanish corporate debt is on track to generate the best returns for European bond investors this year, Bloomberg reported today.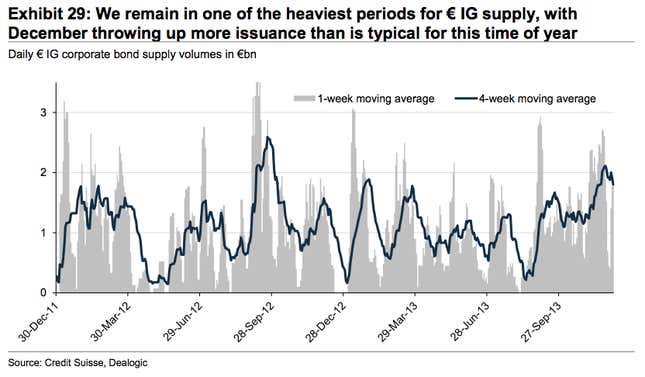 5. And someone even believes in Greece
Swiss retailer Dufry said it would pay €328 million for the 49% stake in Hellenic Duty Free, a Greek airport retail chain, that it does not already own. The price is up significantly from the €200 million Dufry paid for a 51% stake last year; that deal included an option to buy the rest of the Greek firm in 2016. The rush to seal a deal two years ahead of schedule—at a premium price, no less—is an important sign of confidence in the ongoing revival of Greece's tourism industry, a crucial factor in pulling the country out of its six-year recession.