It's been an undeniably great year for US stocks.The S&P 500 is on track to cap off its best year in a decade after rising about 25%. And with just a couple of weeks left in the year, now is the time when strategists and analysts try to predict what lies ahead. But despite some bullish prognostications, there are reasons to think 2014 might be a bit more difficult.
There will, of course, be a new Fed chair at the helm. And yes, this new Fed chair, Janet Yellen, is poised to begin the much dreaded "taper," that is, the process of reducing US government bonds the Fed automatically buys to keep a lid on long-term interest rates, currently set at $85 billion a month. When it comes, the taper could lead to an uptick in interest rates, which could affect corporate earnings and capital flowing into stocks.
But there's another political economic event on the cards next year that poses arguably an even greater challenge to equity markets. 2014 is a mid-term election year, when the entire US House of Representatives and one third of the Senate will be up for re-election.
Analysis by Piper Jaffray shows that these mid-term election years, which come at the midway through the presidential cycle, are particularly volatile for stocks. Since 1930, the minimum peak-to-trough fall in US  stocks during a midterm year was a decline of 4.4% (which happened in 1954), Piper Jaffray says, while the median pullback has been 17%. (A market correction is officially defined as peak-to-trough decline of 20%).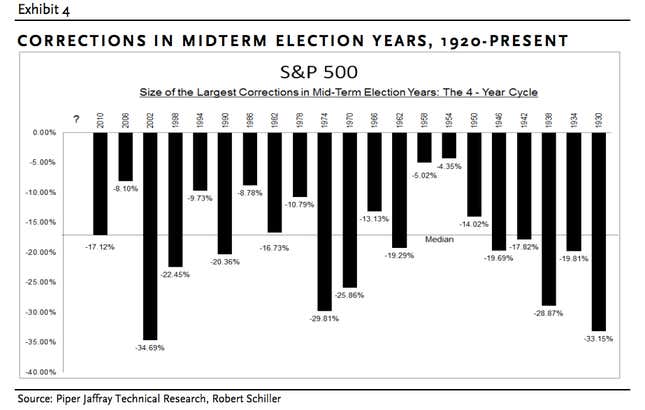 At the moment, the outcome of the 2014 midterm elections remains highly uncertain. Analysis by The Cook Political report suggests that as things stand, Republicans are likely to maintain control of the House, and Democrats are likely to maintain a slim majority in the Senate.  But a Congress totally controlled by Republicans is not out of the question. This would be a very different policymaking environment than one with split partisan control, which just goes to show how uncertain businesses must feel.