Sitting on the subway this morning, I said out loud to no one in particular: "Hey Siri, next song."
People who could hear me looked up and then away, assuming I was probably mad. One person shifted in their seat, just in case.
I'm not mad (as far as I know)—I was just trying out Apple's new AirPods. These second-generation wireless earbuds went on sale this week, attempting to build on the cultural phenomenon that the excellent first versions have become.
Superficially, there is almost no difference in the design of the case or the earbuds themselves between the first and second generations, barring the small charging indicator light having moved to the outside of the case on the new models. But on the inside, a fair bit has changed: The new AirPods case has the ability to wirelessly charge (if you shell out another $40 for this convenience), and Apple says they'll last for 5 hours on a single charge, and recharge to give you another 3 hours' listening time after just 15 minutes of charging.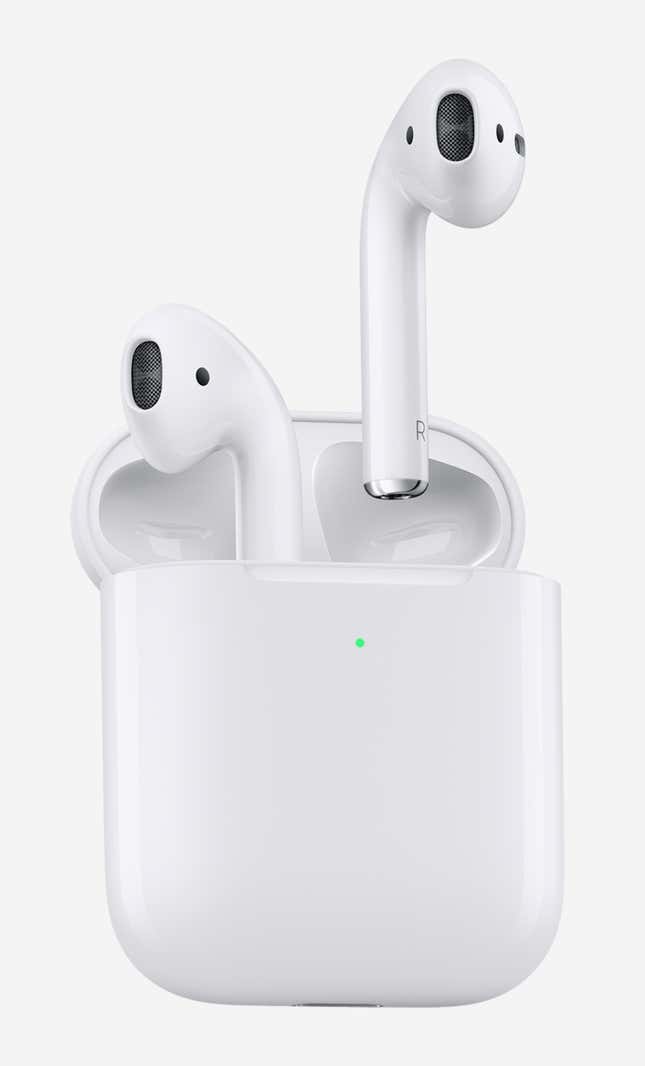 But the biggest change is that the new AirPods are always listening for the "Hey Siri" command, meaning that, theoretically, if they're connected to an iPhone or Apple Watch (with internet access), you now have a somewhat functional AI assistant you can call up anytime you want without having to lift a finger, whatever you're doing. You could be biking and ask Siri where the closest taco shop is, in the gym and ask it turn off the smart lights in your apartment, or have it read you your messages as you sit at your desk.
While this may conjure up science-fiction fantasies being realized—the movie Her invariably springs to mind—and the new AirPods do tend to call up Siri and it is able to answer requests as well as it can on any other device. Siri's shortcomings aside, it seems clear right now that society isn't really ready for a future where we all converse with AI assistants as if we were talking to someone in front of us.
It seems difficult to imagine an office where everyone is talking to their AI assistants out loud—the cacophony would be unbearable without cubicles—and talking to Siri in most other public situations just feels awkward. Then again, taking phone calls on headphones definitely seemed weird for a while, and Bluetooth earpieces definitely were grounds for cultural ostracizing before AirPods made them acceptable, so perhaps in the near future, we'll all be talking to Siri or other assistants as casually as we might talk to a friend on the phone.
One thing that will likely have to change: these assistants will need to get more conversational. Interacting with Siri in particular is quite a stunted experience—like other assistants, you have to start each request with a wake phrase, but it also can't handle multiple requests at once. Until we can actually talk to these devices, instead of just bark orders at them, they'll likely remain gimmicky.
There are a lot of smart people working on solving this problem right now, so perhaps in another few years, when Apple releases its next iteration of AirPods, talking to Siri might not feel so strange. But for now, I don't think I'll be barking at Siri in public anymore—at least not when anyone else is around.