Donald Trump's daughter Tiffany went to Eastern Europe on vacation this month, and it cost US taxpayers no less than $23,000.
The State Department spent that amount in hotel rooms in Belgrade, Serbia "in support of Tiffany Trump travel," according to a purchase order filed by the agency to a US government contracting database.
The president's immediate family, including Tiffany and the rest of his children, are eligible for Secret Service protection while he is in office, which includes travel, lodging, and transportation for agents who protect them. Unusually for a US president in modern history, Trump has four adult children. The big taxpayer bills these children run up for extensive travel have been criticized by government watchdogs and Democrats, particularly when his sons travel on Trump Organization business. 
Tiffany was in the Serbian capital for 11 days, according to local media. The purchase order was for rooms at the Square Nine hotel from March 7 to the 16th for Trump "and her traveling staff." The hotel has just 30 rooms in total, and the "approximately 120 single/double hotel rooms" figure mentioned in the document refers to room-nights, not individual rooms.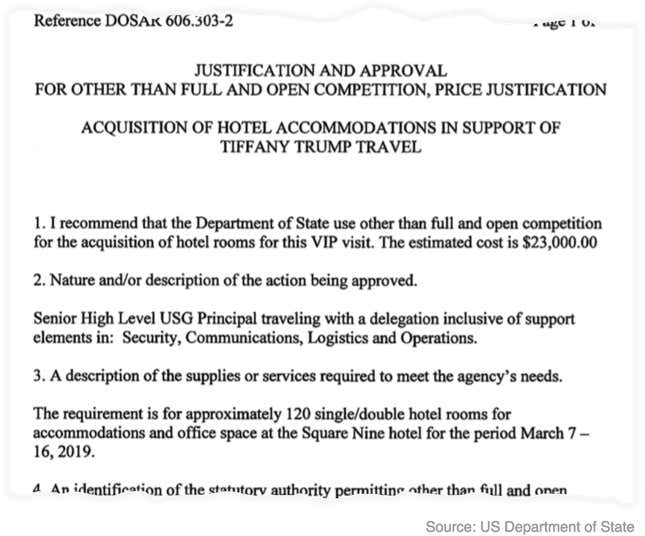 "Поздрав из Србије," or, Greetings from Serbia, Trump wrote in a March 12 Instagram post.
She traveled with her boyfriend, Michael Boulos, local media reported. He was in Belgrade on March 15, according to his Instagram:
The State Department document describes the 25-year-old Georgetown University law student as a "Senior High Level USG VIP traveling with a delegation inclusive of support elements in: Security, Logistics, Communications, Logistics and Operations."
USG stands for "US Government," implying that Trump, who does not have a job in her father's administration, was traveling as a government official, but that designation appears to be a mistake. (Trump's children who aren't working in the White House, Donald Jr., Eric, and Tiffany, are regularly referred to in contracting documents as "VIPs," this is the first one known to describe one of the three as being connected to the government.) The State Department did not put the booking out for competitive bids because "security concerns prohibit sufficient advanced notification of VIP travel," the document says. 
A Trump Organization spokesperson who speaks for Tiffany Trump didn't reply to questions about the trip. A State Department spokesperson sent this response: 
Our US Embassies and Consulates provide logistical support to multiple federal agencies responsible for assisting with WH travel (in this case the President's adult children)—including the Departments of State and Defense, the U.S. Secret Service, and the White House Communications Agency. A FOIA request to each of these entities would be the appropriate way to obtain more detailed information.
Advance teams decided which hotel was most suitable for Trump and her staff, according to the federal document, which adds that location was a determining factor. The Square Nine is in central Belgrade, about a 10-minute walk from the city's 19th-century bohemian quarter. Room rates range from about $200 to $1,450 a night. It opened in 2011 and was designed by Brazilian architect Isay Weinfeld. Reviewers have called the hotel's rooftop Japanese restaurant "easily the poshest spot in town."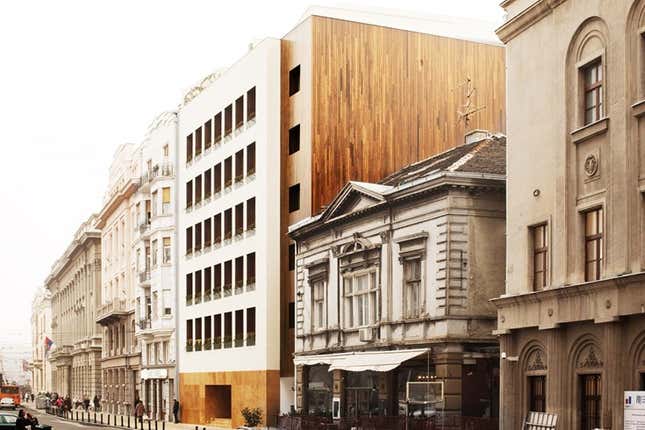 Tiffany has been an occasional participant in official events during Trump's campaign and presidency. She sat with her half-brothers, Don Jr. and Eric, and half-sister, Ivanka, during the State of the Union address in February, clad in a dress that matched Democratic congresswomen's "suffragette white." In 2017, Tiffany traveled to Budapest with her boyfriend, costing US taxpayers about $22,000. 
In 2013, Donald Trump met with the then-prime minister of Serbia to discuss opening a Trump hotel in Belgrade in a bombed-out former Army headquarters. That project never happened, but some Serbians remain fans of the former real estate developer, putting up billboards celebrating his 2016 presidential win.
Trips by Trump's two older sons have cost taxpayers hundreds of thousands of dollars. An April 2017 trip to Ireland by Eric cost $4,029.85 in limousines and $11,261 in hotel fees for his Secret Service detail. A February 2017 business trip the two brothers took to the United Arab Emirates cost taxpayers $230,000.