A few weeks ago, a couple in Texas received the following letter from JP Morgan Chase, informing them that the accounts they've held for more than 30 years—along with a savings account held by the husband's 96 year-old mother—will be closed on Christmas Day. While it doesn't explain why this is necessary, it does note that the bank doesn't have any obligation to inform them in advance but is doing so out of "courtesy":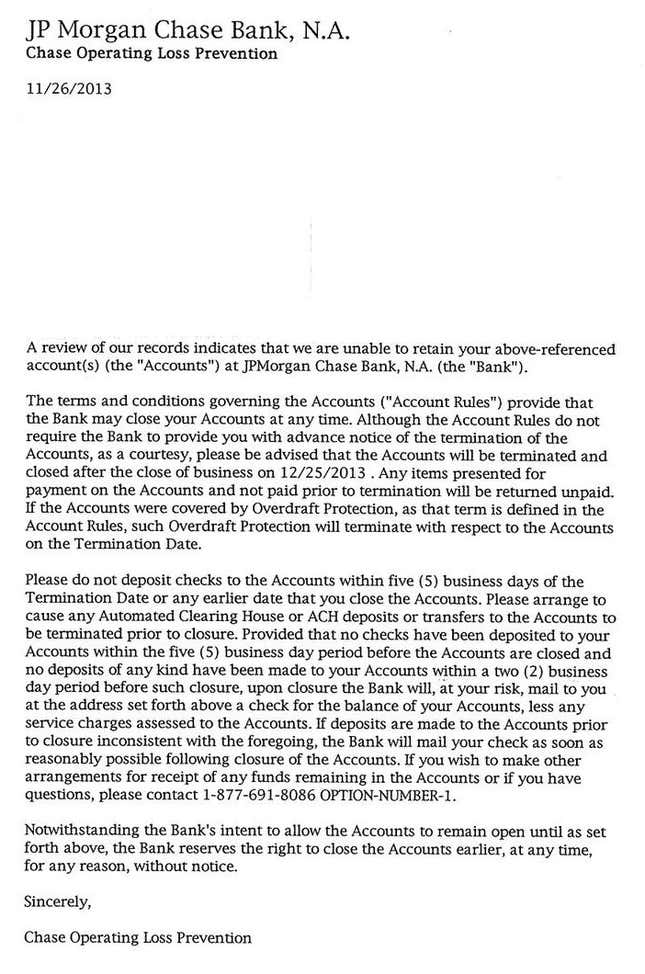 The woman and her husband, who wish to remain anonymous, originally opened the account at a different bank that was acquired by JP Morgan Chase more than a decade ago. They kept their checking and savings account with a six-figure balance, and didn't incur overdraft fees, just direct-deposited their salaries and paid their bills.
Despite following up with JP Morgan over the phone and with their local branch banker, the couple could not have their account re-opened nor gain an explanation for why the account was closed. The bank declined to comment when approached by Quartz, though it did confirm that "Chase Operating Loss Prevention" is responsible for account closures. The owner, in an e-mail to Quartz, has a theory about what happened: "I realize that the bank is not making any money off of these accounts. I feel certain that is the main reason for the closures but I would think that loyalty would account for something…it obviously does not."
She's probably right. In a world of low interest rates, banks don't make as much money from deposits as they used to, and recent reforms to overdraft rules mean that less responsible customers aren't paying enough in penalty fees to subsidize people like our staid account holders. That's one reason why truly free checking is hard to find any more without high balance requirements—balance requirements that our account holders appear to meet. Without the potential to assess higher fees or sell the couple, who are closer to retirement than their first jobs, a home loan or brokerage account, the bank appears to have made a calculation that keeping these customers just isn't worth it.
Sure, there's economic logic to the decision—but especially given the Christmas timing, JP Morgan's decision nonetheless would have made Ebenezer Scrooge proud.