Levison Wood has meticulously planned a trip that even the most ambitious adventurers in the world would call just a little crazy: walking the Nile, the longest river in the world. By his estimate, the trek's 4,250 miles–the equivalent distance between Atlanta and Anchorage–will take him 12 months to complete.
"The world's a big place," Wood says, "and I think it's a shame to not see what there is out there."
Levison is counting on the experience of Guinness World Record holder Ed Stafford, the first person to walk the Amazon, to aid him in his expedition.
In conversations with Stafford, Wood has learned how important an unbreakable spirit is when undertaking such an adventure. "A lot of his advice was on how to stay sane, being out there and in the wilderness all on your own," Wood told Radio Times.
Although the Amazon is shorter than the Nile by a couple hundred miles, it took Stafford two and a half years to walk it. Wood's goal of completing the Nile in half the time is bold, especially when considering potential encounters with dangerous wildlife and unpredictable militias.
"There are going to be a lot of challenges," he says. "But probably my biggest concern is I'm going to be away for about 12 months. Away from friends and family, and from any sort of contact from other human beings for a long time."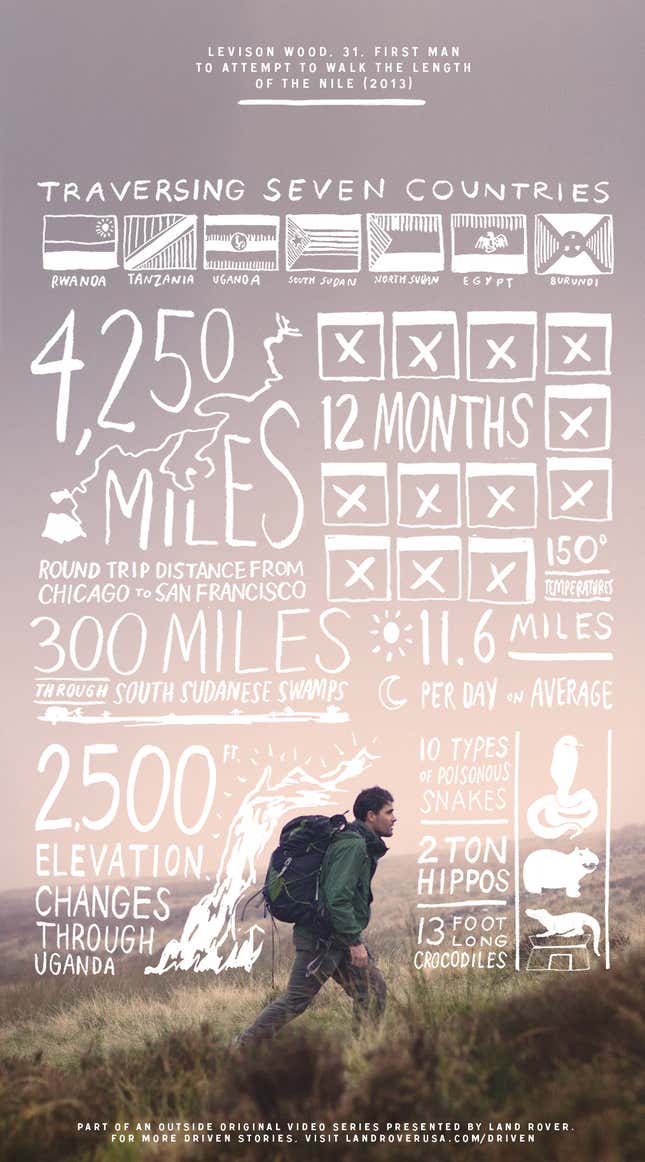 Click here to see in full detail
While the physical demands for such a trip are beyond extreme, Levison's expeditions through Central and South America, Central Asia, and a Madagascar bushwack have prepared him for the type of terrain and tire he'll encounter along the way. Leading up to his departure to Africa, Levison, a former soldier, retained part of his Army routine by training at the Brecon Beacons National Park in South Wales, where the jagged mountain range and wild, windy, harsh weather served to prepare him for seemingly anything.
Levison thinks it will take him 8.5 million steps to traverse the Nile. His feet will take him through the jungles of Tanzania and Uganda, the biggest swamp in the world, the newest country in the world–South Sudan–and the vast Sahara desert. He's been planning it for two years, and he's bringing just a single backpack.
He calls this adventure "the last great world first." But it probably won't be his last.
"I wanted to reach the pinnacle of what I do," Levison says. "It was the biggest idea that I could think of. Something that no other human being has done before."
This is an Outside & Land Rover original series. Learn more at http://www.outsideonline.com/driven, or visit the full Driven series at http://landroverusa.com/driven.
This article was produced on behalf of Land Rover by the Quartz marketing team and not by the Quartz editorial staff.