JPMorgan boss Jamie Dimon published his annual letter to shareholders (pdf) today. The musings of the CEO of the largest bank in the US by assets are always closely followed. People who turned to the letter today got a window into Dimon's thoughts on banking, business, regulation, markets, politics…
… deep breath …
… artificial intelligence, cyber security, infrastructure, capitalism, socialism …
… another breath …
… diversity, innovation, taxes, immigration, the military…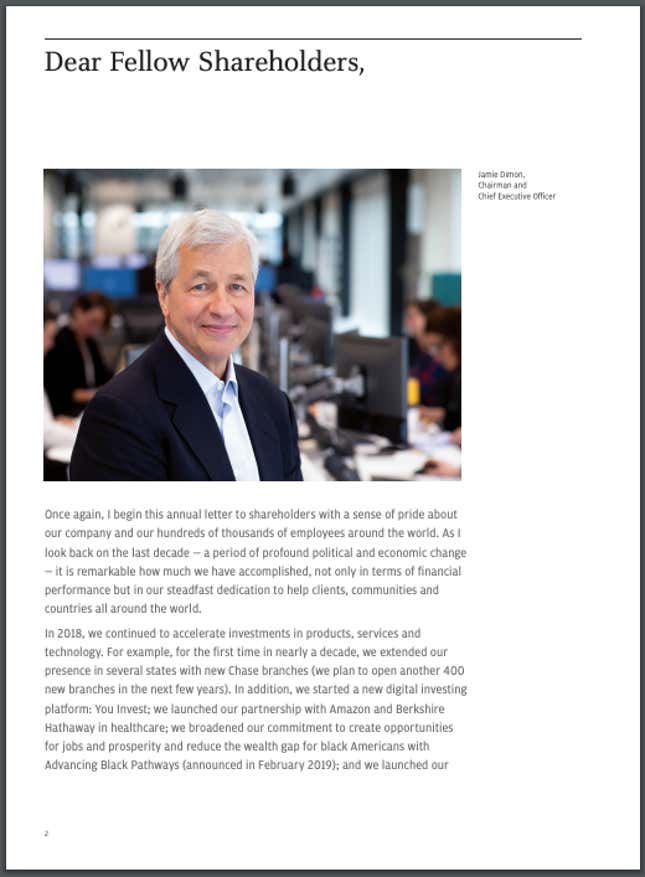 Suffice it to say, it's a long letter—more than 26,000 words over 50 pages, to be precise.
Dimon has been getting wordier over time: after taking over the bank in 2005, his first few letters ran to a dozen pages or so. Those mostly stuck to the business of banking, with some generic asides about JPMorgan being a good corporate citizen. Lately, Dimon's annual letters wax lyrical about "America's role on the world stage" and the like.
When it comes to expansive letters to shareholders, the financier who immediately comes to mind is usually not Dimon (despite his best efforts), but rather Berkshire Hathaway's Warren Buffett. The "Oracle of Omaha" has been spinning folksy wisdom about business, investing, and life in the shareholder letters he's been publishing for more than 50 years. The letters are traditionally pored over by investors looking for tips and by analysts searching for clues about Buffett's next move.
Buffett's latest letter (pdf) ran to a brisk 14 pages. His longest was a 37-pager in 2014, marking his 50th anniversary of taking over the company. It was almost as long as Dimon's that year, but not quite.