New York City police ignited a diplomatic firestorm last week when they arrested India's deputy consul-general, Devyani Khobragade, on charges of visa fraud and making false statements about the employment of her full-time nanny. Khobragade, whom the police reportedly strip-searched, has since been released on $250,000 bail after pleading not guilty to the charges, which carry a maximum sentence of 15 years. (The Vienna Convention on Diplomatic Relations grants immunity to consular officers, but only for "acts performed in the exercise of consular functions.")
Now India's playing hardball. Earlier today the Indian government banned US diplomats from importing liquor and withdrawing their airport passes, reports The Hindu. On top of that Yashwant Sinha, a leader of the Bharatiya Janata Party (BJP) and former finance minister, recommended that the government arrest US diplomats' same-sex partners for violating the Indian law criminalizing gay sex, which is newly in force after the Indian supreme court upheld it last week.
The government is also requiring US consular officials to tender identification cards that guarantee diplomatic immunity and has vowed to investigate the salaries of all Indian employees of the US embassy and US schools. Earlier today, the government removed security barricades from the heavily armed US embassy in Delhi, via @ANI_news: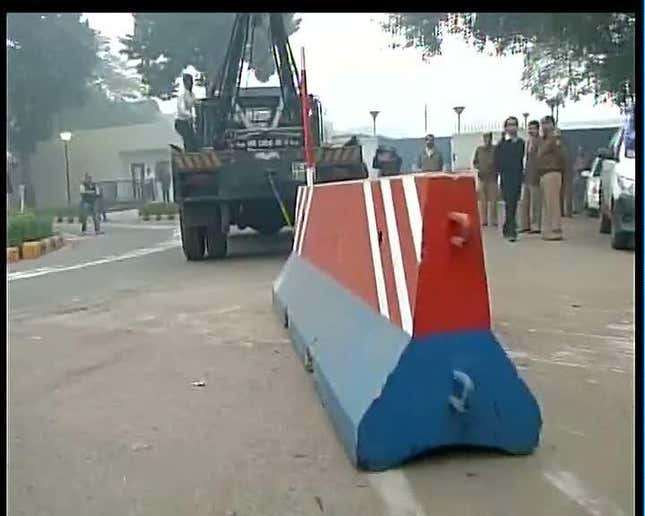 The allegation against Khobragade, according to the US Attorney of Manhattan's press release, is that she applied for a visa for her nanny, an Indian national, stipulating she would receive $4,500 a month, but had already agreed to pay the nanny only 30,000 rupees ($537 at the time) a month. That would be way below New York's minimum wage even assuming the nanny worked only 40 hours per week, which she says she did not. Khobragade allegedly told her nanny to lie to visa officials about her wages and hours.
The Indian embassy says the Delhi High Court had issued an injunction against the nanny, forbidding her from pursuing legal action against Dr. Khobragade outside of India. The nanny, it says, "has been absconding since June" and there is an arrest warrant out against her in India for extortion, fraud and criminal conspiracy.
This isn't the first time Indian diplomats have faced charges of mistreating domestic workers on American soil. In 2012, a New York judge directed an Indian diplomat to pay her former domestic worker $1.5 million in damages due to "barbaric treatment" (here's a pdf of the findings). In 2011, India's consul general in New York was charged with forced labor of his domestic helper. (That incident prompted India's foreign ministry to launch a review of domestic-worker treatment among diplomats.)
But Indian diplomats are far from being the only offenders. Often shielded by immunity, diplomats the world over are notorious for domestic-worker abuse. From 2000 to 2008, the US government found 42 case of abused domestic workers of foreign diplomats—and there are likely many more that it didn't find. A recent report on diplomats in Europe by the German Institute for Human Rights found nearly 140 instances (pdf, p.4) of alleged rights violations among domestic workers of diplomats since 2007.