Amid all of the talk about holiday shopping, another industry is having its critical sales season: movies.
We're midway through one of the largest grossing holiday movie seasons ever, and, as we predicted four weeks ago, "Ender's Game" and "Delivery Man" were not profitable, while "Thor: The Dark World" and "The Hunger Games: Catching Fire" were profitable.
The prediction was based on an Adobe Digital Index analysis of nearly 100 million mentions of recent movie names on eight social media networks (Twitter, Facebook, YouTube, Blogger, Wordpress, Google+, Reddit, and Tumblr) and found that the amount of conversation (sometimes referred to as social buzz) is a spot-on predictor of movie profitability.
Next hits and misses
With more than 1 million mentions already in December, "Anchorman 2: The Legend Continues" and "The Hobbit: The Desolation of Smaug" are the next cinema stars, according to the buzz. Since we have seen high levels of mentions turn into movie profitability in the past, we fully expect these films to generate revenue above the cost of production and to stand out among potential blockbusters.
The number of social mentions for "Jack Ryan: Shadow Recruit"–originally slotted for December release but was pushed to January–are limited, at best. Another film that looks as if it might not blow the doors off of the popcorn stand, based on social buzz, is "47 Ronin"; this one might not be profitable at all.
Movie tix to go
The investment of online ticket companies into mobile apps, mobile-enhanced sites, and mobile-specific deals is proving to be a wise one. Based on an analysis of more than 2 billion visits to 12 online ticket sales sites, smartphones show the largest growth for online ticket sales this holiday season, up 100% year over year (YoY) and now account for over one-third of visits to online ticketing sites and nearly 20% of revenue.  As we've also demonstrated with holiday commerce data, the increase in penetration, screen size, and data connection speeds on mobile devices as well as the ease of transacting via mobile optimized sites and applications is changing the nature of ticket sales for the movie industry.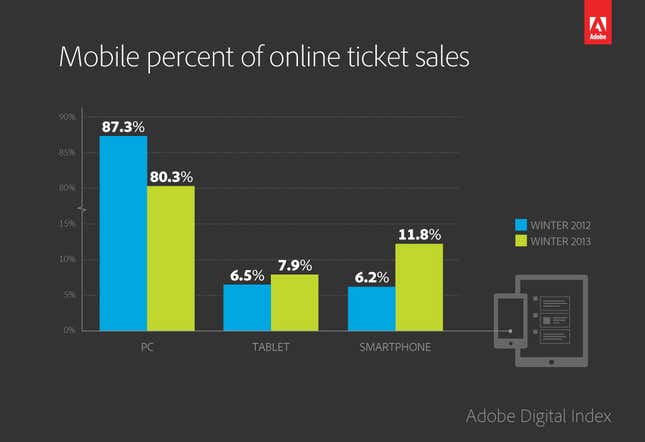 Marketing is the new finance
Measurement of social mentions and sentiment is yet another way that marketing teams impact strategic business decisions.  In this case, by using a social media listening platform, movie marketers can provide another data point to predict product success in the market.  Marketers who are not monitoring key brand mentions could be missing early warning indicators coming directly from their consumers.
Social buzz can also provide insight into the competition by enabling marketers to track the products, services, and fans of competitors just as easily as their own brands. Savvy marketers are using this technique to pounce on competitive weaknesses and steer consumers away from competitive strengths to achieve a competitive advantage.
Marketing data is now the critical lifeblood of information that CMO's bring to an executive management team. As a marketer, if you're not taking advantage of every bit of data, then make it your New Year's resolution to use social listening as the next weapon in your arsenal.
This article was produced by Adobe and not by the Quartz editorial staff.