"Oh my god, this is huge," a bearded, sandy-haired developer said, as he descended an escalator into Google's church of cloud consumption.
Unfolding in front of him was a sea of Google ephemera: Booths dedicated to cloud services and banners for companies with names like DivvyCloud, Datadog, and Cognizant spanned hundreds of thousands of square feet across San Francisco's Moscone Center, a testament to the sprawling domains of Google's cloud business.
Cloud evangelists evangelized under signs that said "Freedom is Good, Chaos is Bad" and, "Know what your data knows." Tech workers gathered around a "pizza authenticator," where a machine-learning model on a tablet trained to detect pizza was pitted against cold pizza pies that a sign designated were not for human consumption.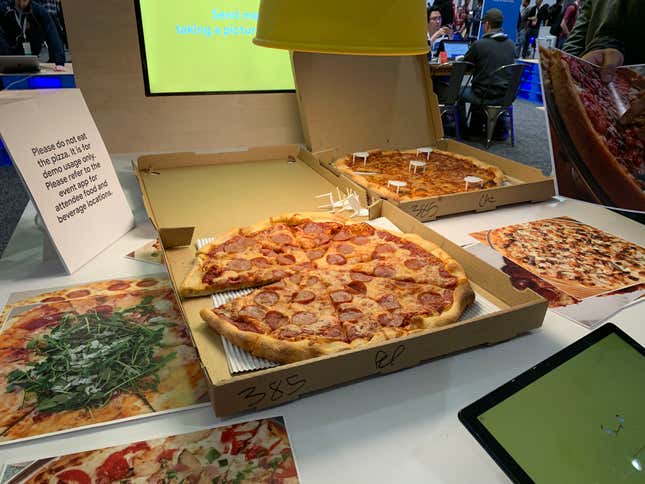 It is perhaps the only Google event where Stadia, the company's next-generation game streaming service announced to massive fanfare last month, can sit unattended in a corner of the convention center, while developers crowd around government software solutions in the next booth over.
Google Cloud Next is the search company's annual conference running since 2015 where it can court developers to use its software, instead of competitors Microsoft Azure and Amazon Web Services. It's Google's haven to brag about jargon only developers and IT department heads would care about—like "200-millisecond cold-starts" and "serverless runtimes"—while launching products whose importance typically fly over the average consumer's head.
These are an important three days for Google. Cloud services, the business where smaller developers pay Google to use the computing power in its many, many data centers, are estimated to be worth hundreds of billions of dollars in revenue within the next decade. If Google ever wants to diversify its revenue beyond what it makes from advertising, getting a slice of that cash is its best shot, especially as that ad revenue starts to plateau. Unlike some of its other long-term investments, like self-driving cars or even Stadia, cloud technology is already here, and Google already owns the data centers it needs to be competitive.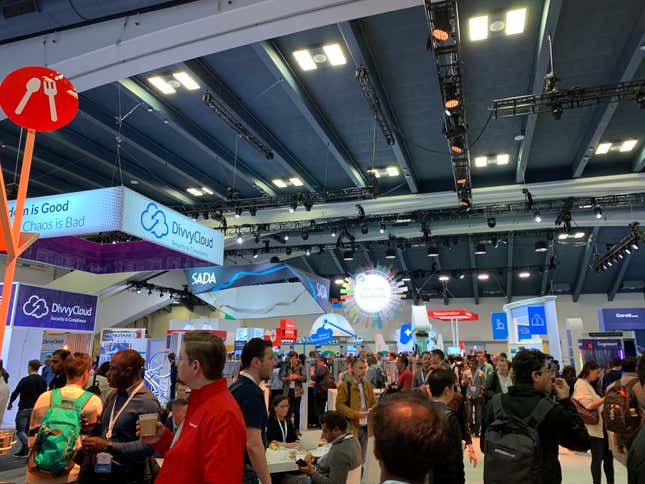 But there is staunch competition, from some of Google's largest competitors. Amazon created this category in 2006 with the launch of Amazon Web Services. Microsoft Azure quickly followed suit. Google Cloud now plays third fiddle to these other web giants, though it's ahead of others like IBM and Alibaba. Google is fairly opaque with how much cloud revenue the company generates, but estimates from Canalys puts it at about $2.2 billion for the final quarter of 2018. (For comparison, Canalys cited AWS revenue at $7.3 billion for the same time period.)
Capturing the cloud business
No matter the cloud company, the game is the same: consumption.
Google, Amazon, and Microsoft all charge customers based on the metric of consumption, meaning the more computing power the customer uses on the cloud providers' data centers, the more money they pay. It's a relatively simple equation.
When looking at each new tool that Google, Microsoft, and Amazon have recently announced, they all make more sense when viewed through the lens of driving more cloud consumption. New AI algorithms or data-analytics tools might allow businesses to offer new features or streamline parts of these tech giants' businesses, but they're also new products that can scale instantly to thousands of enterprise customers. Even breaking into new fields, like supporting the computing power for online multiplayer games, grows consumption. For Google, once it has those customers, it can begin building secondary offerings of software to sell. In gaming, Google is now selling software where game developers can analyze where players are dropping off and getting tired of a specific game. By altering that level or area, the developer can then hope to retain more players for longer.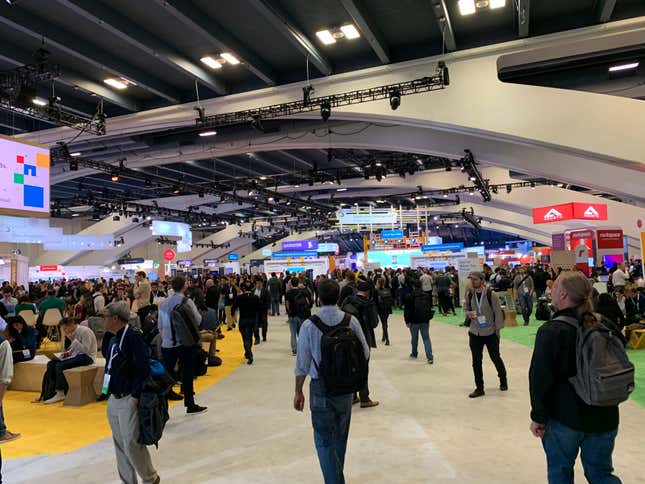 Google's big announcement this year was Anthos, derived from the Greek word for "flower," software that allows companies to bring their older databases and on-site servers to run on the cloud. It's a way to scoop up smaller companies that might be paying to maintain their own servers, and want to switch to the cloud instead, but the technology was previously incompatible. The companies pay Google in perpetuity to run their businesses' websites and internal software. Or not—Google says that 88% of customers have a "multi-cloud" strategy, and all Google wants is to have a slice of the pie.
Driving more developers to use Google Cloud products isn't just about making the products better, but getting developers excited about Google. While Google I/O is the company's chance to get consumers  The conference's keynote started with a futuristic cartoon city run by Google customers, accompanied by loud techno music with bone-rumbling bass. It's essentially the peppy, startup-studded intro to HBO's Silicon Valley, but presented without any hint of satire. But the companies showcased gave a slice of who Google wants to attract; insurance providers, media companies, and household brands. Google doesn't want to be the cloud provider for Silicon Valley, but for any company with an interest in the cloud and a credit card.
That's the cornerstone of Google's strategy. Onstage during the keynote event, Google Cloud CEO Thomas Kurian, a former Oracle executive who's only helmed the company for only a few months, said that 80% of the world's computational workloads are still not on the cloud. That means the company needs to tell people why they want to be on the cloud, and once they're on the cloud, why they need Google's AI services.
Nobody will accuse Kurian of being the next Steve Jobs on stage. The presentation relied on bringing out customers and partners, like UPS and software company VMWare, and Kurian asking them leading questions about why Google Cloud was so good. Interspersed tech demos showed how easy it was for developers to bring their old servers into the cloud.
But Google also wants a piece of the existing 20% of cloud revenue as well. Anthos is what Google calls "multi-cloud," which means any software migrated using Anthos will also work on Amazon, Microsoft, or anyone else's cloud. If Google can use this inter-operability to siphon some competition away from its competitors, that could start to close the gap between itself and its chief competitors.
Wandering the clouded halls
Walking through Google Next's show floor is like taking a tour through its balance sheet. You have big booths for some of its largest customers, like Deloitte and Cisco. On the edges of the room you have hulking booths dedicated to healthcare AI and government contracts. And filling all the cracks are smaller developers and companies, milling around and latching onto various Google products being demonstrated around the conference.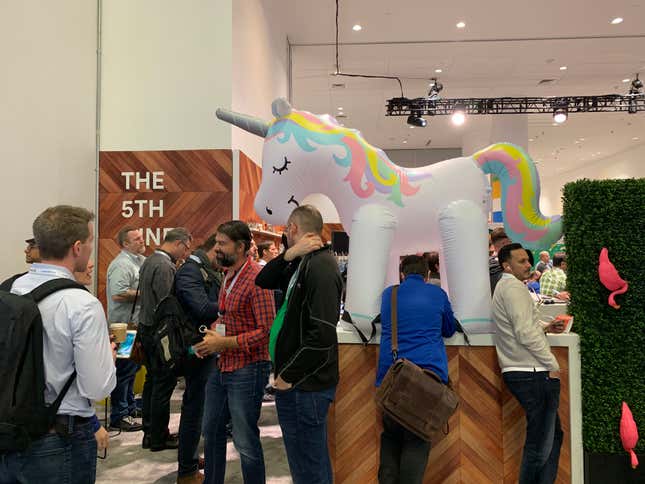 Vendors that Google has invited to show off what they've built on Google Cloud have attractions like basketball hoops and money-grab booths to pull attendees in. One was more esoteric: The game places the contestant about 15 feet away from a Velcro target they're meant to hit with a ball, and then an employee asks the contestant if they have certain best practices for the cloud in place. For each "yes", the contestant gets to take a step closer to the target, a deep and trenchant symbol of how proper cloud management can bring you closer to your target. Allowed as many steps as possible, the two contestants I watched both missed their targets, one going home with a consolatory poster and the other a book about the cloud.
There is very little talk of money at Google Cloud Next. Google doesn't talk about how it's more competitively priced (although it does offer discounts to try to undercut competitors), or how much more bang for your buck you get from its AI services compared to other cloud providers. When asked about how certain products might drive more cloud consumption, executives start to talk about customers instead.
"It's important to meet customers where they are," Tracy Frey, director of AI strategy at Google Cloud, told me. "Google Cloud as a whole is honoring the space of customers who don't know where they want to be."
But Frey does say that typically when Google is able to work with customers to use AI, it opens the door to more use of AI in the future.
"It helps them open up, and ask how can we do more of that," she says.
And that's all Google is asking for.