Notre Dame is one of the world's great works of architecture. But the cathedral itself is not the only masterpiece on its grounds. Housed in its walls are many historically and artistically valuable items acquired over centuries. As the Paris landmark burns, noted paintings, pipe organs, religious relics, and one-of-a-kind stained-glass installations are at risk.
As first responders try to salvage the art and other items, a priest from the cathedral told a Paris Match journalist that artworks and relics have been saved.
Here are some of the most famous treasures believed to be inside the cathedral at the time of the blaze:
Notre Dame's stained glass and rose windows
The south-facing circular rose window is one of the most famous pieces of stained glass in the world. Notre Dame has multiple windows of this type, but this one, built in 1260, became the pattern for rose windows in cathedrals around Europe. Today, the glass is not original, as centuries of damage and restoration—including a fire in 1830—have altered it.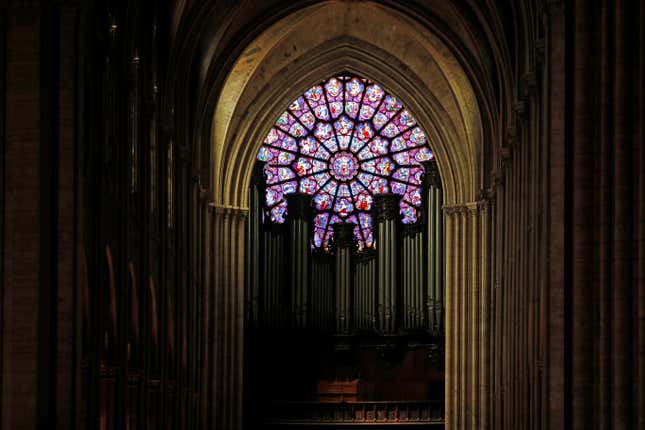 Notre Dame's paintings
The cathedral has about 50 "Mays" of Notre Dame (link in French), large paintings that were commissioned that month nearly every year from 1630 to 1707. The following were on display at the time of the fire (titles translated from their original French):
There were at least two additional significant pieces of art on display in the cathedral: The Visitation, painted by Jean Jouvenet in 1716; and Saint Thomas Aquinas, Fountain of Wisdom painted in 1648 by Antoine Nicolas.
Notre Dame's organs
The Great Organ may be the most well-known organ in the world. It has five keyboards and nearly 8,000 pipes. The cathedral has two other organs, though they are significantly smaller.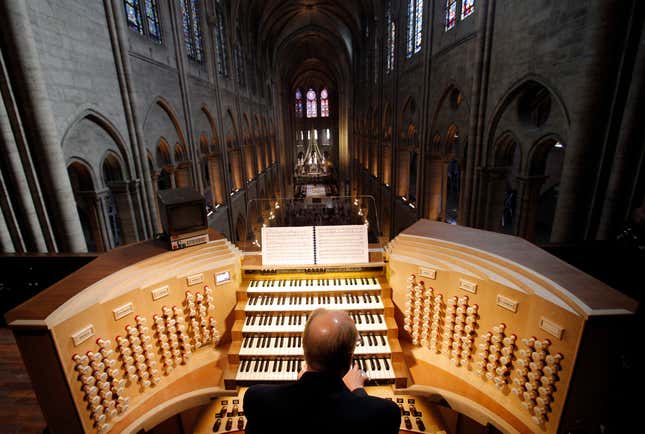 Notre Dame's statuary
There were 37 representations of the Virgin Mary inside the cathedral. The most famous of those is a Madonna and child called Our Lady of Paris.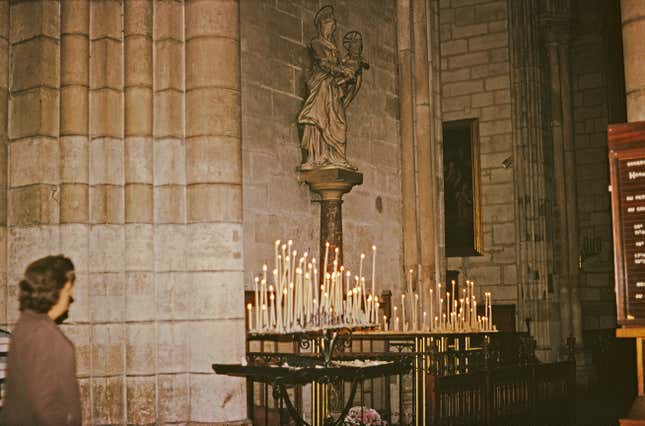 Other statues include:
Notre Dame's relics
Notre Dame is also home to the Relics of Sainte-Chapelle, which include what is believed to be the crown of thorns placed on Jesus at his crucifixion, and a fragment of the cross on which he died.