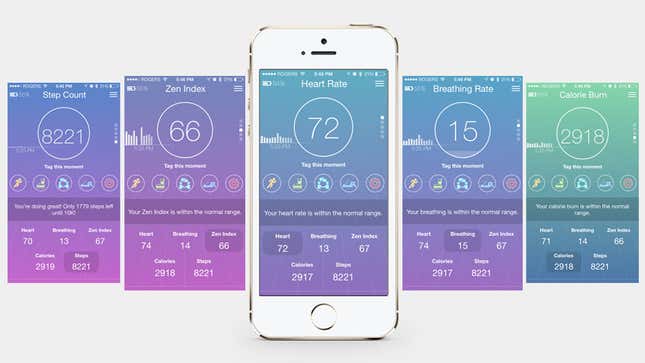 Last month, Quartz wrote about Scanadu Scout, a nifty little device that can measure your vital signs—temperature, heart rate, blood pressure and more—simply through contact with your skin. The catch was that you have to hold it up your forehead to get a reading. Stephane Marceau, founder of the Montreal-based OMSignal, takes the idea of self-tracking further: Why measure your health every now and then when you can do it all day long?
Marceau's idea was a t-shirt that can measure your heart rate, breathing and electrocardiogram readings as well as count the number of steps you've walked and calories you've burnt; a kind of a cross between a Fitbit and the Scanadu Scout. His nylon polyester t-shirt (it also comes in a sleeveless version) is embedded with silver thread to conduct information from your body to a small, removable unit that contains a battery, a chipset and a bluetooth chip, which in turn transmits data to a smartphone. Marceau, who was wearing the t-shirt, showed Quartz a demo last week, and it worked as advertised.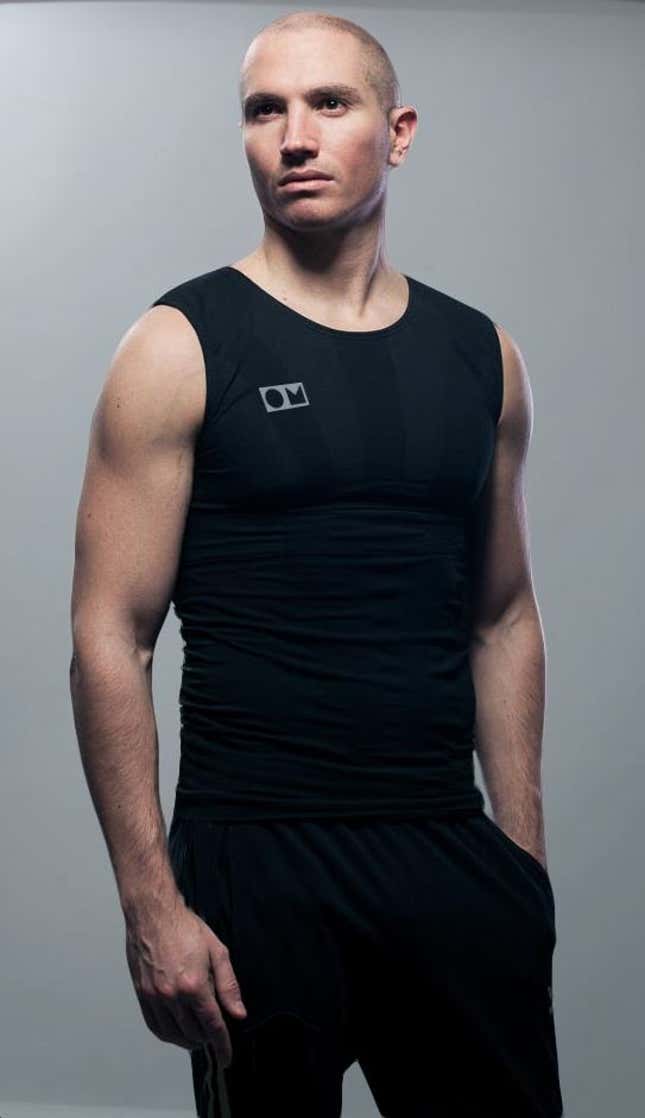 Who would want such a t-shirt? Marceau says his company will target three groups at first: People who spend their weekends doing sport and exercise and want to track their performance, people with chronic health problems who want to monitor their bodies, and the growing band of "quantified self" aficionados who are interested in their personal data as an end in itself. Indeed, Marceau's first target market will be people who already own self-tracking devices such as the Fitbit, Jawbone Up or Nike Fuelband.   
Yet Marceau has a challenge ahead of him, specially if he is to realise his ambition of becoming "the Gore-Tex of connected clothing." No amount of fancy electronic measurement will convince people to buy his shirt if it doesn't look good. "If it doesn't make you make feel good, you won't wear it," he says. To that end the company counts among its staff Ying Gao, a Canadian designer with a background in mixing technology and fashion.
OMSignal, which has so far raised $1.2 million in funding, plans to make its t-shirts available early in the new year, and will sell them in the low three digits (Marceau says he hasn't yet finalized a price). Supplementary t-shirts without the electronic unit will cost less than $100.