The territorial row over the Senkaku/Diaoyu islands has made things tough on many Japanese businesses that rely heavily on sales in China. But those setbacks don't apply to disposable diapers. For Japan's leading diaper makers, China sales are booming.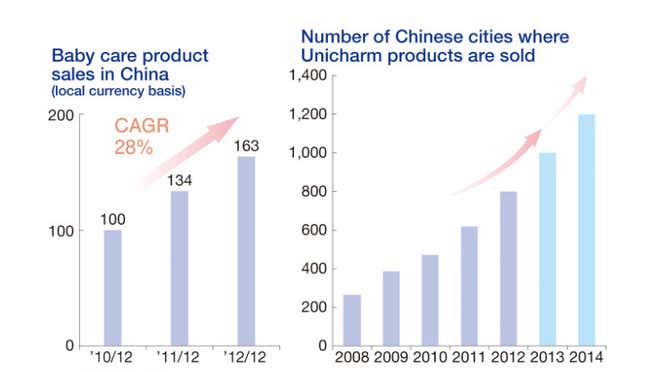 Considered to be a luxury item by wealthy Chinese parents, diapers are now so popular that the country goes through about 1 billion diapers a month—twice what Japanese households consume—even though in China they're more than twice as expensive as in Japan.
That should be good news for Japanese diaper makers. Though the country's diaper industry is big—about ¥200 billion yen ($1.9 billion)—the double-whammy of deflation and plummeting birth rates has stalled growth.
But Japanese companies are now competing with Chinese counterfeiters to cash in on China's diaper craze—so much so that authorities in Guangzhou, a major port city, busted a slew of diaper pirates earlier this month. Japan's diaper makers aren't assuaged, though. "New [counterfeiters] keep popping up, no matter how many we may dig out," a representative of Unicharm, Japan's biggest diaper maker, told Asahi Shimbun. "There is no end to this game."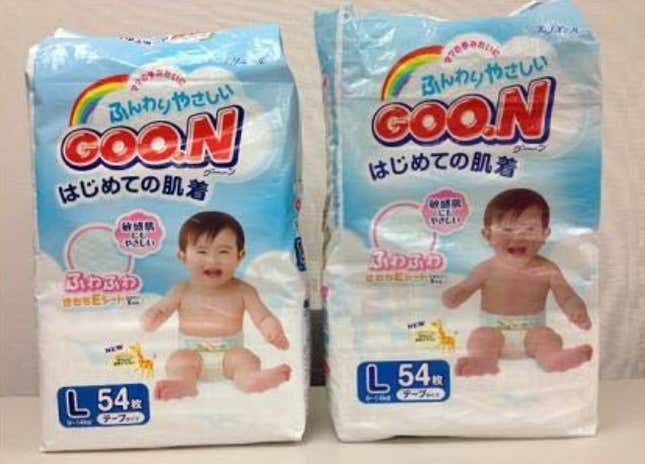 But there's enough demand for diapers in China to go around. Japanese and Chinese speculators have been buying up diapers in Japan to sell them at a premium in China. Japanese consumers have been reporting diaper shortages throughout the country, as RocketNews24 reports, thanks to the bustling Japanese diaper arbitrage trade. Authorities recently arrested one such speculator—a Chinese exchange student in Nagoya—on suspicion of using "irregular means" of selling diapers online to Chinese buyers (link in Chinese).
So why don't diaper makers open factories in China and crank out more supply?
Many foreign companies are doing just that. Unicharm teamed up last year with a Chinese subsidiary, in which it plans to invest $30 million. And Procter & Gamble is ramping up Pampers production as part of its goal of investing $1 billion in China by 2015.
There may be reason for caution, though. In Aug. 2012, Kao Corp. opened a new factory in Anhui province to meet Chinese demand for Merries, its popular diaper brand. To boost sales, it unveiled a version of Merries designed exclusively for China (its "convex-concave surface materials" minimize diaper rash). Kao is selling those high-tech Merries for $0.24 per diaper, half what Japan-made Merries go for in China, reports RocketNews24.
The problem is that Chinese parents want made-in-Japan Merries, probably out of safety fears about China-made goods (see: the market for infant formula).
As a result, Kao is reversing course. It will soon open a ¥5 billion plant in northern Japan to meet Chinese demand, the first factory the company has opened in Japan in 12 years.