Even judging by China's recent, hideous, standards of air quality, the air today in the Tibetan capital of Lhasa was bad. Really bad.
At noon local time, the Air Quality Index at Lhasa railway station spiked to an astounding 999 on the PM10 scale, which measure the density of particulate matter between 2.5 and 10 micrometers in size, according to aqiicn.org, an Asia-wide real-time air quality monitor.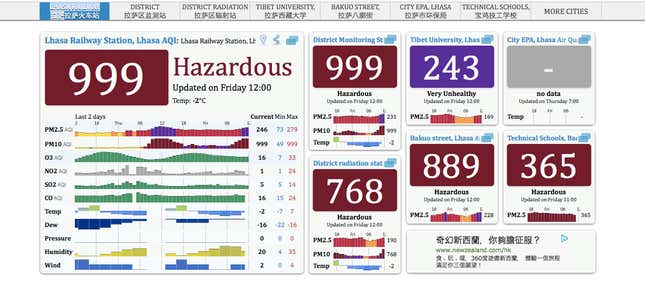 While the level of large particulates dropped later on Friday afternoon, they remained high enough that Lhasa had some of the worst air in all of China according to aqicn.org's map (Lhasa is the "406 PM 10" measure in the west):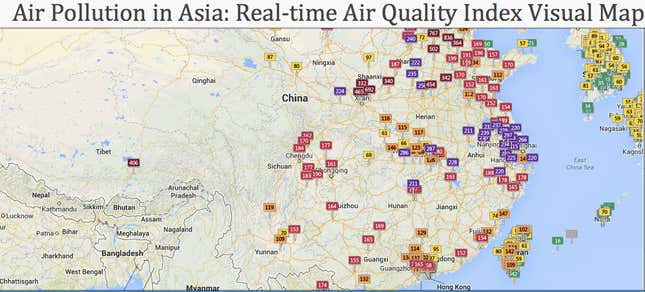 The official reason for the poor air quality, which was so bad that flights in and out of Tibet were cancelled on Dec. 19 and 20th? "Dust," according to the state-run Global Times, which said "a sharp drop in temperature, lower pressure and accumulated particulates are the main causes of the murk which is forecast to last for another two days," citing an engineer at the local meteorological observatory.
Another explanation? A "sandstorm," said China Radio International, a state-run radio station. Lhasa is, in fact, prone to sand storms, but the station's photos of whatever was hanging over Lhasa this week didn't appear to show sand blowing through the air, and the air closest to the ground (where, uh, the sand normally comes from) was strangely clear: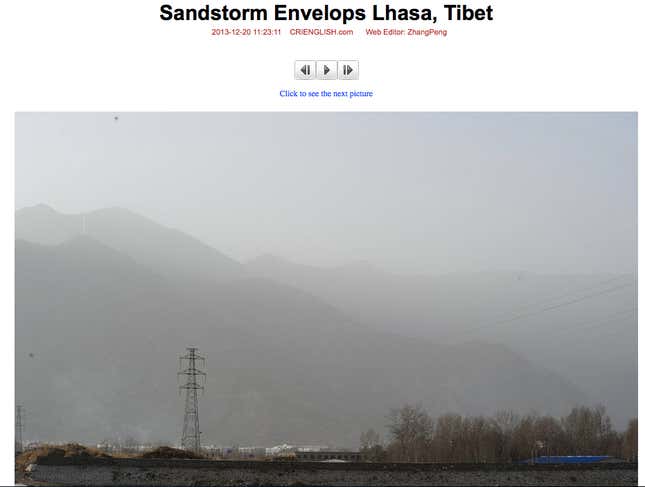 Also, winds were light in recent days, averaging about 2 mph, which wouldn't actually be strong enough to blow sand into the air.
Mining projects in Tibet have recently polluted waterways and led to protests, but there's no clear indication of any industrial project that might be affecting the air. Less than a year ago, Tibetan air was considered so pure that one Chinese entrepreneur was selling cans of "Pristine Tibet" air for 5 yuan a piece. Today the Tibetans could probably use some fresh air cans for themselves.