Earlier this month, hedge fund manager Crispin Odey opened a $5 million short position in English soccer club Manchester United's shares. Since the announcement, the team's New York-listed shares have fallen by around 9%, netting the fund manager a tidy profit.
With a few exceptions, soccer stocks have been terrible investments in recent years. Just look at how badly an index of listed European football teams has underperformed the overall market: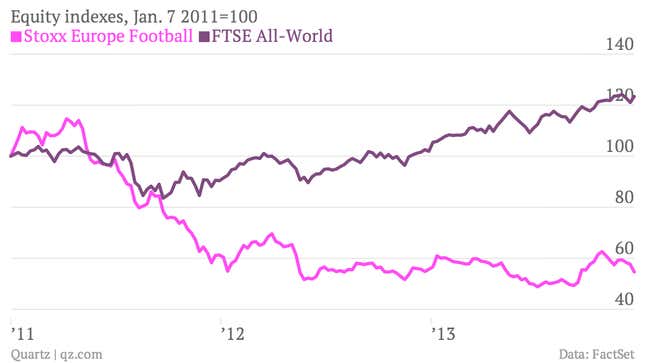 A soccer team's performance on the pitch is only one factor driving its share price, and often not even the most important one. Manchester United has struggled so far this season under a new coach, but commercially speaking the club is posting record financial results. In addition to Odey and other short-sellers' bets against the club, what could be spooking investors is a recent filling by the club's majority owners, the Glazer family, that gives them the right to sell up to $400 million in shares—around 15% of the company's market capitalization—at any time. A special class of shares gives the Glazers almost total control over the voting rights of Manchester United, whatever happens to the rest of the company's share register.
These sorts of arrangements are common at listed soccer clubs. Many of these companies are thinly traded penny stocks subject to huge volatility based on the whims of controlling shareholders. Listed clubs are also outnumbered by privately held competitors, with deep-pocketed owners running their teams with little concern for a financial return. Teams in Europe's top leagues recorded a collective loss of nearly $1.5 billion last year, according to UEFA, the sport's organizing body in Europe. Revenue growth only barely outpaced wage growth in 2012, the first time that has happened since at least 2007, when UEFA started keeping track.
Roma, this year's best performing soccer stock, is unbeaten in the Italian league so far this season. The rapid rise in in its share price, however, comes down mostly to rumors of a takeover by a Chinese billionaire. The second and third-ranked stocks, belonging to Portuguese sides Benfica and Porto, have performed well in 2013 but are still down by more than 50% over the past three years. Supporting a soccer club can be stressful enough; without good timing and even better luck, it's probably best not to get your brokerage account involved.