Dennis Rodman, the flamboyant ex-NBA star who seems to have struck up a surprising friendship with North Korean leader Kim Jong-un, has just departed the reclusive nation.
While Rodman did not meet Kim—or hold his baby—as he did on a previous visit, there is some great photographic evidence of some of his activities in one of the world's most repressed nations.
Rodman's primary task was "training" North Korean basketball players ahead of a planned game, featuring 12 former NBA players, that would mark Kim's birthday January 8.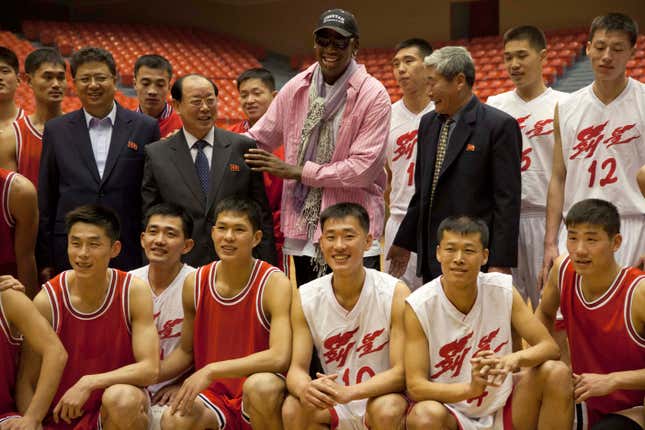 Such basketball-related images have been widely circulated, but a look at Tweets posted by Michael Spavor, a Canadian business consultant who has assisted Rodman in visiting the country during previous visits, shows a bit more of Rodman's trip.
While the 6 foot, 7-inch Rodman towered over most people he met in Pyongyang, "The Worm" actually encountered someone who made him look short: 7 foot, 8 1/2-inch tall North Korean Ri Myong-hun, an ex-basketball player who was once the world's tallest man.
Mr. Rodman, Ri Myoung Hoon (Michael Lee) and some of the London and Beijing Olympic medalists pic.twitter.com/isBUWpZP9k

— Michael (@mpspavor) December 21, 2013
Rodman also did some horse riding:
Mounting a horse. #Rodman #paddypower #dprk pic.twitter.com/KWnlfbFgYi — Michael (@mpspavor) December 22, 2013
And met an archery team:
활쏘기장 Group picture with the 4.25 #archery team, Dennis, Joe, Rory and me. #rodman #dprk #sports pic.twitter.com/yumUJz4M3F — Michael (@mpspavor) December 22, 2013
Rodman visited the Koryo Hotel…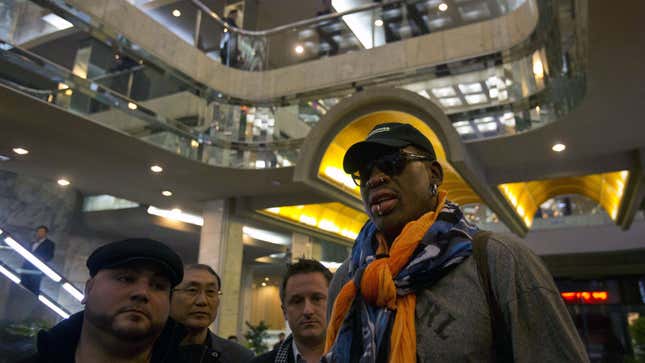 …and a water park:
#rodman #paddypower #swim pic.twitter.com/F4mmm1NwuO — Michael (@mpspavor) December 21, 2013
Rodman showed off his local sartorial sense, too, getting decked out in what appeared to be a North Korean-style suit—and a Boston Red Sox baseball cap:
— Michael (@mpspavor) December 20, 2013