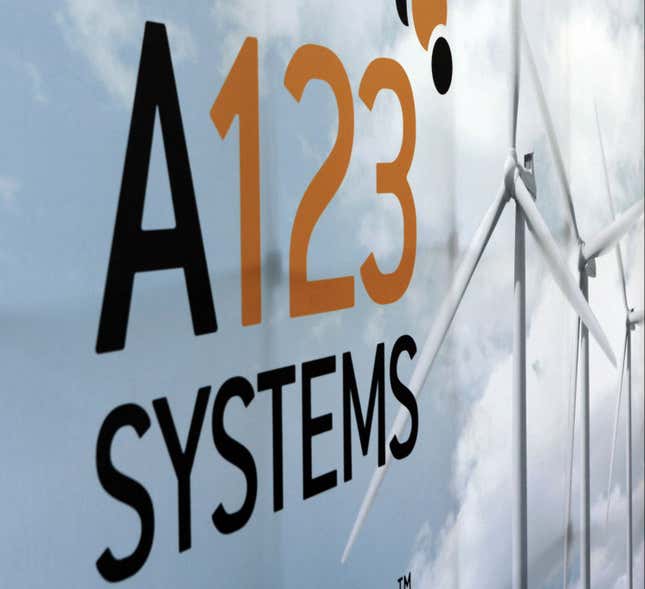 A123, a company whose MIT founders brought sizzle to the world of lithium-ion batteries, has filed for bankruptcy protection, felled by the electric-car industry's slow start. The company received a $249 million federal grant in 2009, and the news is likely to be more campaign fodder for GOP candidate Mitt Romney, who has criticized President Barack Obama for providing billions of dollars to green-energy companies.
Obama, who has made the creation of a battery-manufacturing industry a centerpiece of his strategy to rejuvenate US industry, meets Romney in a second debate tonight. A123 was a point of pride for the Obama administration since the company built the first new US lithium-ion cell-making factory.
The Massachusetts company, which has been financially troubled after a product recall earlier this year, previously said it might default on interest payments on $146 million in debt. In a Oct. 16 statement, A123 said it has reached agreement with US battery rival Johnson Controls to sell its automotive operations, including its cell-making factory in Livonia, Michigan, its cathode powder-making plant in China, and its stake in Shanghai Automotive. Johnson will pay $125 million in cash and financing.
The deal could contain some of the political fallout of the bankruptcy filing since A123's assets are going to an American company, and not a Chinese firm. In August, A123 was criticized after signing a memorandum of understanding with China's Wanxiang group for a $465 million payment in exchange for 80% of the company. In the Oct. 16 statement, A123 said the Wanxiang agreement will not be finalized.
A123 was founded using lithium-ion technology developed by MIT scientist Yet-Ming Chiang. Though the company never turned a profit, it attracted huge attention on Wall Street with its 2009 IPO. Big-name companies lined up to invest, including General Electric, Qualcomm and Motorola.
In March, A123 acknowledged that it was responsible for a recall of Fisker electric cars because of a faulty battery pack. The cost of replacing the batteries was put at $55 million, and A123 said at the time that the financial burden would be heavy on the company.
Hat tip to Barrett Sheridan for the headline of this post.