Why would an entertainment and media company like Disney add a technologist like Jack Dorsey, one of the inventors of Twitter and the founder of Square, to its board? Disney chalked it up to Dorsey's talent and ingenuity. But before getting all hand-wavey about this—every company needs a technologist in its highest ranks, after all—here are some of the potential reasons Disney thought Dorsey made sense.
1. Disney is rolling out a wireless payment system that could benefit from Dorsey's experience building Square
Disney wants guests to wear a wristband that will function as a "room key, park ticket, FastPass and credit card," reports the New York Times. Considering that Dorsey is now a billionaire thanks to building the payment system company Square, which already allows people to pay at Starbucks just by standing in front of a cashier and announcing their name, Disney surely thinks its patrons will spend more freely with a system informed by Dorsey's insights.
2. Dorsey is the self-styled heir to Steve Jobs, who previously sat on Disney's board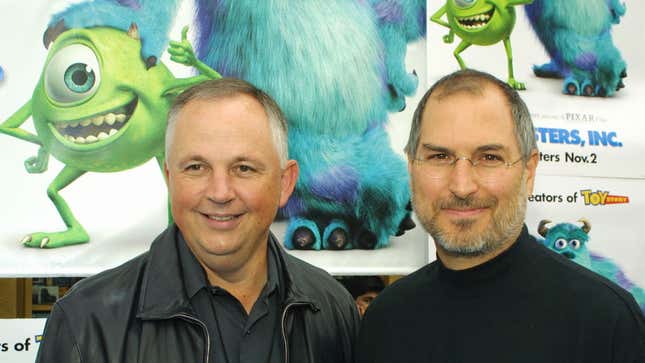 When Disney bought Pixar, Steve Jobs came with the deal. With his passing, the company has been lacking a tech-savvy advisor to weigh in on everything from its ultra-lucrative franchises of digitally animated movies to the ways in which the company will have to evolve its theme parks to keep up with an ever more screen-focused generation. Dorsey is a design-obsessed minimalist who is as likely to talk about the Japanese philosophy of wabi-sabi as he is to discuss the technology that it inspires him to create. Sound familiar?
3. Dorsey started as a slacker, but his ambition has grown in a way that could be useful to Disney
If there's one thing you take away from Nick Bilton's history of Twitter, it's that Jack Dorsey, who started out as a free spirit who seemed to drift into the Twitter project sideways, has since been shaped by Silicon Valley into just the sort of rapacious capitalist that Disney needs. Apparently stung by his early failure as Twitter's CEO, Dorsey later went on to systematically re-tell the tale of Twitter so that he could become its central character. Subsequently, he founded Square in his San Francisco apartment, demonstrating to the world that he could lead a product launch on his own.
What exactly is Dorsey going to be doing at Disney? That's unclear, but as with Steve Jobs, who shaped culture across multiple companies and initiatives, it seems clear that Dorsey's ultimate goal is to continue to affect the world as Jobs did again and again, and through as many enterprises as possible.