Donald Trump has regularly boasted his hotels and resorts are the world's finest. In Florida, pool inspection reports tell a different story.
Swimming pools at Trump resort properties in Florida are cited for poor water quality and other health and safety violations far more frequently by the state's Department of Health than pools at comparable luxury properties, records reviewed by Quartz show.
The violations were so serious that Trump's Florida properties were forced to close their pools by health inspectors 10 times over the past 12 months. State records show multiple citations for violations like improper pH levels, problems with "disinfection feeders" that pump chlorine into the water, and inadequate safety features, including deficient handrails and ladders.
Improper pH and chlorine levels result in automatic closures, according to Florida regulations. They can lead to conditions that permit the spread of gastrointestinal, skin, ear, respiratory, eye, and neurologic illnesses, according to the US Centers for Disease Control.
In comparison to Trump Florida properties, nearby four and five-star resorts and private clubs had mostly pristine pool inspection records over the same time period.
Here's a rundown of inspection-report information by individual Trump property:
Mar-a-Lago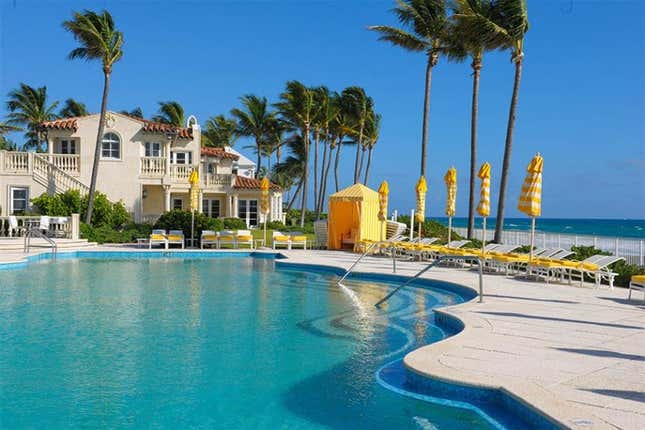 Mar-a-Lago's pools were shut down by health inspectors five times in the past 12 months, according to data from the Florida Department of Health. The main pool, the beach pool, and the spa pool were affected.
The pools have been inspected on 17 other occasions in the past year, per public records. They were rated "satisfactory" in 11 of them and "unsatisfactory" in six:
An inspection dated May 16, 2018 shows the beach pool was closed for a water-quality issue.
The main pool was also closed, says a separate report also dated May 16 that does not list a specific code violation.
The main pool was shut down, according to an inspection report dated Dec. 6 over water quality (chlorine, pH) and issues in the equipment room (disinfection feeder)
The pool at the main spa was also closed that day for water quality (chlorine, pH)
The beach spa was closed on Dec. 6 as well, over water quality (chlorine, pH)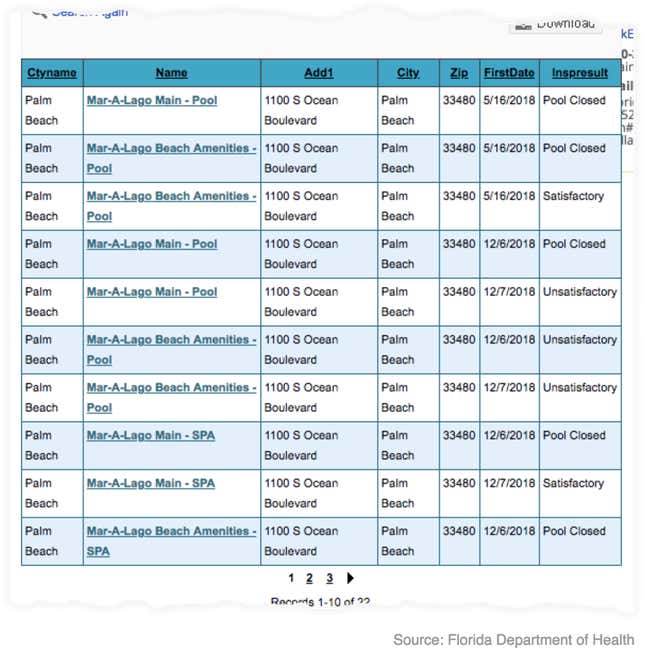 Berndt Lembcke, Mar-a-Lago's general manager, did not respond to a request for comment, nor did the Trump Organization.
Trump International Beach Resort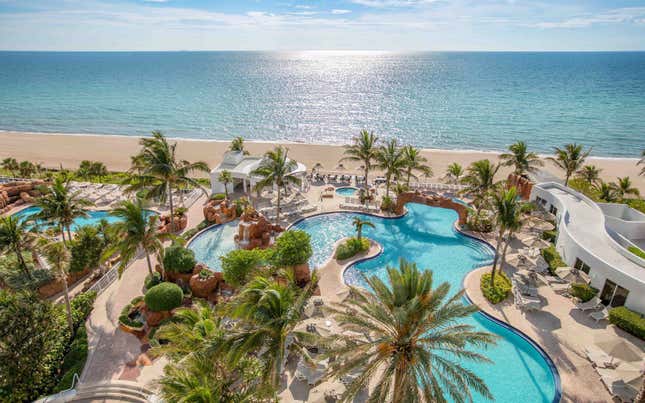 The last two weeks of 2018 saw multiple violations leading to closings at the Trump International Beach Resort, a four star property located in Sunny Isles, Florida, near Miami.
An inspection report dated Dec. 11 shows the main pool was closed for violations including unsafe chlorine and pH levels; deficient handrails/ladders; improperly maintained or uncovered suction outlets, and improperly functioning flowmeters and vacuum filters.
A second pool was closed that day for the same violations, plus a non-compliant "disinfection feeder," state inspection records show.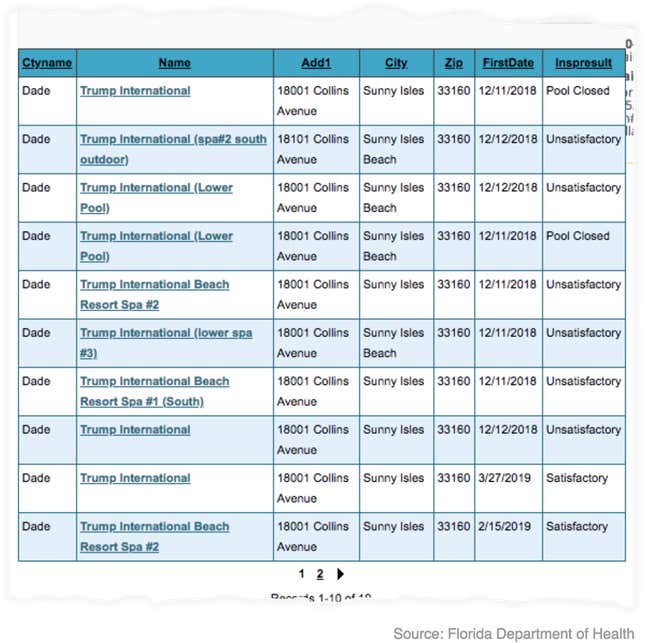 Three different spas were also given "unsatisfactory" ratings on Dec. 11, for water quality, filter, and other code violations.
Trump National Golf Club in Jupiter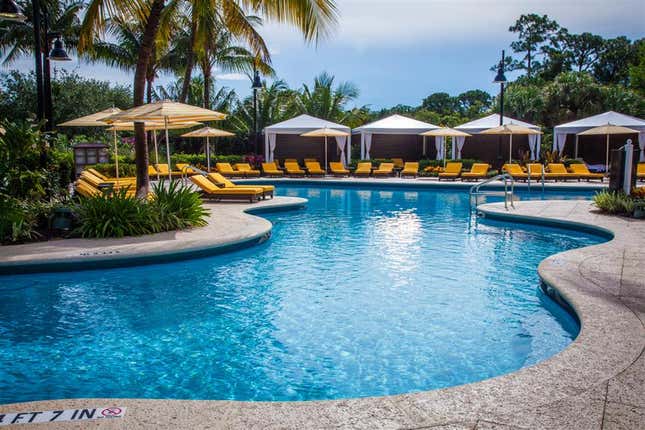 Inspection reports dated June 21, 2018 show three pools were closed for water-quality issues and equipment problems:
Improper chlorine levels were found in one spas
The wading pool's equipment room lacked proper drainage, ventilation, and/or lighting
The pool in a second spa was marked as closed by inspectors, although the report itself says "No violation found"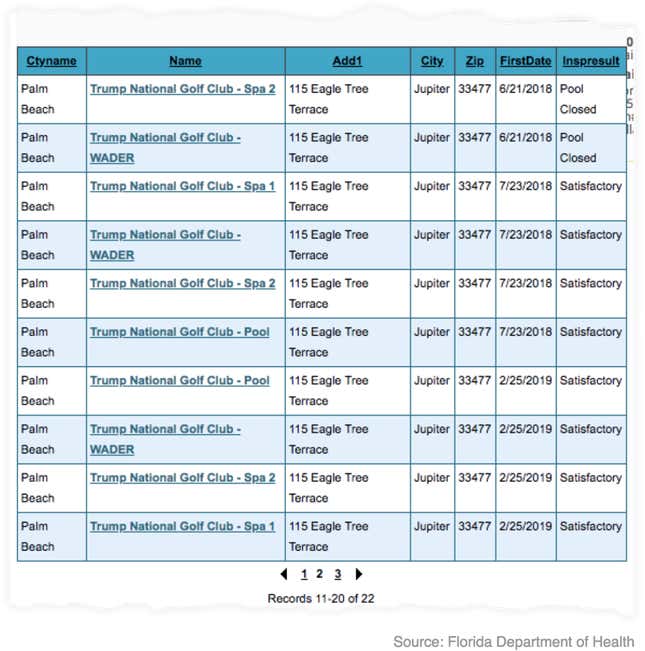 Trump Doral Golf Club and Resort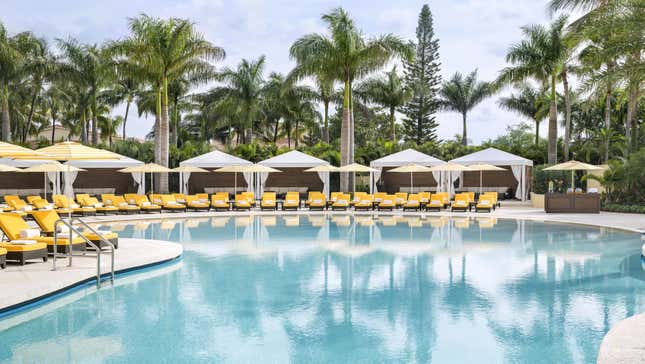 There are 10 pools at the Trump Doral; all are listed in the state health inspections database. There are no inspections listed for the pools over the past 12 months, although Florida Department of Health regulations require all public pools to be inspected at least twice a year. The department has not responded to several requests for details.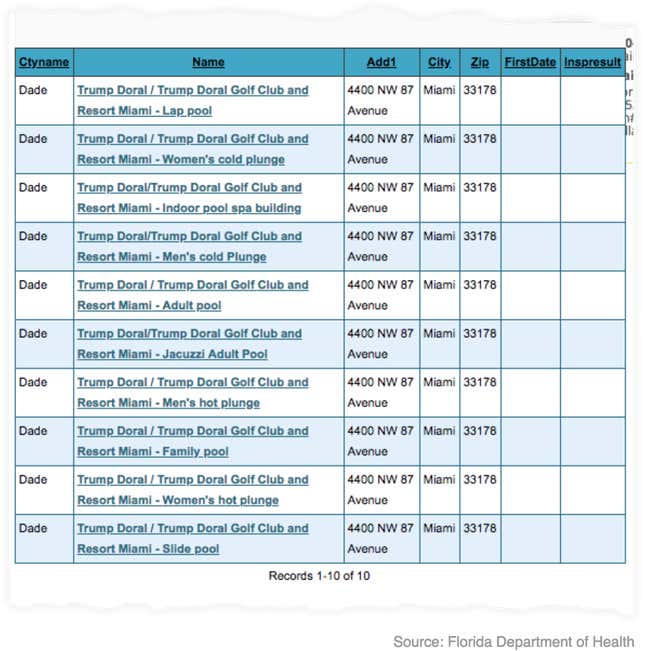 It is impossible to say at this point what is causing the problems at Trump's resorts. Inexperienced employees overdosing with chlorine or malfunctioning equipment could throw off pH levels, pool experts say.
Other luxury resorts have fewer issues
Hotel pools or spas are responsible for one-third of all disease outbreaks traced back to pools, according to the CDC. However, other luxury resorts close to Trump properties didn't fail inspections at nearly the same rate.
For example, the PGA National Resort in Palm Beach Gardens has not received a single "unsatisfactory" rating for its pools in any of the 19 inspections in the state's database.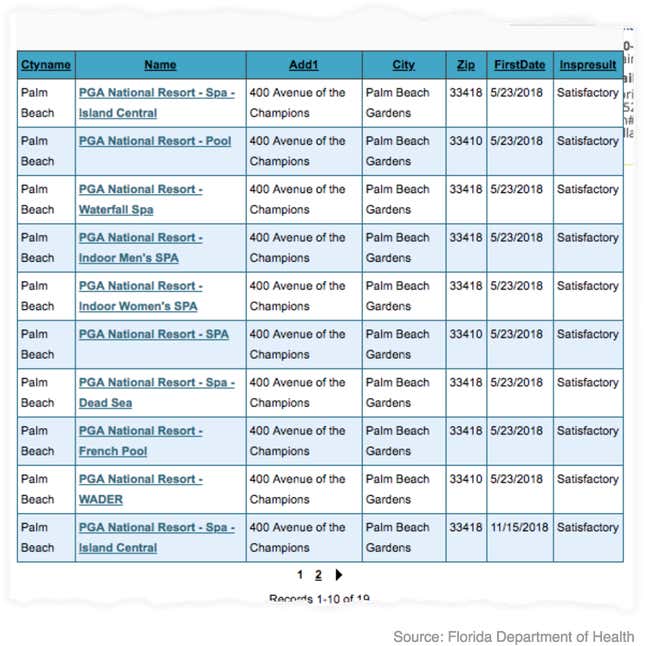 All nine pools at the Breakers Palm Beach, a four star property near Mar-a-Lago, have received "satisfactory" ratings over the past year, except a pool in one of the resort's two spas that was closed Dec. 11. (The report itself for that incident reads: "No violation found.")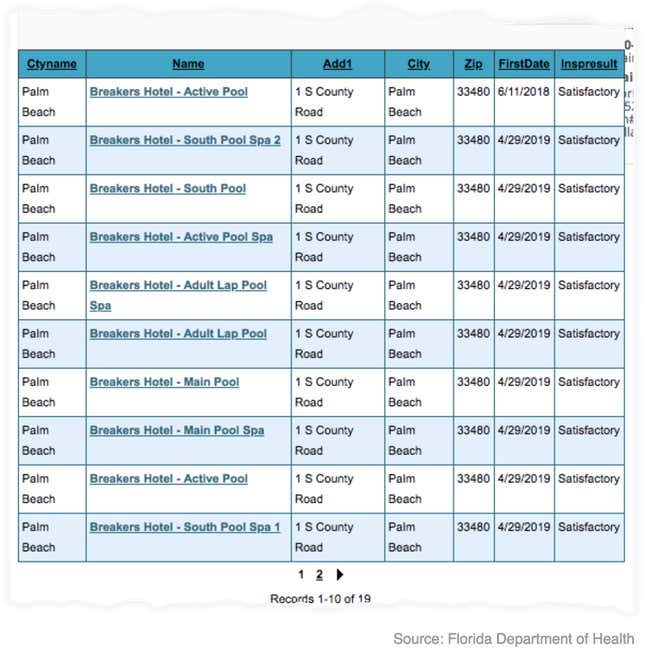 The pools at the Eau Palm Beach, a five-star resort located about seven miles south of Mar-a-Lago, were given passing grades in six of eight inspections listed by the state, with zero mandatory closings.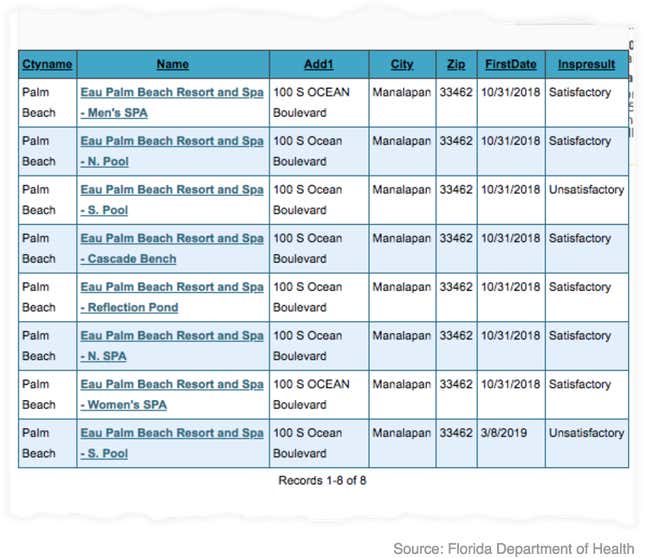 The pools at the Fontainebleau hotel and condominium complex in Miami Beach received "satisfactory" health code ratings in the past 12 months, with no closings or citations.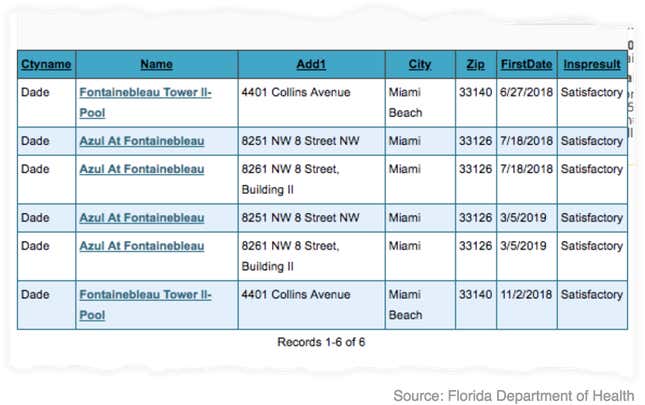 The Mandarin Oriental on Miami's Brickell Drive has also had no health-code violations reported in six pool inspections ranging from June 2018 through the end of March 2019.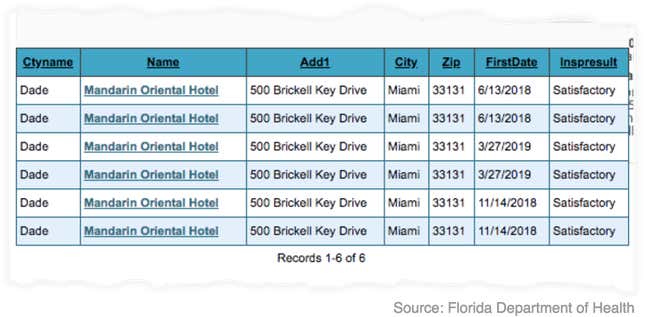 The pools at the Four Seasons Hotel in Miami also have an unblemished record, with its most recent inspection last month.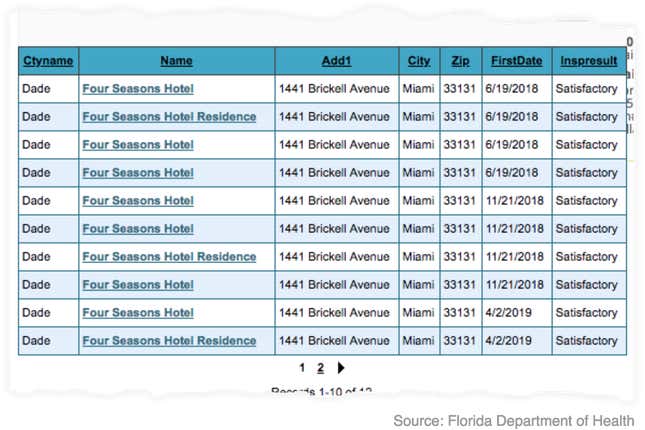 Trump's Florida properties have been cited by health inspectors in the past for other violations. In an inspection just days before Japanese prime minister Shinzo Abe was to arrive at Mar-a-Lago for a state visit in 2017, inspectors found improperly stored meat, defective refrigerators, and fish intended for sushi that hadn't been appropriately treated for parasites.