If you think you, a frequent flier, could deliver an airline safety speech by heart, imagine how well Brian Van Buren knew it after 20 years as an international flight attendant. As the chief attendant, he'd made thousands of announcements to passengers and crew in that familiar airline cadence.
Then one day he lifted the microphone to his lips and the words that had always been there were gone.
The first time it happened, it was an annoyance. The second, third, and fourth time, it was a puzzle. How do you just forget the lines of a script you've performed so many times? Colleagues teased him, but there was always another flight, always another crew, and so he shrugged it off and kept going, month after month after month.
The next sign could not be ignored. On a United Airlines flight from Washington, DC to Brazil in 2015, Van Buren collapsed with a massive heart attack, forcing an emergency landing in Puerto Rico. He survived, but the news at one of the many doctor's appointments that followed landed like a death sentence. Van Buren, then 64, had early-onset Alzheimer's.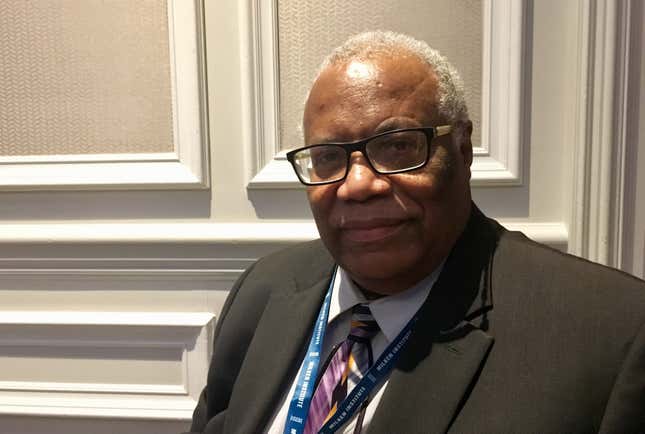 He went to bed and stayed there for a month, grieving the end of life as he knew it. And then he decided to get up and begin a new phase of life, one in which he has found more meaning and purpose than ever before.
Van Buren is one of an estimated 7 million people in the US living with dementia. Some 5.8 million of them have Alzheimer's disease, the most common form of dementia. It's a group growing faster than the general US population. Roughly 1.7% of people in the US have Alzheimers and related dementias today, according to the US Centers for Disease Control. By 2060, that share will rise to 3.3% of the population. The disease is growing fastest among Americans who are black, like Van Buren, or Latino.
There are more people living in the US with Alzheimer's right now than currently live in Oregon or Alabama. And yet, because the popular conception of dementia tends to center on the isolation and incapacity of the disease's latest stages, the reality of what it's like in the years—sometimes decades—of dementia's mild-to-moderate stage is overshadowed.
There is as of yet no cure or way to reverse the disease's progression. Most of us think we know what it looks like to die from Alzheimer's, but it can be hard for those who have not been personally touched by the disease to understand what it's like to live with it. And if no one understands what it's like to live with dementia, communities won't know how to accommodate their members living with cognitive disabilities, and those newly diagnosed won't know all that's still possible after a diagnosis.
Van Buren's story of life with dementia is only one of millions. Every diagnosis begins a unique process of reconciling the life a person has known with their hopes and fears for the future to come. Where Van Buren is different is that he has chosen to find his way forward by helping other people with dementia find theirs. All journeys are easier when you know the routes others have traveled before.
***
Weeks after his diagnosis, a postcard arrived at Van Buren's home in Charlotte, North Carolina. It was from the AARP, inviting him to a workshop near his home.
The workshop, called "Life Reimagined," was "an initiative AARP used to try to help people think about what's next in their life," says Mike Olender, manager of outreach and local advocacy for AARP North Carolina. "It was usually a small-group type of setting where they walked through a guidebook with exercises: Look back at your life. How much have you lived? What have you accomplished? What have you yet to try? What's holding you back?"
In a room full of participants, Van Buren stood out. "He just seemed—'curious' is probably the best word," Olender recalls. "Brian is somebody who shares. He's not shy. He's very distinguished in that way. He's a very honest person. He'll talk to a roomful of strangers like they're a roomful of family."
Van Buren revealed to the room that he hadn't really liked the life his diagnosis had just upended. He lived alone in a big house he rarely slept in. He had no partner, children, or chosen family to tend to. He spent most nights on an airplane with constantly rotating crew members, or in a generic hotel between flights snacking on greasy chicken wings from the bar.
By the time of his early-onset dementia diagnosis, doctors had also informed him he had heart disease and type II diabetes. He was morbidly obese. He had sleep apnea so severe he slept no more than two or three hours each night.
"I wasn't taking care of myself," Van Buren says of his old lifestyle habits. "I knew what, eventually, the consequences would be. But to be honest, I had gotten to the point where I really didn't care that much anymore."
Van Buren had not always felt so disconnected. In an earlier life, after a stint in the US Navy, he was a neuropsychiatric therapist in Los Angeles. On one memorable evening in 1991, Van Buren held a dinner party at his Pasadena home for 28 people, including his then- and long-time partner. Today, he says, he is the only attendee alive. The rest died of AIDS or related complications.
He lost one partner to suicide in 1985, another to AIDS in 1991. After that, he no longer had the heart for counseling work. He got the airline job and for the next 20 years was never in any one place long enough to think about how lonely he was—or for anyone to notice when things started to slip. Starting in the mid-2010s, he would announce, "Ladies and gentlemen, welcome to Dulles International Airport" to planes touching down at New York's JFK. He would email friends weeks in advance to let them know he'd be in their town during a layover and then forget all about the meeting, or make plans with pals in San Francisco when he was actually in Los Angeles. (He went on medical leave immediately following his diagnosis, and retired from United in 2018.)
The disabling depression that struck Van Buren immediately after his 2015 diagnosis was not unusual. Data from the US Department of Veterans Affairs found that the risk of suicide in older adults spikes after a diagnosis of dementia.
And the prospect of losing oneself, in general, often frightens people far more than the threat of physical pain. In Oregon, one of six US states with laws allowing physician-assisted suicide, only a quarter of the 1,275 terminally people who requested life-ending medications between 1998 and 2017 said they feared uncontrollable pain, according to a recent report in the California Sunday Magazine. A full 90.9% said they feared losing their autonomy. (All states bar dementia patients from accessing life-ending drugs.)
The shock of the diagnosis threw a new light on Van Buren's life. Perhaps what he regretted wasn't so much the loss of the life he had, but the loss of the hope that it was ever going to get better.
Then he decided that maybe it still could. Maybe he didn't have to give up yet. Years can pass between an Alzheimer's diagnosis and the most serious physical and cognitive symptoms of its late stages. Why forfeit them prematurely?
Van Buren volunteered to start leading "Life Reimagined" workshops for AARP. Then he started getting his own life in order.
***
He lost 40 pounds and got his blood sugar levels under control. He got a CPAP machine and slept eight hours a night for the first time in as long as he could remember. He felt physically better and noticed improvements in his memory, too. He no longer struggled to finish his sentences.
After two successful careers in psychology and aviation with minimal personal expenses (there's no need to turn on the lights, buy groceries, or fill up a car when you're 35,000 feet in the air), Van Buren was better off financially than the average older person. He could afford a caregiver, but wasn't yet ready to give up the privacy of living alone, nor do his current symptoms require round-the-clock care. Instead, he got Alexa, the virtual assistant in Amazon's Echo.
"I come in and say 'Alexa, my keys are in blah blah blah.' So when I'm searching for my keys, I say 'Alexa, where did I put my keys?' and she'll tell me," says Van Buren. "She runs everything in my house: electricity, air conditioning, even my doors." iPhone calendar reminders are also a must, as is the GPS system in his car that reminds him where he's going and how to get there. He still drives, but is aware that his days behind the wheel are limited, and has been using Uber to get around more often.
"A couple weeks ago I went to church with my clothes inside out," Van Buren said. "Everybody in my church knows I have Alzheimer's. They took me aside and said, 'Brian, your clothes are inside out,'" he says. "Had I lived with somebody, they would have recognized that."
Isolation was the next thing to tackle. Van Buren's home had a guest bedroom and an extra bathroom, so he signed up as a host with Couchsurfing, an international network of people who offer space in their homes to travelers for free. Hosting, he reasoned, would let him have the independence he valued and someone to talk to.
On his Couchsurfing profile Van Buren describes himself as "well grounded with a very outgoing personality," with interests including cooking, theater, traveling, and the Dementia Action Alliance Advisory Council. Under the section "One Amazing Thing I've Done," he put 11, including meeting Princess Diana and Tupac Shakur. In April he hosted his 112th guest.
***
There are some things that the disease has already made impossible. Van Buren had a relationship recently, he says, but it disintegrated under the strain of his periodic and uncontrollable bouts of depression, paranoia, and anger, common at this stage of Alzheimer's. So, he says, dating is probably out.
His dementia has a manic component. In 2017 he bought four televisions over a single weekend. In the same year, he bought three new cars. Antique stores were a problem.
A life coach in Charlotte helped him set limits around his spending. In 2018, he didn't visit a single antique store. He and the coach meet weekly now to talk about things: his emotions, his frustrations, the management of his increasingly complicated life. "What's her name?" I ask him.
"Okay. Wait a minute, let me think," he says, closing his eyes with the effort of recall. "See, I can't remember it. That's what happens. If I think about it for two or three minutes…" He trailed off, then shook his head, not so much in frustration as in wonder. "I see her every week."
When Van Buren meets new people, he hands them a business card. "Please be patient with me," it reads. "I have dementia and may: Repeat questions. Forget what you have told me. Take longer to make a decision. Thank you!"
The card is from the Dementia Action Alliance, a nonprofit advocacy group that works with patients, caregivers, and communities to improve services for people with dementia. Van Buren now sits on its advisory board. He is a frequent speaker at conferences, podcasts, and anywhere else he can stand up and offer the message he clung to at his lowest point, the one that saved him: Life is not over yet. You can live with this disease.
There is no denying that dementia, even on good days, is frustrating and disorienting, for patients and family caregivers alike. As he readily admits, Van Buren's relatively secure financial situation is an advantage: When his condition progresses, he will have the resources to hire caregivers, enabling him to stay in the home he loves. If that's no longer a safe place for him, he will have access to quality alternatives. Van Buren's post-diagnosis path is only one of millions, each with their unique sets of challenges and privileges.
Still, examples like Van Buren's offer alternatives to what Dementia Action Alliance executive director Karen Love describes as "the tragedy narrative—that once you are diagnosed it's all downhill from there, you need to do your end-of-life planning."
The longer people remain in public life following a dementia diagnosis, the more visible the disease becomes, and the easier it is to get communities to understand why it's worth making the small adjustments that ease life for people with that condition. That can mean anything from training customer service employees to speak slower and offering pared-down menus at restaurants, to instructing police on how to recognize when a person accused of shoplifting or public disturbance has a cognitive disability.
"How many people are not going out of the house because we as a society haven't given them the tools they need?" Love asks. "The biggest change, the biggest tipping point I think, are baby boomers." An outsized generation that has demanded alternatives to virtually every system and challenge it has encountered will likely also do the same for aging and dementia.
There is no negotiating with the biology of degenerative brain disease. There is room, however, to rethink what life looks like after a diagnosis—to see it as the beginning of a different and unexpected phase, rather than simply the start of the end.
"My life was stagnant for 20 years" before diagnosis, Van Buren says. For him, the gravity of the diagnosis shook him out of a decades-long funk, and gave him a new purpose: to show people what life with dementia can look like. "You can thrive, not just live. I travel all around the world, still," Van Buren told me just weeks before he departed for South Africa with a friend who also has dementia. "You can do everything."