In a light week for economic data in Europe, all eyes are on France today.
The country's statistics authority released its final estimate of third-quarter GDP growth, confirming a 0.1% drop for the period. Officials think that growth will return in the fourth quarter, but only just. If true, the euro zone's second-largest economy will narrowly avoid a double-dip recession. Projected growth of 0.2% for the whole of 2013, however, is hardly something to cheer.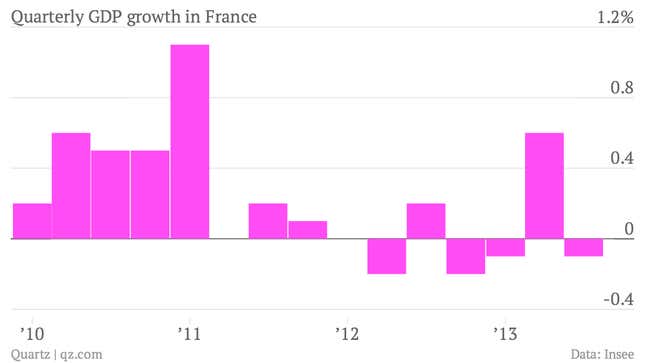 The drop in third-quarter GDP was thanks to weak consumer spending, which slowed from a languid 0.4% in the second quarter to a lethargic 0.1% in the third. Monthly consumer spending data, also released today, give an indication whether things will pick up during the current quarter.
In November, French consumer spending jumped by 1.4%, beating most forecasts. This wasn't down to a sudden burst of confidence among consumers, but to cold weather. A cold snap in November followed a mild October, driving up spending on heating, warm clothing and the like. Spending on energy surged by 7.5% in November.

As far as non-weather-related Christmas spending goes, the head of the French association of shopping malls told Reuters that retailers are "bracing for a difficult December." This is ominous, given that the economy isn't getting much help from business investment; thanks to sticky wages and rising taxes, French corporate profit margins have fallen to their lowest level since 1985, according to the official statistics.