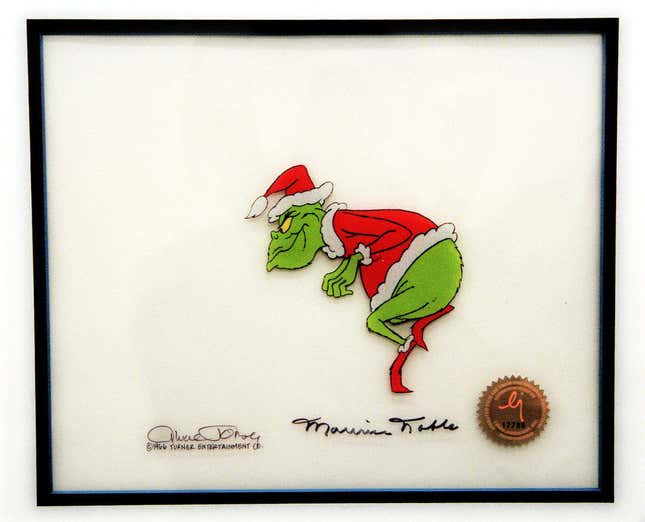 On Christmas Eve, Americans remember the Grinch, who stole all the Christmas gifts from the Whos of Whoville. Thus, Quartz now takes a moment to remember the people in 2013 whose attempts to liberate others' property for their own purposes merit comparison with the Grinch. (Note: Unlike the Dr Seuss character, who is overwhelmed with remorse and returns the goods, most of these thieves did not apparently experience sudden cardiac expansion after their deeds.)
The Great Belgian Diamond Heist. Takings: $50 million worth of uncut diamonds.
At first glance, you think this February caper might make a good movie, but not enough goes wrong to really sustain the plot. With precise timing, thieves cut through an airport fence in Brussels in June, drove onto the tarmac and arrived at a plane just as uncut diamonds were being transferred from an armored car. Threatening the guards and porters with assault rifles, the thieves were able to make off with 120 bags of jewels without firing a shot. Experts say it has all the markings of an inside job. While some of the diamonds have been recovered and arrests have been made, no one has been convicted yet.
The Excellent Electronic ATM Robbery. Takings: $45 million
You know that dream you have where money just pours out of ATMs for the taking? These hackers made it a reality by lifting withdrawal limits on big accounts and equipping bagmen with copies of their linked debit cards. The bagmen made the rounds of ATMs in cities around the world, withdrawing $2.4 million in New York City alone. Law enforcement caught up to the crew, indicting eight men, including a ring-leader who fled to the Dominican Republican and was killed there in suspicious circumstances.
The Big Bitcoin Bonanza. Takings: 4,100 bitcoins (around $2.7 million as of this writing)
Bitcoin's wild ride and debates about its viability as a future currency took center stage once again this year. One thing to remember, though: Bitcoin isn't more secure than any other store of value. That was driven home in November, when an unknown hacker was able to gain access to a cloud-hosting service and make off with 4,100 bitcoins stored there by unwitting users. That's just one example of bitcoin theft—others include a Chinese exchange that simply went dark while holding onto millions of dollars worth of users' bitcoins, and plenty of individuals whose computer security was not so tough as they thought.
The Great Booze Bamboozling. Takings: $26,000 worth of bourbon
But not just any bourbon—65 three-bottle cases of $130-a-bottle 20-year-old Pappy Van Winkle, the most sought-after bourbon around, lifted straight from the distillery. There are still no suspects in the case, but the acclaimed (and delicious!) whiskey sells for as much as $900 in the secondary market (if you can find a seller) because of its rarity. Despite a $10,000 reward, there are no known leads in the case, and one criminal may be enjoying a very expensive eggnog indeed.
The Cannes Jewelry Smash 'n' Grab. Takings: $136 million
Another case of successful planning: This July, in Cannes, a lone gunman arrived at a hotel jewelry exhibition just as the most valuable pieces owned by Israeli billionaire Lev Leviev were being unloaded. He took the jewels, hopped out of a window and disappeared into the street. Neither the thief nor the diamonds have been apprehended, but it's possible that the heist was organized by a gang of thieves known as the Pink Panthers.
Targeting Target. Takings: 40 million people's credit-card information.
It was revealed last week that hackers had compromised the checkout systems at Target stores around the United States for some three weeks after Thanksgiving, one of the busiest shopping periods of the year. It's not clear yet how much actual money will be lost after Target alerted banks to potential fraud, but the card data have been pouring on to the black market, and Target could face fines of up to $3.6 billion.
The Spy-Spying Scandal. Takings: Millions of top-secret documents
Is there more to be said about Edward Snowden? The former intelligence contractor made off with perhaps 1.7 million sensitive documents detailing US electronic surveillance methods and targets, giving them to reporters and igniting a domestic debate over spying while souring American relations with countries from Germany to Brazil. "The mission's already accomplished," he told the Washington Post this week of his efforts to publicize these practices, including dragnets that a judge recently ruled unconstitutional. Out of reach of US prosecutors in Russia, Snowden's future residence and legal status remains unclear.
A Special Lifetime Achievement Grinchie: Ronnie Biggs, 1926-2013
The mastermind behind the United Kingdom's Great Train Robbery of 1963 passed away last week. He and his crew stole £2.6 million (some $7 million at the time) from a mail train before he spent decades on the lam from Scotland Yard in South America. While (to our knowledge) he had committed no great capers this year, we recognize Mr. Biggs for a lifetime achievement award.