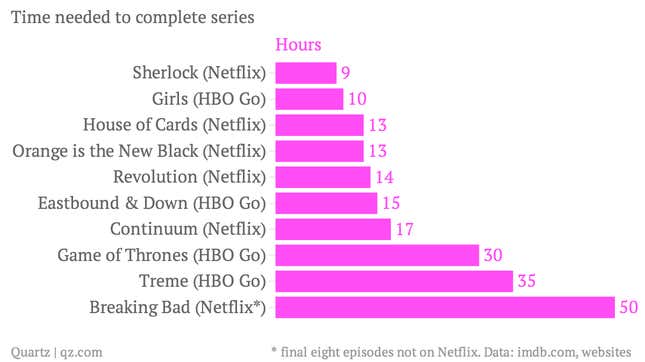 "Binge-watching" was one of the defining cultural phenomena of 2013, at least in the US. The term was even shortlisted for Oxford Dictionaries' word of the year. And if Christmas makes you want to retreat into a dark room on your own, what better way to spend the time than by consuming an entire television series in a single sitting?
The above chart shows some of the Quartz staff's favorite shows of the year, how long it would take to watch them completely, and which streaming service you need.
The final season of Breaking Bad was, in this writer's opinion, undoubtedly the TV highlight of 2013, and arguably one of the finest pieces of television in many years. If you haven't watched it yet, you should, although finding 50 hours to do so might prove a bit of a challenge, even with time off. (Note, if you do get that far, the final eight episodes still aren't available on Netflix, but you can buy them a la carte on iTunes, Amazon Instant Video or Google Play—as you can for most of the other shows).
Some more realistic options for the holiday break might include Netflix originals House of Cards and Orange is the New Black. Another less well-known gem is Sherlock, produced by the UK's BBC. The last season of the show was released in 2012, but the next series is scheduled for release in early January, and there are only six 90-minute episodes (plus a mini-episode to be released on Christmas Day in the UK) to catch up on before then.