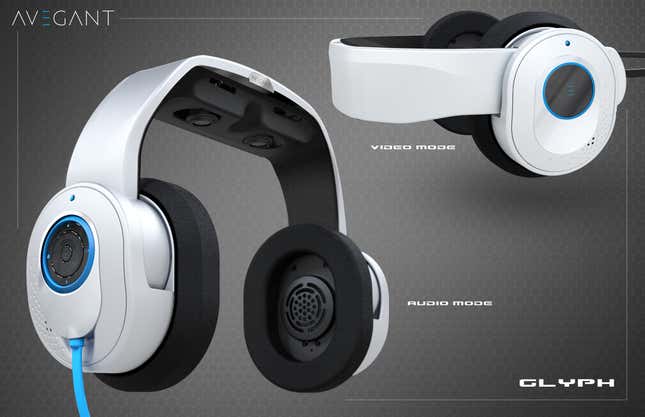 Every so often in Dave Eggers's The Circle, a disturbing novel about the future as imagined by tech companies, the characters talk about going "retinal." Eggers never explains what that means, though some readers might assume it's a more advanced version of Google Glass, which sticks a mini-screen right in front of your eyes.
Avegant, a company whose website tells you it is "developing the next generation of wearable devices," knows what that means. The company's new "virtual retinal display," called the Glyph, dispenses with screens altogether. Instead, it uses "a combination of optics to reflect an image directly onto your retina, effectively using the back of your eyeball as a screen," according to Avegant.
The idea is far from new. A Wikipedia page on virtual retinal displays attributes their invention to a Japanese engineer in 1986, though we couldn't easily verify the reference. By the beginning of this century several academic research labs had built prototypes that beamed images on to the retina using lasers (pdf). Honda mechanics were using a commercial version by the mid-2000s to view information while working on car engines, and Japan's Brother Corporation, better known for its printers, markets a device called the AirScouter, though it doesn't seem to be widely available.
Avegant's seems to be the first such device aimed at consumers. It doesn't use lasers, says the company, but low-powered LEDs with some "combination of optics," presumably to focus the light the way a laser would. It promises that the experience will be like looking at an 80-inch screen 8 feet away, but that it won't take over your entire field of vision. And when you're not watching something, you can just use the Glyph as a pair of headphones instead. The company will demo the Glyph at the Consumer Electronics Show in Las Vegas early next month and will make it available to pre-order on Kickstarter, for $499, later in January.