If you were a coffee startup in a largely tea-drinking nation, looking to beat a global giant that has been in the market for two decades, what would you put on your menu to compete against your rival?
That's a question that Luckin Coffee no doubt labors over. The year-and-a-half-old Chinese upstart is going public on Nasdaq this Friday (May 17). Valued at more than $2 billion in its last funding round, the coffee chain has aspirations to unseat Seattle-based Starbucks as China's dominant coffee chain. Luckin is pricing the shares its offering between $15 and $17, and hopes to raise more than $500 million. Pricing at the top of the range would imply a $4 billion valuation (paywall).
Some have argued that Luckin is as much a tech company (paywall) as it is a drinks business. Luckin appears to share that belief—its prospectus mentioned the word "technology" more than five times as often than the word "bean." And like other much-hyped tech firms (paywall) that had IPOs in recent weeks, it is burning cash and racking up losses at a dizzying rate. According to its filing, its operating expenses last year were three times its net revenue.
Luckin's "new retail business model" is based on rapidly expanding its store network and tapping ever more customers through its mobile app. By the end of March, it had 2,370 stores across China, more than 90% of which are pick-up stores with limited seating. If all goes to plan, it will open a new store every three-and-a-half hours for the rest of 2019 to outnumber Starbucks by year-end.
Still, at the core of Luckin is its coffee. It can have the slickest app and the most extensive store network, but crucial to its success is figuring out how to grow a large and loyal base of coffee drinkers. And to do that, it needs a good menu of enticing items. It has even brought on 2014 World Barista Champion, Hidenori Izaki, to help design its recipes and advise it on things like ingredient selection and store design.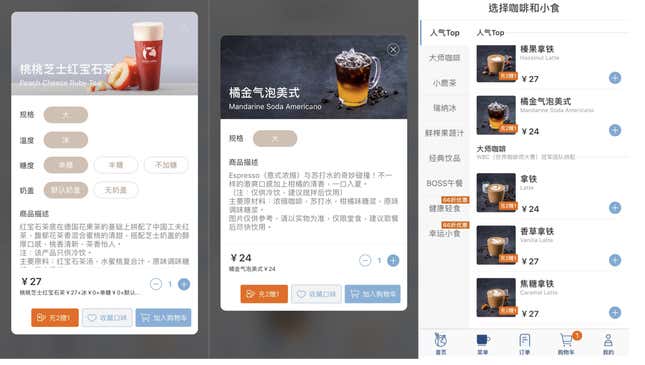 To make a purchase at Luckin, customers open an app on their phone, pick their item from the menu, and make their payment. They can then pick up their purchase at the nearest store, or have it delivered to them—SF Express, the courier firm that made its founder rich by spotting the last-mile opportunity in e-commerce, mainly handles that for them.
Luckin offers the classic items like Americanos, espressos, cappuccino, flat whites, and various kinds of lattes. But as it's noted in its prospectus its "coffee recipes are tailored to Chinese customers' palette based on results of extensive study and research."
That means offering more unusual coffee items, like the mandarine soda Americano, a concoction of espresso, soda water, and mandarin-flavored syrup with "a uniquely refreshing taste" for a direct "sip into summer." The black gold soda Americano features elderberry-flavored syrup.
A group of coffee bloggers who carried out an exhaustive taste test of 22 drinks (link in Chinese) at two Luckin stores in Beijing liked that the popular black gold soda Americano was "different from other drinks on the market," with a "rich mix of fruity and sour flavors combined with the refreshing burst of soda water bubbles."Others were less pleased, with one customer complaining that Luckin's coffee was not much better (link in Chinese) than canned alternatives from convenience stores.
"Chinese consumers' taste tendencies are not yet fixed but frequently changing," Izaki, the World Barista Champion and Luckin's coffee consultant, told Quartz in an email. "We always analyze and adjust recipes of drinks" such as the strength and sweetness of the coffee. To keep up with the latest consumer trends, Izaki travels regularly throughout China to research flavors and tastes.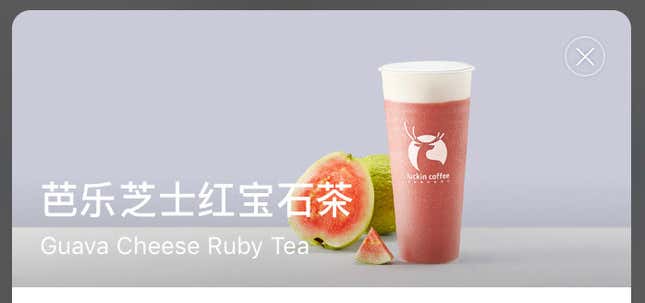 Beyond coffee, Luckin also sells specialty tea drinks. In a nod to the wildly popular Chinese trend of having tea topped with cream cheese (paywall), Luckin rolled out its own version (link in Chinese) of cheese tea in April. One such drink is their guava cheese ruby tea, which mixes a base of tea with guava juice, topped with a light, fluffy cream cheese cap. One food blogger (link in Chinese) called the drink "fairy-like," praising the beauty of its bright pink base topped with an inch-and-a-half, snow-white cheese cap. Customers can purchase snacks, too, like wraps, salads, and pastries, as well as items more specifically catered to Chinese tastes, like green tea KitKats and Taiwanese salted egg yolk cookies.
The ultimate goal, said Izaki, is to "cultivate [a] coffee drinking culture" and to introduce consumers to the "pleasure of having nice cup of coffee as a part of your life." With a spritz of elderberry, of course.