Every May, crowds gather at an ice rink in Sochi for a gala promoting the Night Hockey League, an amateur organization founded by Russian president Vladimir Putin in 2011. Ex-professionals and other prominent figures, including Putin himself, take to the ice for an exhibition match that has become a showcase for the president's hockey prowess.
Putin, who's main sport is judo, reportedly took up hockey just before he turned 60. Now 66, the president's skills with the stick are really coming into their own. At the latest gala match in Sochi, played last night, Putin had the best game of his life. State-owned media reported that he scored 10 goals, the most in the history of the competition. The Kremlin's own account says Putin scored nine, while the Associated Press says eight (which would match his all-time high). Putin's "Hockey Legends" squad, which featured former NHL stars like Vyacheslav Fetisov and Pavel Bure, won 14-7.
None of the reports make any mention of assists, suggesting that Putin really took charge of the game. What he may lack in skating ability, he makes up for in total control of the world's second-most powerful military and largest nuclear arsenal, which seems to soften defenses when he (rather slowly) bears down on the net. It doesn't protect him against inconveniently placed carpets when taking a victory lap, though.
---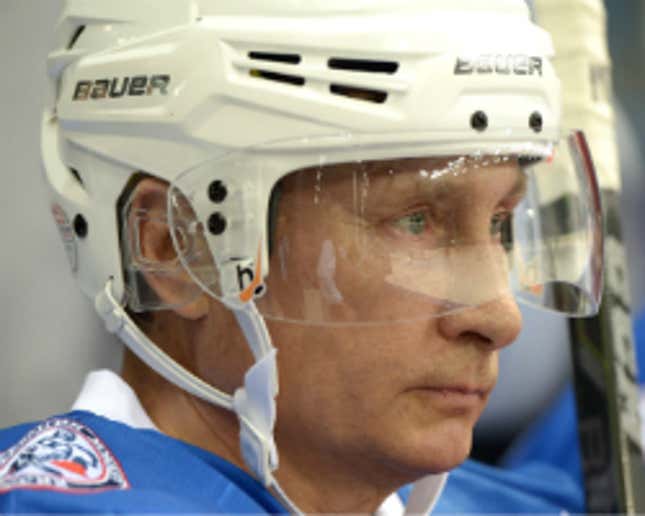 PLAYER STATS
Vladimir Vladimirovich Putin | Russia
Born: October 7, 1952
Height: 5′ 7″ | Weight: ~160 lbs
Shoots: Left
Position: President