In the run-up to the holidays, few noticed a rather horrifying number California water managers released last week: 5%.
That's the percentage of requested water the California State Water Project (SWP), the largest manmade distribution system in the US, expects to deliver in 2014. The SWP supplies water to two-thirds of the state's 38 million residents and 750,000 acres of farmland.
Ending one of its driest years in recorded history for the second year in a row, California, an agricultural and technological powerhouse, faces extreme drought conditions in 2014 unless winter storms materialize between now and April, according to the US National Weather Service.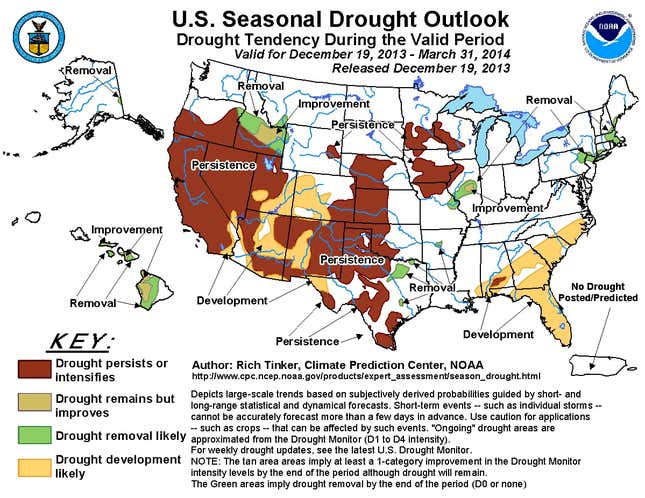 That means farmers will receive a fraction of the water they need for spring planting, likely triggering spikes in food price as agricultural land goes fallow. "The San Joaquin Valley is facing the prospect of a record low water allocation, an historic low point in water supply reliability, and yet another year of severe economic hardship," the Westlands Water District, which supplies water to 600,000 acres in California's bread basket, said in a statement. The potential cost to the regional economy? More than $1 billion.
With the state already a tinderbox, a dry 2014 raises the likelihood of more catastrophic wildfires like August's Rim Fire, which devastated parts of Yosemite National Park and ranked as one of the largest in California history.
The prospects for a wetter 2014 are not looking good. California relies on snowpack in the Sierra Nevada Mountains for much of its water. As of Dec. 1, California's snowpack contained just 13% of the average water annual water content. San Francisco, meanwhile, has received just 38% of its average rainfall since July. Less than an inch of rain has fallen on Los Angeles in that time, or 39% of its average.
Here's how much rain has fallen in all of California over the past day: none.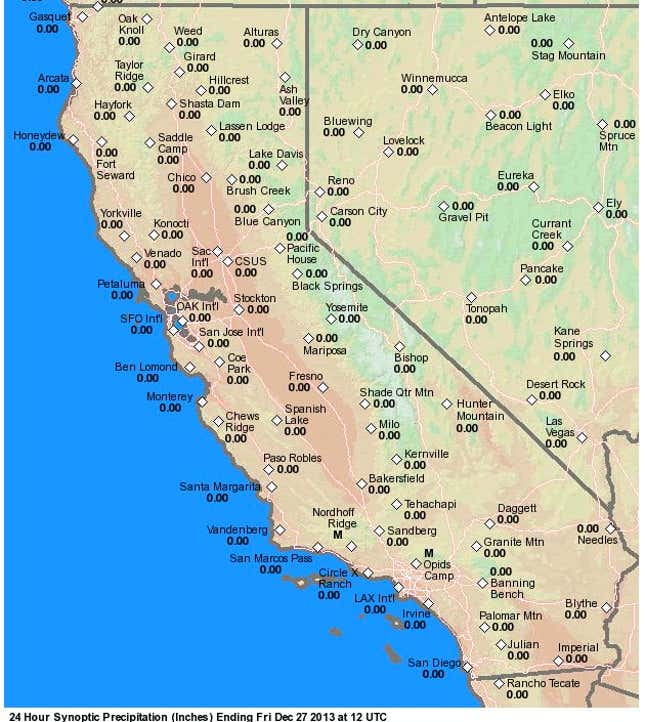 In response, California governor Jerry Brown has ordered a "drought management team" to convene weekly to manage the state's response to what is likely to be a very difficult year.